Phillip Kasüske, der bereits bei der EM 2014 mit erstaunlichen Leistungen auf sich aufmerksam machte, hat in Aarhus   mit dem Gewinn der Junioren WM 2014 ein weiteres Zeichen gesetzt.   Max Kohlhoff segelte auf einem ähnlichen Niveau, hatte aber zum Schluss leider etwas Pech und wurde 7.   Herzliche Glückwünsche an beide Segler !
P.S. Simon Gorgels wurde 13. Fabian Kasüske 26.
---
Phillip Kasueske lifts U23 Finn World title after thrilling final day in Aarhus
Phillip Kasueske (GER) has won the U23 Finn World Championship for the Jorg Bruder Finn Silver Cup after a thrilling final day in Aarhus, which went right down to the final leg to decide the podium. Last year's champion Ondrej Teply (CZE) almost did enough but had to settle for silver, while Facundo Olezza (ARG) wins the bronze, just before heading to Rio to prepare for the Olympics.
With two races to sail, the final day in Aarhus was still wide open. It was a great day for sailing, with a shifty 10-12 knots, occasional warm sunshine and no rain. The racing ended up as close and competitive as ever this week with the medals not decided until the very end.
Teply started the day well by taking the lead downwind in race 12, and then holding it until half way up the second upwind. Kasueske then went further to the left and found a way past to lead round the top and down to the finish. Teply crossed second to maintain a one point lead overall. With Olezza down in 13th, the title had effectively come down to a fight between Teply and Kasueske.
The final race was defined by a huge left hand shift on the first beat that left the leaders reaching into the top mark. First round was Hector Simpson (GBR) and Max Kohlhoff (GER). A mistake from Teply had let Kasueske round about ten places in front. Kasueske was up to fifth at the gate with Teply back in 12th.
It all looked to be over, but then Kasueske let Teply escape to the right on the final upwind while he went almost all the way left. While Kasuekse's coach, Per Baggoe, added a few grey hairs to his head, Kasueske lost valuable distance and places on Teply. They rounded the final top mark in eighth and ninth. The race to the finish was on and whoever finished in front was going to be world champion.
Kasueske has been fast downwind all week and the final downwind of the week was no exception. He passed three boats to move up to fifth and win the title, while his teammate Kohlhoff passed Simpson to take the race win. Teply crossed in ninth to take silver, while a sixth place for Olezza was enough for the bronze.
Olezza, who heads to Rio tomorrow to begin his final preparations for the Olympics, said, "This was the trickiest day I can imagine. The first race was really bad for me. I was missing every shift. So for the second race I said to myself, the goal was just to stay in a medal position, so I tried to keep myself near Nenad [Bugarin], who was four points away from me. The second race was really tricky also, with lots of shifts from 5 to 35 degrees. I ended up sixth and maintained the bronze, so I am really happy."
On his goals for the week. "My goal was just to sail my best and to polish some little things before heading to Rio and this regatta was very good for that because one of them was to sail intensely during a week, and this week was perfect for that because we had 13 races, most of them with free pumping, so I could test myself and see where I am on a fitness level, and I think I was very good."
"It's also good for me to train with all these guys that are going really fast. The level in the Finn juniors is going up all the time. It's really tough to be there."
Teply was happy with the silver but rued his missed chances. "It was very tough day today, especially mentally, as there were just three points between all the medal positions. I was not going with some special strategy, I was just going to try and cover if I was in front. In the first race I was going well and I finished second, but the German was first so we got to a one point difference."
"The last race was the decider. I had a good start but then I made one mistake on the upwind. I missed one gust and that actually decided it. Then he made a quite good advantage and he was just controlling." He was surprised Kasueske let him escape on the final upwind. "We were just really fighting each other. I was going to the right and he was not covering me. I caught up a lot but it was not enough."
"Generally I am happy with the week, happy with the second place."
Kasueske said of that final upwind. "I was really confident on the left. I didn't lose anything to the boats in front of me, but Ondra made a really good job of getting closer to me. But I managed to get three boats on the downwind."
"It knew it was really close with just one point, so whoever was in front would have won the regatta. I tried to stay close from the start, and managed to hold that to the finish."
On his progression over the past three years, he paid credit to his team and his coach. "We started Finn sailing three years ago with Per as the coach, and the goal was always to go for Tokyo 2020. We didn't expect to get that close to qualify for Rio, and we didn't manage to pull that off, but in the end it doesn't matter because we always were always aiming for Tokyo. Right now we are on a really good way to do that."
"We have put in a lot of effort in the last three years and this year it has paid off for me. I did a really good world championship, so I am really happy with my season so far. And I am looking forward to the next years, always trying to get better."
On his first U23 World title he said, "I didn't think it would feel this good but I am really, really happy to win."
Many of the sailors racing here this week will be back in Aarhus in the coming years to train and prepare for the 2018 Sailing World Championships, the first qualification event for the 2020 Tokyo Olympic Games.
Kal¸vig Sailing Club has been the perfect host with many sailors staying on site in the cabins and on the camping ground. As the sailors departed, an invitation was given to return, to train for the 2018 event that is now the foremost thought in many of the sailor's minds.
The 2016 U23 Finn World Championship has been a fantastic start to that preparation for qualification and perhaps, Tokyo gold.
Final results after 13 races:
1 GER 259 Phillip KASÜSKE 53
2 CZE 5 Ondrej TEPLY 56
3 ARG 48 Facundo OLEZZA 67
4 CRO 52 Nenad BUGARIN 72
5 RUS 6 Arkadiy KISTANOV 91
6 GBR 96 Hector SIMPSON 93
7 GER 25 Max KOHLHOFF 109
8 GBR 71 Henry WETHERELL 121
9 POL 16 Mikolaj LAHN 133
10 DEN 24 Andr© H˜JEN CHRISTIANSEN 138
Full results
Photos:
Top (l-r): Ondrej Teply, Phillip Kasueske, Facundo Olezza
Below: Phillip Kasueske, Ondrej Teply, Facundo Olezza, Andre H¸jen Christiansen, Race 13, Phillip Kasueske with coach Per Baggoe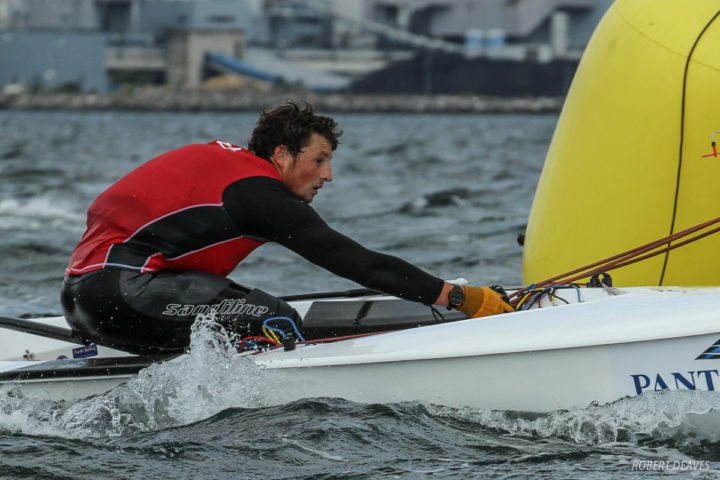 About the Finn Silver Cup
• Around 40 of the world's best young Finn sailors are taking part in the U23 Finn World Championship for the Jorg Bruder Finn Silver Cup in Aarhus Denmark.
• Aarhus is the host of the 2018 Sailing World Championships
• The 'Jorg Bruder Silver Cup' was presented to the Finn Class in 2003, on the occasion of the Finn Gold Cup in Rio, by the Brazilian Olympic Committee as a memorial to the late great Finn sailor from Brazil.
• 13 races will be held over five days from Tuesday 5 July to Saturday 9 July.
Follow the event on Facebook • Twitter • Instagram • Youtube
Event website: 2016.finnsilvercup.org
Photographs will be published on Facebook and Flickr
High resolution images will be published on Googledrive
Video interviews with sailors can be produced on request.
Please contact corinne.mckenzie@orange.fr