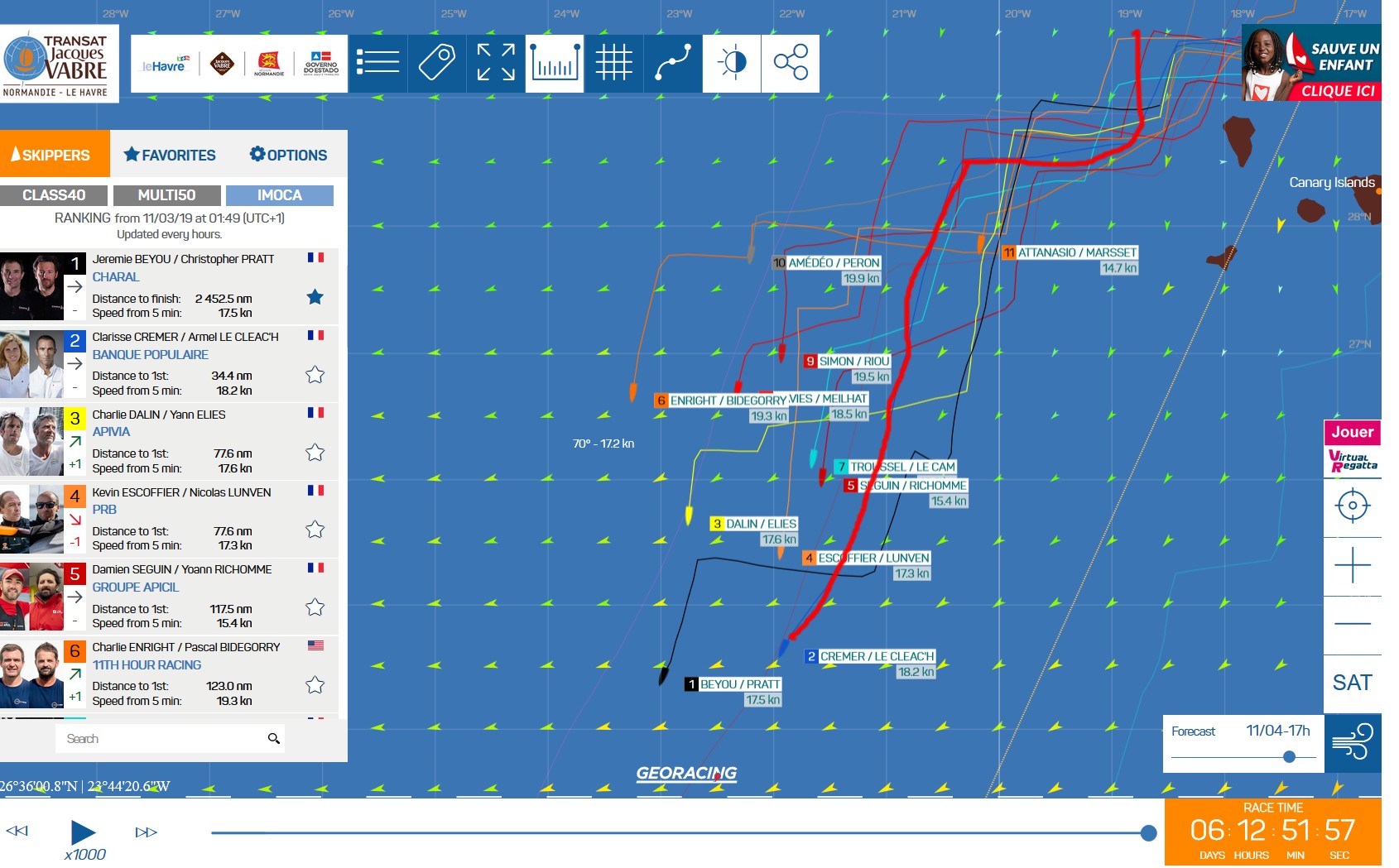 KLasse !!!
Clarisse und Armel halsen weniger als die Konkurrenz, da dies aufgrund des rechtsdrehenden Windes nicht nötig ist und liegen plötzlich auf Rang 2 über 40 sm vor dem Dritten und mehr als 100 sm vor Sam Davies, die auf Rang 8 abgerutscht ist.
After a hot night of gybing in the Canaries, Britain's Samantha Davies survived a potentially boat-wrecking "pirouette" in wind gusting almost 40 knots to keep alive her hopes of a podium place in the Transat Jacques Vabre Normandie Le Havre.
She and French co-skipper Paul Meilhat on their 60ft monohull,  Initiatives-CÅ"ur,  have dropped four places to eighth in the leaderboard as they entered the seventh day of racing , but they will be glad it was nothing worse. On the scale of wet to disaster it seemed to be at the dripping and shaking end, but it cost them miles and position. Davies said their accidental gybe came in what sounded like frightening conditions but had not left any permanent damage.
"We passed La Palma with some hot gybes in 33 knots and up to almost 40 knots of wind accelerating to the coast of the island," Davies said. "As you can imagine it was quite lively with less emphasis on style for our Spanish night out! We were more shaken than damaged, but it was annoying to lose eveything that we'd won by our little  'wipeout', but we're trying to learn everything we can! Now we're out and the boat is tidy (but wet!) And we are getting some of the calories back that we spent during the night."
https://www.transatjacquesvabre.org/en/news/news/1556/davies-avoids-disaster-after-pirouette-in-the-canaries
Boris Herrmann liegt inzwischen 440 sm hinter der führenden CHARAL auf Rang 20.
Den Link zum Tracker findet Ihr jetzt oben rechts in der Seitenleiste.