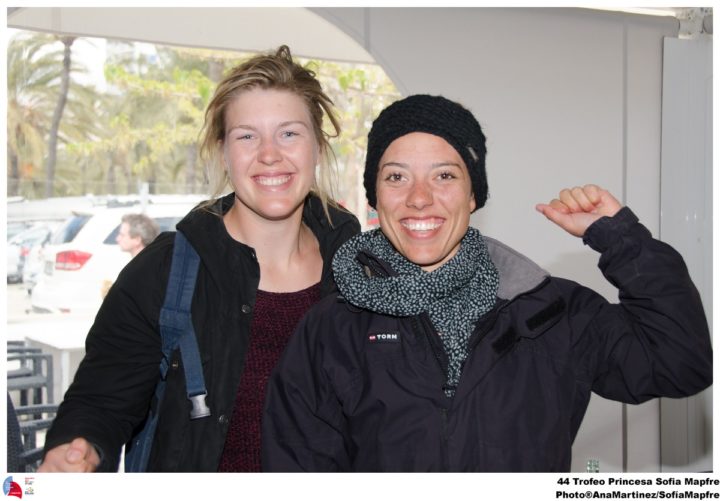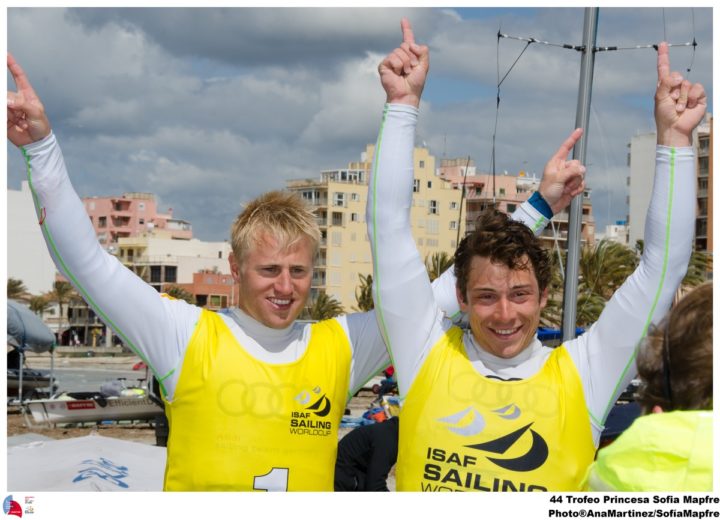 Fantastic finale in Palma
Palma de Mallorca, 6 Apr 2013
A fantastic week of sailing has come to a close in Palma. The 44th Trofeo Princesa Sofia Mapfre – third event in the ISAF Sailing World Cup circuit has delivered great racing conditions and a real test coming into the new Olympic quadrennial.
Denmark's Ida Marie Baad Nielsen and Marie Thusgaard will be awarded the Absolute Winner trophy which recognises the sailors with the best average score over the regatta. It was interesting to test here a new scoring system and format, and despite mixed opinions, the regatta has deserving winners in all classes and most of the regatta leaders conserved their yellow jersey after their medal races.
Denmark's Ida Marie Baad Nielsen and Marie Thusgaard had an incredible finish and took three wins out of four Medal Races in the 49erFX.
"We tried to be very relaxed and focussed going into the Medal Races," said the excitable duo. "Our main decision was to decide whether to go right or left after the start to find a position where we could be alone and able to make our moves freely. It was great fun with this stadium format to have so many tacks and gybes! It was tiring too because we needed to concentrate and anticipate our next move."
The Danes have dominated for most of the week and have shown they are the top sailors in the developing 49erFX fleet. Their skiff experience over the years together is proving to be the right recipe for success.
After a fantastic week to add the cherry on top of the cake, the pair will be awarded the Absolute Winner trophy which recognises the sailors with the best average score over the regatta. This trophy was won last year by 2.4mR sailor Thierry Schmitter (NED).
Alexandra Maloney and Molly Meech (NZL), never too far behind the Danes, took the last race win to place second. Jena Mai Hansen and Katja Salskov-Iversen (DEN) complete the podium.
Germany's Erik Heil and Thomas Ploessel secured their first major regatta victory in the 49er having picked up their game throughout the week. "We had an average qualification stage and got into the finals in eighth position," they said. "Our first final day was great with three wins. Today we had another win and top three results only in the four Medal Races. We have great speed and enjoy the breeze, so this was a week for us."
The pair will be following the World Cup circuit in a bid to move up the rankings, "Our objective this year is to be in the World top five. We will be doing a maximum of 200 points regattas like Hy¨res and the Worlds but also some of the Eurosaf circuit."
Andy Maloney (NZL) nailed the Laser Medal Races and took two race wins to overturn a huge deficit over Australia's Tom Burton (AUS) who despite a steady first race had a disaster in the second, "I was set up pretty well for the last one so I could only get beaten by one guy," said Burton. "I ended up getting an OCS and he beat me. So a few tough lessons and probably something I won't do again but these things happen."
Maloney was able to capitalise on Burton's mistake and was delighted with the way it went, "It was a really good day. With the new system there were a lot of points up for grabs and it went pretty well to get two wins and I couldn't ask for much more. It feels pretty good to come from equal third to win the event. It was a bit unfortunate for Tom Burton in the last race but that happens to all of us."
New Zealand's Sam Meech rounded off the Laser podium.
In the Laser Radial Alison Young (GBR) secured a deserved gold medal having dominated the fleet all week long.
"I am really pleased to have won. I have learnt lots of lessons from this regatta and I am looking forward to the rest of the season. Going into the final medal race, only the Danish could beat me so I had to make sure of the result."
A second in the first Medal Race gave her a handsome advantage and she kept Sarah Gunni (DEN) at bay on the last race with the Dane settling for silver. Anne-Marie Rindom (DEN) won the Medal Race to pick up bronze.
Flavia Tartaglini (ITA) stepped it up in the Women's RS:X on the final day and was first past the post in both Medal Races. The World #1 was all smiles on shore after racing, "I'm super happy," she said. "I just had a perfect day. I was coming into the day in fourth so a pretty good position. I was not that close to the first but with two Medal Races everything is possible so I tried to do two good races to finish the competition and it paid off."
Her two race wins knocked overnight leader Bryony Shaw (GBR) down into second and Germany's Moana Delle into third.
ISAF Sailing World Cup Miami Men's RS:X champion Ivan Pastor (ESP) made it two World Cup gold's in a row after two fourths in the Medal Races. The Spaniard led coming into the final day and held on to top spot. Toni Wilhelm (GER) and Kiran Badloe (NED) took the race wins and subsequently moved up to the podium places.
Giles Scott (GBR) took gold in the Finn. Pieter-Jan Postma (NED) threatened the Brits dominance when he closed the gap to one point after the first Medal Race. However, Scott made sure from the start he would leave the Dutch in his trail. "PJ and I match-raced at the start of the second race," explained Scott. "I finally succeeded in forcing him in an uncomfortable position and took a safe advance over him." On the new format Scott added, "It did work out all right for me but I don't really like it as I prefer consistency over the week and the varied conditions to be recognised in the results."
Postma (NED) ended up second with Vasilij Zbogar (SLO) in third. London Bronze medallist Jonathan Lobert (FRA) missed out on the podium in fourth.
Fernanda Oliveira and Ana Barbachan (BRA) came fifth in the days first Medal Race in the Women's 470 and finished with a bang in the last, taking the race win and the gold medal. "We are very happy," exclaimed Barbachan. "We didn't expect to win like this. We thought it would be a hardest race but these conditions seemed to be nice for us."
Sophie Weguelin and Eilidh Mcintyre (GBR) finish second with the American pair of Anne Haeger and Briana Provancha (USA) third.
With shifty conditions only one Men's 470 Medal Race could be completed on the final day and a fourth from Mat Belcher and Will Ryan (AUS) ensured they maintained their unbeaten life in the Men's 470. Belcher is the only sailor this week to keep his title won last year with Malcolm Page. Greece's Panagiotis Mantis and Pavlos Kagialis place second and Luke Patience and Joe Glanfield (GBR) third.
Despite a mid-race mishap on the final day Mandy Mulder and Thijs Visser (NED) took gold over their team mates Renee Groenenveld and Karel Begemann in the Nacra 17. "We had some issues during the races and in the first one we capsized," explained Mulder. "One boat nose-dived just in front of us and we had starboard and I was like 'uh oh we're going to hit the boat' so I went inside very quickly and then I went swimming behind the boat and it capsized. We were top three but got upright really quick and ended up sixth."
Moana Vaireaux and Manon Audinet complete the Nacra 17 podium.
"We are happy about our speed. We made some tactical errors today on the last race, but in definite, I am happy to be able to prove myself on the Olympic circuit" said Moana Vairaux.
Sailors focus now turns to ISAF Sailing World Cup Hyeres in the South of France. Racing gets going on 22 April through to 27.