.
Race 5

10:46

As the wind is blowing a consistent over 15 knots today the Finn fleet will be racing on course B, a triangle course. 5 mins to first warning signal.
10:48 Twitter
1FCG2012:
#finns2012 committee boat in position, watching wind speed & direction. Wind speed between 20 and 25 know. Finns arriving very fast [via Twitter]

Finn_Class:

Line set. Pretty flat sea for the wind and very cold out here again. [via Twitter]

10:56

Finn Gold Cup 2012:

There are a lot of wet sailors out there already! messages coming in over the radio about sailors being retrieved from the water and capsizes, lets hope they can all stay upright as they line up for the start line!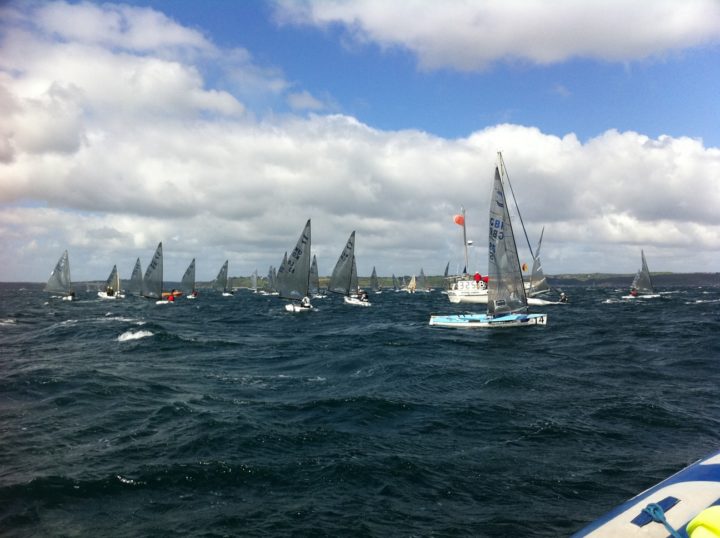 Waiting for Start Race 5
.
11:01 Twitter

Finn_Class:
General recall. Pin end was busy [via Twitter]

11:04

Finn_Class:
New sequence with black flag. [via Twitter]
 Race 5 am Tracker beobachtet:
Guter Start von Matthias Miller – Rang 6 – Rang 2 – Rang 1 – Rang 3. Matthias hat viel Platz und kann sich frei entfalten. Rang 4. Matthias segelt auf rechter Seite, während die Mehrheit die linke Seite (Landnähe = weniger Welle) bevorzugt. Rang 1 nach der 1 Hälfte der Startkreuz. Matthias sollte wenden,   hat aber Mills u.a. auf BB   in Luv. Er verliert einige Plätze. Rang 11, Rang 18 kurz vor der Luvtonne. Rang 23 an Luvtonne.
Vorm Wind Matthias 30 m hinter Postma. Rang 25. Miller gekentert ?   Rang 37.
Twitter Finn_Class: Gate den 2 gbr3 cri524 edp100 swe11 usa4 gnr85 gbr88 rus9 .
Rang 34 an der Kreuz, auf rechter Seite. Rang 31. Ainslie führt vor Hoegh-Christensen. Matthias hat auf StBB zu wenig Höhe. Alle anderen sind auf BB. Er verliert 3 Plätze und wendet. Miller kann sich auf rechter Seite verbessern. Links herrscht grosses Gedränge. Rang 23. Rang 22. Rang 21 an der Luvtonne. Ainslie und Hoeg-Christensen 250 m vor den Verfolgern. Ainslies Speed 12,4 knoten auf dem Weg zur Raumtonne. Miller 20. ca. 50 m vor Postma 24.
Latest wind report from the windward mark is 16-20 knots NW. at 12:28.
Postma setzt zum Überholen an. Speed bis zu 13 Knoten. Postma 20. Miller ca. 23 im Ziel.
Unofficial results for race five:

1. Ben Ainslie (GBR3)
2. Jonas Hoegh- Christensen (DEN2)
3.Ivan Kljakovic Gaspic (CRO524)
4.Dennis Karpak (EST2)
5.Ed Wright (GBR11)
6.Rafael Trujillo (ESP100)
Race 6
Weg zur Luvtonne von 1,7 auf 1,55 sm verkürzt.
Matthias nach dem Start in den Top 20 in zentraler Position. Rang 10.   60 m hinter Ainslie. Es fällt auf, dass Ainslie bei Winddrehern etwas eher als Miller wendet. Benutzt Ainslie evtl. einen Magnetkompass und erkennt dadurch die Windreher eher als die Konkurrenz ? Miller 10. an der Luvtonne vor Postma
First mark rounding for race six:

1. Jonas Hoegh- Christensen (DEN2)
2. Mark Andrews (GBR88)
3. Ben Ainslie (GBR3)
4. Andrew Mills (GBR85)
5. Eduard Skornyakov (RUS9)
6. Lei Gong (CHN1226)
7. Ed Wright (GBR11)
1. Downwind: Miller fightet – Rang 7. Rang 10. Postma kommt auf. Postma geht vorbei. Miller auf 12. Miller wieder vor Postma. Postma kontert. Postma am Gate 30 m vor Miller. Postma 10. Miller 11.
Auch Top-Leuten unterlaufen kleine Fehler. Vorn ist, wer die wenigsten Fehler macht. Millers Wendewinkel ist hier grösser 90 Grad. Er hat zu früh bzw. zu spät gewendet und ist vorübergehend auf Rang 13 abgerutscht. Kann dann aber mehr Höhe laufen und sich verbessern.
So muss es sein: Wendewinkel kleiner 90 Grad !
Miller an Luvtonne Rang 11, Postma 16. Ainslie führt mit 200 m Vorsprung.   Miller laut Tracker auf Rang 11. Der Tracker hat jedoch evtl. nicht alle Finns erfasst.   Miller ca. 3 min nach Ainslie im Ziel. Wettfahrtdauer 1h 20 min. Rang 11 laut Tracker.
[Kommentar: Es ist beeindruckend, wie Matthias kämpft und sich bsw. nach der Kenterung (?) in Race 5 wieder nach vorn gearbeitet hat. Sein Speed stimmt.   Hoffentlich hat er in den kommenden Wettfahrten mehr Glück als bisher !
Ainslie scheint nach meinem Eindruck nicht schneller als die Konkurrenz   zu sein, hat aber aufgrund seines Talentes und seiner grösseren Segelpraxis eine gegen Null gehende Fehlerquote.
Ich finde es schade, dass so wenig von dem deutschen Team direkt aus Falmouth berichtet wird. Wir wissen ja nicht einmal, wer Matthias in Falmouth betreut.   Die Kommunikation ist also noch stark verbesserungswürdig.]
 ————————————————————————————
J.P.Morgan Asset Management Finn Gold Cup
Falmouth, Cornwall, UK
Results as of 3.40pm on May 15 2012
Overall
Sailed: 6, Discards: 1, To count: 5, Entries: 94, Scoring system: Appendix A
Rank BowNumber SailNo Helmname Junior R1 final R2 final R3 final R4 final R5 prov R6 prov Total Nett

1st 29 GBR 3 AINSLIE Ben 1.0 (3.0) 1.0 3.0 1.0 1.0 10.0 7.0
2nd 01 GBR 11 WRIGHT Edward 2.0 1.0 5.0 (7.0) 5.0 4.0 24.0 17.0
3rd 14 GBR 85 MILLS Andrew 4.0 8.0 2.0 11.0 (21.0) 3.0 49.0 28.0
4th 17 DEN 2 HOEGH-CHRISTENSEN Jonas (14.0) 9.0 4.0 6.0 2.0 8.0 43.0 29.0
5th 07 EST 2 KARPAK Deniss 5.0 5.0 20.0 (26.0) 4.0 7.0 67.0 41.0
6th 24 FIN 218 NIRKKO Tapio 6.0 (22.0) 9.0 8.0 17.0 2.0 64.0 42.0
7th 106 POL 17 KULA Piotr 9.0 10.0 8.0 (15.0) 12.0 5.0 59.0 44.0
8th 87 CAN 41 COOK Christopher 8.0 12.0 (16.0) 1.0 14.0 12.0 63.0 47.0
9th 10 FRA 112 LOBERT Jonathan 25.0 2.0 6.0 2.0 16.0 (27.0) 78.0 51.0
10th 02 CRO 524 KLJAKOVIC GASPIC Ivan (26.0) 16.0 3.0 12.0 3.0 20.0 80.0 54.0
11th 27 GBR 88 ANDREWS Mark (33.0) 23.0 12.0 10.0 7.0 6.0 91.0 58.0
12th 09 USA 4 RAILEY Zach 15.0 15.0 10.0 (32.0) 8.0 13.0 93.0 61.0
13th 03 NED 842 POSTMA PieterJan (22.0) 14.0 11.0 4.0 20.0 14.0 85.0 63.0
14th 53 AUS 1 CASEY Brendan 13.0 (25.0) 7.0 9.0 18.0 18.0 90.0 65.0
15th 05 ESP 100 TRUJILLO Rafael 31.0 (39.0) 14.0 5.0 6.0 15.0 110.0 71.0
16th 12 SWE 11 BIRGMARK Daniel (24.0) 17.0 17.0 14.0 10.0 19.0 101.0 77.0
17th 33 POL 7 SZUKIEL Rafal 3.0 20.0 22.0 16.0 (30.0) 22.0 113.0 83.0
18th 21 RUS 9 SKORNYAKOV Eduard 20.0 (42.0) 24.0 19.0 11.0 10.0 126.0 84.0
19th 81 NZL 1 SLATER Dan 12.0 24.0 13.0 27.0 9.0 (32.0) 117.0 85.0
20th 32 CAN 5 DOUGLAS Greg (34.0) 7.0 15.0 13.0 25.0 26.0 120.0 86.0
21st 30 UKR 1 BORYSOV Oleksiy (30.0) 4.0 26.0 18.0 19.0 29.0 126.0 96.0
22nd 101 GER 151 MILLER Matthias 23.0 13.0 30.0 (54.0) 23.0 11.0 154.0 100.0
23rd 23 USA 619 PAINE Caleb (37.0) 27.0 27.0 20.0 22.0 16.0 149.0 112.0
24th 20 CZE 1 MAIER Michael 10.0 (37.0) 31.0 30.0 24.0 24.0 156.0 119.0
25th 26 AUT 3 RAUDASCHL Florian 29.0 11.0 21.0 35.0 (36.0) 28.0 160.0 124.0
26th 90 CHN 1226 GONG Lei 21.0 31.0 33.0 (38.0) 29.0 17.0 169.0 131.0
27th 39 RUS 1 SELIVANOV Alexey 7.0 34.0 (52.0) 48.0 13.0 30.0 184.0 132.0
28th 41 BRA109 ZARIF Jorge J (50.0) 6.0 35.0 31.0 38.0 23.0 183.0 133.0
29th 37 CZE 85 VIKA Tomas 17.0 19.0 39.0 (44.0) 28.0 35.0 182.0 138.0
30th 40 TUR 21 KAYNAR Alican 32.0 30.0 25.0 (64.0) 43.0 9.0 203.0 139.0
31st 47 NED 841 VAN EGMOND Hein 11.0 41.0 (42.0) 17.0 37.0 33.0 181.0 139.0
32nd 34 NED 83 HAGOORT Timo 35.0 21.0 28.0 25.0 34.0 (40.0) 183.0 143.0
33rd 42 UKR 5 GUSENKO Andrii (43.0) 18.0 40.0 21.0 33.0 36.0 191.0 148.0
34th 18 SWE 6 ALLANSSON Bjorn (64.0) 26.0 19.0 42.0 31.0 31.0 213.0 149.0
35th 86 CAN 110 ROBITAILLE Martin J 18.0 33.0 29.0 (45.0) 27.0 43.0 195.0 150.0
36th 45 NZL 8 COUTTS Matt (45.0) 35.0 36.0 22.0 35.0 25.0 198.0 153.0
37th 57 CRO 11 OLUJIC Josip 36.0 (55.0) 34.0 23.0 42.0 21.0 211.0 156.0
38th 46 AUS 261 TWEDDELL Oliver 16.0 43.0 23.0 24.0 (64.0) 62.0 232.0 168.0
39th 58 CRO 671 BILIC Tudor (48.0) 47.0 38.0 36.0 15.0 37.0 221.0 173.0
40th 103 NOR 1 PEDERSEN Anders J 44.0 46.0 18.0 55.0 26.0 (95.0 DNF) 284.0 189.0
41st 48 HUN 6 PAL Gaszton 39.0 29.0 43.0 46.0 (50.0) 34.0 241.0 191.0
42nd 59 CYP 19 PAPADOPOULOS Haris 47.0 44.0 48.0 33.0 (53.0) 38.0 263.0 210.0
43rd 78 IND 11 JOHAL Nachhatar 38.0 38.0 (62.0) 52.0 46.0 39.0 275.0 213.0
44th 38 RUS 57 TERPIGOREV Egor (95.0 BFD) 60.0 32.0 28.0 51.0 45.0 311.0 216.0
45th 67 GBR 29 MCCOY Peter J 42.0 (59.0) 37.0 47.0 45.0 48.0 278.0 219.0
46th 119 CAN 902 WILTON Brendan 46.0 32.0 55.0 39.0 (95.0 BFD) 49.0 316.0 221.0
47th 113 SWE 89 AXELSSON Andreas 41.0 (63.0) 60.0 37.0 44.0 41.0 286.0 223.0
48th 117 POL 8 LESINSKI Lukasz 61.0 52.0 (70.0) 40.0 32.0 46.0 301.0 231.0
49th 79 IRL 4 HAMILTON Ross (73.0) 40.0 45.0 58.0 41.0 47.0 304.0 231.0
50th 62 GBR 18 HADDEN James J (70.0) 36.0 47.0 41.0 52.0 61.0 307.0 237.0
51st 77 HUN 8 BELICZAY Marton 54.0 51.0 (64.0) 29.0 60.0 44.0 302.0 238.0
52nd 110 TUR 35 KUYUMCU Efe 53.0 (78.0) 50.0 59.0 40.0 42.0 322.0 244.0
53rd 56 CHN 43 ZHEN Li 40.0 45.0 44.0 (71.0) 65.0 54.0 319.0 248.0
54th 65 GBR 23 BRIDDON Harry J 49.0 53.0 57.0 56.0 39.0 (95.0 DNC) 349.0 254.0
55th 63 GBR 2 BURRELL Allen 51.0 50.0 49.0 (80.0) 66.0 50.0 346.0 266.0
56th 120 NED 58 MOHREN Thomas (84.0) 67.0 63.0 34.0 48.0 57.0 353.0 269.0
57th 55 CAN 7 NICHOLSON Adam (60.0) 48.0 58.0 50.0 57.0 58.0 331.0 271.0
58th 92 DEN 46 ANDRESEN Kaspar (66.0) 66.0 41.0 62.0 54.0 52.0 341.0 275.0
59th 82 NZL 9 COUTTS Rob 57.0 58.0 (72.0) 60.0 55.0 51.0 353.0 281.0
60th 50 TUR 7 MUSLUBAS Akif 27.0 28.0 51.0 83.0 (95.0 DNF) 95.0 DNC 379.0 284.0
61st 109 SUI 84 HOFER Silvan 55.0 74.0 56.0 (75.0) 47.0 53.0 360.0 285.0
62nd 100 FRA 89 MONTAGUT Benjamin 59.0 54.0 61.0 51.0 62.0 (63.0) 350.0 287.0
63rd 85 BUL 855 VANGELOV Dimitar J 19.0 64.0 65.0 73.0 69.0 (95.0 DNC) 385.0 290.0
64th 105 POL 13 JODLOWSKI Michal J 67.0 65.0 54.0 (84.0) 58.0 55.0 383.0 299.0
65th 80 LTU 7 RYMONIS Tauras (85.0) 77.0 71.0 43.0 49.0 60.0 385.0 300.0
66th 111 USA 21 LAMPHERE Gordon (69.0) 56.0 67.0 68.0 56.0 59.0 375.0 306.0
67th 88 CAN 9 HEMMING Rob 58.0 62.0 53.0 67.0 67.0 (95.0 DNC) 402.0 307.0
68th 51 AUS 2 MCMILLAN Rob 28.0 49.0 46.0 (95.0 DNF) 95.0 DNC 95.0 DNC 408.0 313.0
69th 75 GBR 7 COOPER George (86.0) 82.0 66.0 49.0 59.0 65.0 407.0 321.0
70th 61 FRA 99 ALLAIN DES BEAUVAIS Marc 75.0 69.0 69.0 (82.0) 61.0 56.0 412.0 330.0
71st 68 GBR 567 HUGHES Martin 52.0 70.0 59.0 57.0 (95.0 DNC) 95.0 DNC 428.0 333.0
72nd 108 SUI 63 GAUTSCHI Thomas 62.0 71.0 68.0 70.0 (76.0) 64.0 411.0 335.0
73rd 73 GBR 665 SMITH Julian 79.0 (85.0) 73.0 61.0 63.0 66.0 427.0 342.0
74th 60 CZE 11 DEUTSCHER Patrik J 63.0 57.0 85.0 (95.0 DNF) 71.0 69.0 440.0 345.0
75th 93 FRA 61 MINOS Mikael 65.0 68.0 (83.0) 77.0 68.0 67.0 428.0 345.0
76th 54 BUL 77 NEDYALKOV Valentin 56.0 75.0 74.0 (79.0) 75.0 72.0 431.0 352.0
77th 104 GBR 635 PERCIVAL Simon 71.0 (79.0) 78.0 63.0 74.0 68.0 433.0 354.0
78th 112 USA 53 LEIBOWITZ Ben 72.0 72.0 80.0 (87.0) 70.0 71.0 452.0 365.0
79th 52 AUS 8 SERET Dirk 76.0 61.0 (86.0) 85.0 78.0 70.0 456.0 370.0
80th 64 GBR 20 DENISON Andy 81.0 83.0 75.0 65.0 73.0 (95.0 DNC) 472.0 377.0
81st 94 FRA 57 BOULAN Damien 68.0 76.0 (95.0 DNF) 53.0 95.0 DNF 95.0 DNC 482.0 387.0
82nd 76 GBR 711 PETTIT Simon 78.0 90.0 77.0 72.0 72.0 (95.0 DNF) 484.0 389.0
83rd 91 DEN 210 NIELSEN Henrik Elmer 77.0 92.0 79.0 69.0 77.0 (95.0 DNC) 489.0 394.0
84th 95 FRA 66 LOBERT Philippe 74.0 81.0 82.0 66.0 (95.0 DNF) 95.0 DNC 493.0 398.0
85th 74 GBR 68 MACKIE John 80.0 73.0 76.0 78.0 (95.0 DNF) 95.0 DNC 497.0 402.0
86th 98 FRA 869 BAUMGARTEN Regis 89.0 84.0 89.0 81.0 80.0 (95.0 DNC) 518.0 423.0
87th 97 FRA 86 JEAN Christophe 87.0 91.0 81.0 86.0 79.0 (95.0 DNF) 519.0 424.0
88th 71 GBR 631 HART Richard 93.0 86.0 87.0 74.0 (95.0 DNC) 95.0 DNC 530.0 435.0
89th 96 FRA 72 LE FRAPPER Philippe 92.0 88.0 84.0 76.0 (95.0 DNF) 95.0 DNC 530.0 435.0
90th 72 GBR 644 ARNELL Jack J 83.0 80.0 (95.0 DNF) 95.0 DNC 95.0 DNC 95.0 DNC 543.0 448.0
91st 69 GBR 611 LOCK Tony 82.0 87.0 (95.0 DNC) 95.0 DNC 95.0 DNC 95.0 DNC 549.0 454.0
92nd 99 FRA 880 HOLLIER Cedric 88.0 89.0 (95.0 DNS) 95.0 DNC 95.0 DNC 95.0 DNC 557.0 462.0
93rd 66 GBR 24 BARNES Rory 91.0 94.0 88.0 (95.0 DNF) 95.0 DNC 95.0 DNC 558.0 463.0
94th 70 GBR 617 HARPER Mark 90.0 93.0 (95.0 DNF) 95.0 DNC 95.0 DNC 95.0 DNC 563.0 468.0
falmouthfinnfestival.com