Zuviel Wind auf dem Atlantik ?   Gerüchteweise hörte ich, dass die Südafrikaner abreisen wollen.
LiveTicker
Results after 4 races     Andre weiter vorn, Uli Breuer 5. Thomas Schmid 9, Jürgen Eiermann 20, Jochen Dauber vom Rursee 30, Axel Schroeder 53, Klaus Reffelmann 63.
Results after 3 Races   Andre' liegt mit drei   1. Plätzen vorn. Uli Breuer   9,   Thomas Schmid 15. Nach vorne rutschen wird sicher auch noch Stefan Kreiss mit der Serie 12 – BFD – 5,
16:00   Second race of the day started for yellow fleet.
13 kts Wind an der Nordspitze der südwestlich vorgelagerten Isle de Oleron, die ca. 20 km von La Rochelle entfernt im Atlantik liegt. Auf der Regattabahn dürfte mit 4-5 bft zu rechnen sein. Im Mai liegt die Wahrscheinlichkeit für 4 oder mehr bft bei 31 %
Mir fällt gerade ein: Eine Live-Webcam   (Slipbahn + Startschiff) wäre schön. Videos fehlen ebenfalls noch.
14:30 : the two fleets are gone for the first race !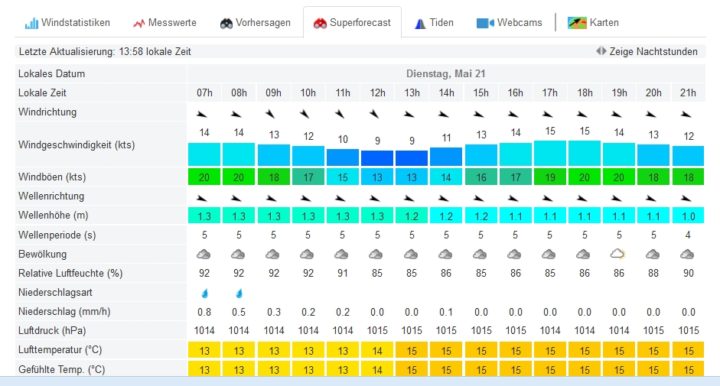 Zunehmenden Wind von 11-14 auf 15-19 kts prognostiziert Windfinder in der genaueren Super-Forecast. Gestern soll es ja auf dem Wasser wesentlich ruppiger gewesen sein als es die GoPro-Fotos Robert Deaves wiedergegeben haben. Die Boote sollen krachend in die Wellentäler gefallen sein, so dass man geglaubt habe, der Mast würde sich durch den Rumpf bohren. Heute wird es   ähnlich sein.
Siehe auch: https://www.finnworldmaster.com/2013.htm
https://www.srr-sailing.com/finn-world-master/
———————————————–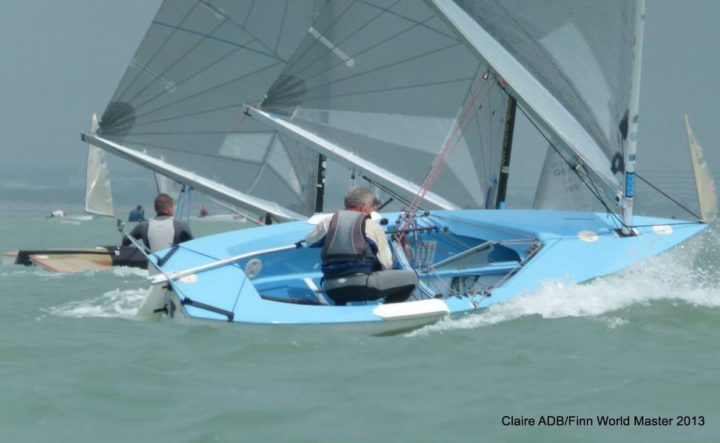 .

.
Four winners but Budzien takes narrow lead
With little respite in the weather, the Finn World Masters in La Rochelle, completed two more great races in moderate, cold winds. Three time champion Andre Budzien (GER) takes the lead from Erik Lidecis (USA) and Michael Maier (CZE). Race wins went to Budzien, Maier, Paul Blowers (GBR) and Karl Purdie (NZL).
Tuesday opened bleak in La Rochelle with strong winds, rain and low temperatures. By race time, things were marginally better. The rain had stopped and the breeze had stabilised at 10-12 knots. The sun almost showed its face between races, but then the wind kicked back in for the windiest race so far. In spite of all this it was another great day's sailing, ending with a fantastic reach back to La Rochelle as the wind peaked at 15-16 knots
Today the groups were decided using Monday's overall results. Regatta leaders Andre Budzien and Erk Lidecis were split, with Budzien having a slightly better day to stay at the top, while Lidecis slipped one place, but just one point behind. Four times champion Michael Maier is in third, just four points off the lead, but with a win in race four, he matched Budzien's points for the day.
The yellow group got away first with the left side proving favoured. The leading group included Ray Hall (NZL) and Tauras Rymonis (LTU) who crossed in second and third, but it was Budzien who took the win. Towards the end the wind really faded away and it almost warmed up, but then a solid and increasing 10-12 knots kicked in for the fourth race which started at the third attempt under black flag.
After a big left shift just before the start, which left a lot struggling on the right, Rymonis was again up the front, this time with Uli Breuer (GER) ahead and Maier chasing hard. Maier worked his way through to take the lead for his first win with Breuer second and Rymonis third. Between them Breuer and Rymonis had the best day across both fleets.
In the blue fleet a lot of the favourites were struggling in the first race, but Paul Blowers (GBR) took a great win after rounding the top mark in fifth. He crossed the finish just ahead of Svend Vogt Andersen (DEN) with Marco Buglielli (ITA) in third. Lidecis crossed in seventh to lose the overall lead.
The fourth blue fleet race also had problems getting away. With the wind increasing Karl Purdie found his way to the front to take the win from Karel van Hellemond (NED) and Lidecis. However it was not to be Purdie's day as he picked up a DNE in the first race of the day after failing to retire from the race following a second yellow flag Rule 42 penalty, most likely costing him any chance of a top 10 position.
Blowers explained his race three win, "I had a reasonable start and I wanted to go centre right up the first beat, and I had a working compass today, so I could the shifts happening. I got round the top mark in fifth and had reasonable speed on the other guys and took one boat on each leg of the race and ended up with a very close finish with Svend Vogt Andersen. There was just a couple of feet in it, but I was really pleased to win the race." This is Blowers second race win at a Finn World Masters after a race win in Punta Ala at his Masters d©but two years ago.
When asked why he was here he said, "The attraction of the Finn masters for me is meeting up with my mates from around the world, sailing a boat that helps me keep fit and a boat that I can be competitive in, as well as sailing with a group of people that have a similar mind set to me. It's just great."
One of the 'new' Finn sailors here is Svend Jacobsen (DEN), who only got a Finn last year after being attracted by the Masters regattas. One of three former OK Dinghy World champions present this week (Jacobsen won it back in 1963), he said, "I decided to buy a Finn last year after having tried one in a small regatta in Denmark. I then remembered what I heard from Ib Ussing Andersen's father, when we had a conversation between two races in 1962. Ib's father was mid 50s and I was 17 years old. He Said to me "Svend when you grow old you should change your OK Dinghy for a Finn, because in the Finn you can take a nice walk in the cockpit between two races. This is impossible in the OK."
"One of the other attractions for me is the Masters regatta. I think it is a great idea, and no other classes seem to have adopted the idea like the Finns have. I stopped dinghy racing in 1995, after having raced the Pirat dinghy for 12 years (after the OK). My reason for giving up dinghy racing was that I felt I was too old – at that time I was 50. It sounds crazy now that I race the Finn, a much more difficult boat."
He recalls sailing a Finn 50 years ago. "I tried a Finn at the first Danish championship in 1963. I borrowed an English Finn, No. 10, from James Ware, but that was my first and only appearance in the Finn until now." Jakobsen lies in 248th place, though the smile on his face says he is clearly enjoying every minute of the racing.
Racing continues on Wednesday, with gentler conditions forecast. Before that the sailors have their annual Masters Meeting where they will decide the venue for 2015, among other business. The championships concludes on Friday.
Results after 4 races.
1GER 711Andrea BUDZIEN11.00
2USA 505Erik LIDECIS12.00
3CZE 1Michael MAIER15.00
4LTU 7Tauras RYMONIS15.00
5GER 707Uli BREUER26.00
6NZL 2Raymond HALL43.00
7FRA 75H Laurent AY43.00
8GER 193Thomas SCHMIDT44.00
9DEN 80Michael STAAL47.00
10ITA 2Marco BUGLIELLI51.00
Full results after day 2: https://www.srr-sailing.com/wp-content/uploads/2013/05/finn_world_s3.htm
Follow the racing online at the club website at:https://www.srr-sailing.com/finn-world-master/ ( https://www.srr-sailing.com/finn-world-master/ ) as
well as on www.finnclass.org and https://www.facebook.com/pages/Finn-Class/110408332633