Foto: Nico Mart­nez / Princesa Sof­a MAPFRE
Foto: Nico Mart­nez / Princesa Sof­a MAPFRE
Foto: Nico Mart­nez / Princesa Sof­a MAPFRE
Foto: Nico Mart­nez / Princesa Sof­a MAPFRE
Foto: Nico Mart­nez / Princesa Sof­a MAPFRE
Foto: Nico Mart­nez / Princesa Sof­a MAPFRE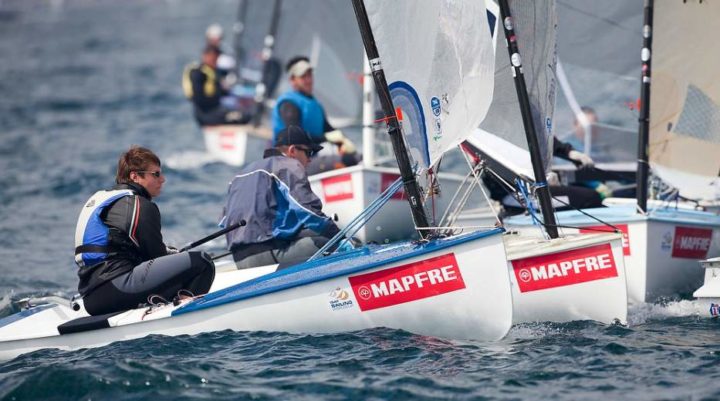 Foto: Nico Mart­nez / Princesa Sof­a MAPFRE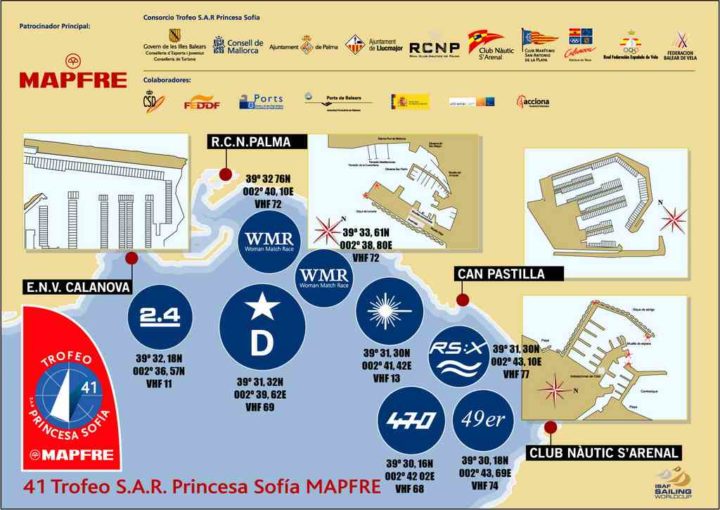 https://www.trofeoprincesasofia-mapfre.org/noticias.php?idiomaz=3
29.03.10
16:21 FINN will not sail a third race today and sail back to shore. AP over A at 16:12hrs
15:34 Finishing order race 2 : CRO 524, ITA 117 (OCS), NOR 1, ESP 100,
Kljakovic Gaspi, Giorgio Poggi (OCS), Peer Moberg, Rafael Trujillo
14:20Start race 2 FINN class at 14:22hrs. Wind 205 º, 10 knots. OCS ITA 117
–    
Giorgio Poggi
14:22Race 1, Finn: SLO 5, ESP 100, GBR41  

– Gasper Vincec, Rafael Trujillo, Giles Scott
12:58     start race 1 Finn class. Wind 190 º, 9 knots. BFD USA 4 – Zach Railey
12:11     Wind 180-200 º, 7-8 knots in all racing areas
28.03.10 17:00   AP over A for Finn class at 17:00hrs. No races sailed today (28.03.10) 15:04   AP lowered ashore for FINN class
.
.
---
.
The wind shifts mark the debut of the Finn fleet in this new edition of the Sofia Mapfre
After "a difficult day" and with the help of the wind, Spanish sailor Rafa Trujillo takes the lead of the Finn class overall standings with a second and third place in the two races sailed today. "There are top level sailors with very equal level" said Trujillo after beating his rivals. The Spanish sailor was happy with his regular performance and said his goal was to finish among the top 8 competitors. Regarding the wind conditions of the regatta, Trujillo is categorical: "we have to sail".
For Peer Moberg, who follows Trujillo closely in the overall results, it has been "a difficult day" marked by the wind shifts. In any case, the Norwegian competitor assures that winning is not important for him. "My goal is to finish among the top ten; I will be happy with that", he said when he knew he was second overall. Moberg also agreed that "all the top Finn sailors are here" and that makes it more difficult to finish on the top of the standings.
Third place was for Croatian Ivan Kljakovic who has shown he's in good shape after being sick. "I didn't feel well over the past ten days and I haven't been able to train" said Kljakovic at the same time he pointed out he was tired. Now he will take things "step by step" to regain strength and be in shape. For the moment and with modesty, Ivan says "he wants to sail and do it as best as possible".
Quelle: https://www.trofeoprincesasofia-mapfre.org/noticias.php?idiomaz=3
.
---
.
Zwischenergebnis nach 2 Wettfahrten

1 ESP – 100 Puerto Alcaidesa/Andalucia Rafael TRUJILLO r.c.n.la linea 5 5 2 3
2 NOR – 1 Jeepm Peer MOBERG KNS 10 10 8 2
3 CRO – 524 T-Mobile Ivan KLJAKOVIC GASPIC SC ZENTA Split 11 11 10 1
4 SLO – 5 – Gasper VINCENT JD FINN Slovenije 12 12 1 11
5 FRA – 115 Equipe de France Militaire Le BRETON SR BREST 13 13 9 4
6 GBR – 11 Edward Wright Ed WRIGHT RYA 13 13 5 8
7 GBR – 88 Teva Mark ANDREWS Largs S C 18 18 4 14
8 EST – 2 S4G/A. le Coq/EOK Deniss KARPAK S4G Karpak Sailing Team 18 18 12 6
9 POL – 7 – Rafa SZUKIEL Polish Yachting Association 18 18 6 12
10 CZE – 1 DEVOTI SAILING Michael MAIER YCR ROUDNICE N-L 26 26 17 9
11 FRA – 112 Equipe de France militaire de Jonathan LOBERT sno ntes 26 26 11 15
12 FIN – 218 Sonera Tapio NIRKKO EPS 26 26 13 13
13 POL – 17 – Piotr KULA BTZ Brugmann Biskupiek 28 28 18 10
14 GBR – 41 Skandia Giles SCOTT WPNSA 30 30 3 27
15 AUT – 3 KOSTI / ITSDONE Raudaschl FLORIAN UYC Wolfgangsee 31 31 24 7
16 GBR – 85 – Andrew MILLS Queen Mary 31 31 7 24
17 ESP – 7 muski Alejandro MUSCAT DIAZ CN Hospitalet Vandellos 31 31 14 17
18 RUS – 9 – Skornyakov EDUARD Moscow Sailing Skhool 31 31 15 16
19 SWE – 11 SKF Daniel BIRGMARK GKSS 41 41 16 25
20 USA – 619 – Caleb PAINE Southwestern Yacht Club 43 43 38 5
21 ITA – 101 – Riccardo CORDOVANI Fraglia vela Riva 45 45 25 20
22 GER – 771 Glashaeger Jan KURFELD Yachtclub Wismar 1961 46 46 28 18
23 CAN – 5 – Greg DOUGLAS RCYC 49 49 20 29
24 ITA – 146 fantastica Paoletti MICHELE y.c.t 49 49 21 28
25 ESP – 10 MEJILLON DE GALICIA Ero PONS PENIN LICEO CASINO VILAGARCIA 50 50 29 21
26 SWE – 6 – Björn ALLANSSON GKSS 51 51 19 32
27 EST – 7 – Harles LIIV Kalev PSK 53 53 23 30
28 GRE – 77 – Ioannis MITAKIS P.Y.C 56 56 33 23
29 USA – 40 – Luke LAWERENCE usscmc 58 58 32 26
30 RUS – 1 – Alexey SELIVANOV Krasnodar 58 58 27 31
31 GER – 712 – Christoph FROH SYC 59 59 37 22
32 NZL – 10 – Matt COUTTS MBSC 64 64 22 42
33 SWE – 33 – Max SALMINEN KSSS 65 65 31 34
34 ESP – 310 TOP ALACANT Alejandro ARANZUEQUE CLUB NAUTICO ANTA POLA 66 66 30 36
35 IND – 11 – Nachhatar JOHAL AYN. MUMBAI 68 68 35 33
36 POR – 5 SYBASE Frederico MELO Naval de Cascais 69 69 26 43
37 USA – 4 – Zach RAILEY stfyc 73 73 BFD 19
38 POL – 12 – Milosz WOJEWSKI Spojnia Warszawa 75 75 40 35
39 NED – 83 RNLNAVY Timo HAGOORT HWH 77 77 36 41
40 ITA – 981 – Enrico VOLTOLINI C.N.Livorno 77 77 39 38
41 NED – 844 Team Heiner Gert VAN DER HEIJDEN DSWZ Broach 80 80 41 39
42 FRA – 99 Transmer Assurances Marc ALLAIN DES BEAUVAIS SNO Nantes 82 82 2 40
43 CZE – 21 – Jan CAJCIK Yach Club Pardubice 83 83 46 37
44 ITA – 117 – Giorgio POGGI SVGDF 88 88 34 OCS
45 CZE – 81 – Tomas HRNCAL YC Pardubice 89 89 43 46
46 CZE – 11 MM SAILING/MIKE Patrik DEUTSCHER YCR ROUDNICE N/L 91 91 47 44
47 IRL – 4 – Ross HAMILTON Royal Irish YC 91 91 44 47
48 GER – 62 Heimatliebe Barthel UWE Segler-Club Dümmer e.V. 93 93 48 45
49 GER – 5 – Moessnang JOERG DTYC 94 94 45 49
50 ESP – 21 – Mauricio LUQUE DIAZ club nautico torre del mar 97 97 49 48
51 GER – 500 Mitscherlich Christian RUPP MYC 100 100 50 50
52 GER – 127 Stihl/ Marinepool/ Ims/ BYC cl Julian MASSLER Ycra 108 108 DNC DNC
52 GER – 136 – Christian TEICHMANN DTYC 108 DNC DNC