Video von Tag 3
Wahnsinn: Matthias Miller nach einem 7. Platz in WF 8 jetzt 9. in der Gesamtwertung
Matthias hat sich gegenüber der EM nochmals verbessern können, obwohl jetzt auch die Briten und die   USA teilnehmen.
17:02 Finn
Overall res FINN: AinslieGBR, RaileyUSA, BirgmarkSWE, Hogh-Christensen DEN, ZbogarSLO, MillsGBR, SlaterNZL, CookCAN, Miller GER, SzukielPOL
Matthias Miller hat sich mit Platz 5 in WF 7 auf Rang 10 in der Gesamtwertung verbessern können !
15:09
Finn
Finishing order race 7 FINN: GBR 3, GBR 85, SLO 573, USA 11, GER 151
14:02 Finn
Start FINN prueba 7 at 14.00h. Wind 220' º, 7 knots. BFD AUS1, ESP500, CZE 11, UKR 1
11:57 Finn
12.07h postponement ashore lowered for FINN class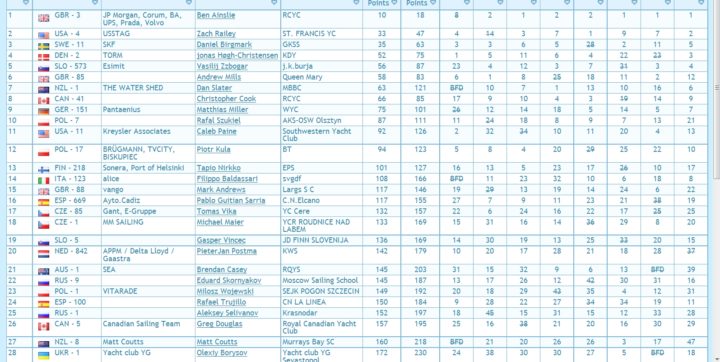 https://www.trofeoprincesasofia.org/
———————————————————-
No stopping Ainslie after two more wins
Ben Ainslie (GBR) is on a charge in Palma at the Trofeo SAR Princesa Sofia MAPFRE regatta with a clear message to the other Finn sailors. Two more race wins for the 2008 Olympic champion leaves him with a 23 point lead over the 2008 Olympic silver medalist Zach Railey (USA) with Daniel Birgmark (SWE) two points further back, with just three races to sail.
Overnight storms and a three hour postponement because of lack of wind disrupted the start of day four in Palma, but eventually two more races were sailed in slightly better wind conditions.
Race seven got away at 14.00 with a number of black flag disqualifications in seven knots of wind. Regatta leader Ben Ainslie (GBR) was straight back to winning ways to take his third race of the series. Team mate and winner of race two, Andrew Mills (GBR) crossed in second followed by Vasilij Zbogar (SLO). Zbogar has two Olympic medals in the Laser class to his name already and is fighting to qualify for the chance to win a third, this time in the Finn. Zbogar ended the day in fifth overall, while his main competition here, Gasper Vincec is struggling in 19th.
Race eight followed a similar pattern with Ainslie taking his fourth race win of the week. This time he was followed across the line by Zach Railey (GBR) and Jonas H¸gh Christensen (DEN). This result – along with a seventh in race seven – moved Railey up to second overall, while Daniel Birgmark (SWE) who finished 11-5 today, dropped to third overall. These two have also built a 17 point gap over the rest of the fleet.
Railey said, "Conditions were a bit better but still very hard to predict." On Ainslie he had only respect. "Ben is going fast and making really great decisions on the race course. We had a close race in the second race today and he was able to edge me out for the win. You have to give credit when someone is sailing well and he is doing a great job this week."
Ainslie of course is still getting back to fitness after an operation on his back earlier this year. He commented, "It was a difficult period over the winter. We've been here training pretty hard, but the conditions funnily enough are quite different to what we've been training in and I think everyone's finding it hard. For me it's just great to be back racing again and you do realise there's a huge difference between training with four or five boats and suddenly having 60 boats, a long start line, 1.3 mile beats and a big course so it's very different and it's great for me to be back racing and getting my head into that."
Other Olympic selection trials here are also running including the Poles and the Czechs and it couldn't be closer. Rafal Szukiel (POL) who was a 2008 Olympian is just two places and seven points ahead of the young Piotr Kula (POL), who had an excellent start to the regatta. Meanwhile the Czechs are even closer with Tomas Vika (CZE) leading four time Olympic veteran Michael Maier (CZE) by just one place and one point. Friday is going to be a critical day for all these sailors.
Szukiel commented on the selection process, "Our selection started here in Palma. We have three regattas, here, Hyeres and the Gold Cup, but only two best are counting. So everything is still open." Is there a competitive spirit between the sailors. "At the moment we are one team. I hope it will stay like that up to the Olympic."
On the conditions this week, "Today's conditions were difficult. The wind was shifty and different with strength. I got some good results because I was sailing well downwind and what is more important I was starting well."
Ninth placed Matthias Miller (GER) commented, "I'm very happy to be in the top ten. Last year was not so good for me. but I always could felt that I could do more. Now after lots of training in Valencia I'm ready. This week, like at the Europeans. the main thing was is to reduce the risk."
On qualification for Weymouth, "I didn't get selected last year. So the last selection is the worlds in Falmouth. I have to do top ten."
However at the top of the fleet, Ainslie is now in a great position going onto the final day of the opening series. On Friday he has the possibility of sealing the regatta win with room to spare. He is the only sailor here seeming to make sense of the conditions every race and his scoreline proves it.
Quelle: finnclass.org