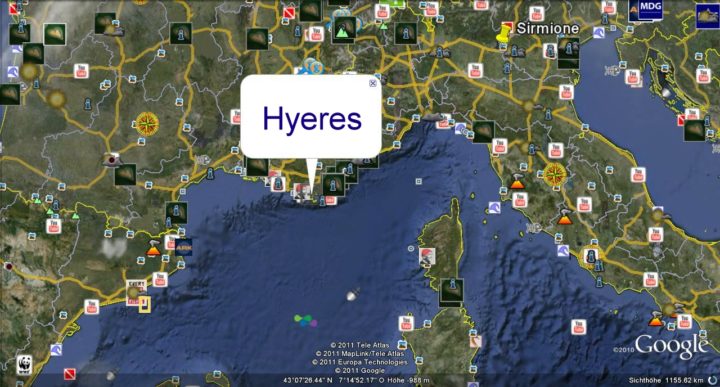 Men's One Person Dinghy Heavy   –   FINN   –   24 to 29 April     –   11 races
.
Results after 2 races ( Discards : 0 ) (81 entries)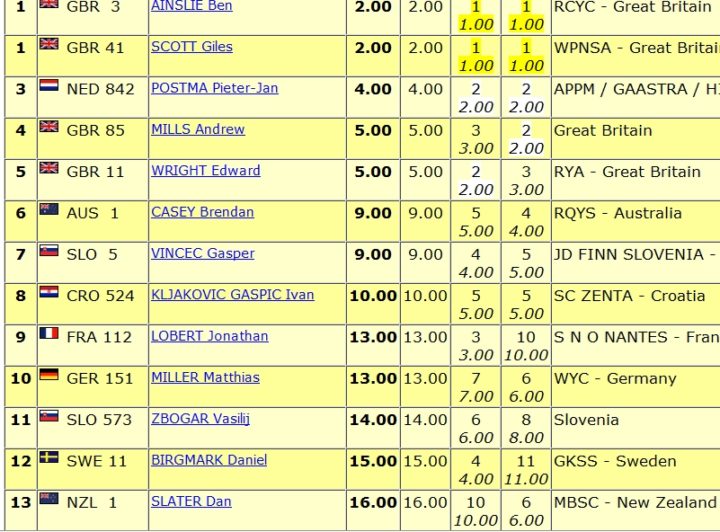 10 GER 151 MILLER Matthias 13.00 13.00 7 7.00 6 6.00 WYC – Germany

20 GER 771 KURFELD Jan 21.00 21.00 14 14.00 7 7.00 YACHTCLUB WISMAR 61 – Germany
(Es wird in zwei Gruppen gesegelt)
Hyeres day one – GBR Finns dominate
On the opening day for Finns at the 43rd Semaine Olympique Fran§aise in Hyeres, Skandia Team GBR sailors were once again dominant. Ben Ainslie (GBR) and Giles Scott (GBR) each won both their races in the split fleet while Ed Wright (GBR) and Andrew Mills (GBR) posted a 3, 2 each. Pieter-Jan Postma (NED) posted two second places to sit in third overnight, neatly sandwiched between the four Brits.
Once again at a Sailing World Cup event, the Finn class was oversubscribed. Eighty boats from 31 nations took to the start line on day one. After the rain and strong winds in recent days the fourth leg of the 2011 ISAF Sailing World Cup opened in perfect conditions with 12 to 18 knots of breeze.
Hyeres is the first major event of the year for the Croatian team, which includes world number one and current European champion Ivan Kljakovic Gaspic (CRO) as well as the winner here last year, Marin Misura (CRO). They started their week with a 5, 5 and a 7, 13 respectively. Kjlakovic Gaspic, who is in eighth place overall, said, "Today we had a medium wind but nice fast waves. The wind was constant so boat speed was important, and the racing
was not too complicated as we were split in groups." Hyeres is his first major regatta this year and he is clearly pleased to be back. "Sure it is fun to be back into real sailing and you can see guys have been training hard. I can't wait to go sailing tomorrow as I really miss it."
Another familiar face on the start line is the 2006 and 2009 World Champion, Jonas Hoegh Christensen (DEN). His last major event was the Finn Gold Cup in San Francisco last September, where he showed familiar flashes of brilliance despite breaking a finger in training. Today he placed 9, 23 to end up in 31st place overnight.
Among the new faces in Hyeres are the five strong Chinese team, their first major regatta since the Olympics in 2008. After the first day the highest Chinese sailor was Lei Gong (CHN) who sits in 25th place after a 17, 10. The Chinese team are very much an unknown quantity, so it will be interesting to watch how well they perform and more importantly how fast they improve.
But so far for the British team it seems to be business as usual. Joint overnight leader Ainslie earlier commented, "I hope for the lighter sea breeze, however I wouldn't mind a good day of Mistral for the fun." After a couple of years away from the Olympic circuit Ainslie can see a difference in the level of athleticism in the class. "Sailors are now taller and bigger, they are fitter too which is giving them an advantage on me in the breeze."
Because of the large entry, the Finn fleet in Hyeres is again split into two starts, with a gold and silver split coming into force on Wednesday and Thursday, before the medal race for the top 10 on Friday 29th April.
https://www.finnclass.org/