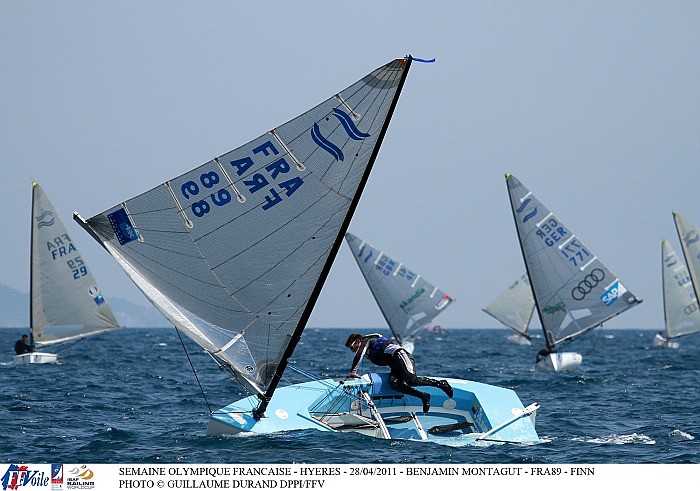 Zwischenergebnis nach 10 Wettfahrten:
15
GER 771
KURFELD   Jan (M1987)
GOLD
109.00
151.00
14
14.00
7
7.00
4
4.00
OCS
42.00
19
19.00
9
9.00
7
7.00
19
19.00
29
29.00
1
1.00
.
34
GER 151
MILLER   Matthias (M1982)
GOLD
184.00
221.00
7
7.00
6
6.00
31
31.00
14
14.00
23
23.00
7
7.00
34
34.00
29
29.00
33
33.00
37
37.00
.
Hyeres day five – in the bag for Ainslie
Yet another victory for Ben Ainslie (GBR) is now assured after three more races for the Finns at the Semaine Olympique Fran§aise in Hyeres.
Pieter-Jan Postma (NED) hangs onto second place and Zach Railey (USA) moves up to third, but the minor medals are still wide open going into Friday's medal race.
If Ben Ainslie needs to send a message to the British Olympic team selectors, then this week he has been crystal clear. Six race wins out of 10 races and counting no worse than a fourth, he has taken the week with a day to spare.
After a 1, 4, 3 today, Ainslie now has an unassailable lead of 29 points going into tomorrow's final medal race. Ainslie took the first race from Ivan Kljakovic Gaspic (CRO) and Thomas Le Breton (FRA) in 5-8 knots. Third placed Giles Scott (GBR) picked up a second yellow flag and had to retire from the race, while another top 10 contender Gasper Vincec (SLO) picked up a black flag.
The second race, breaking a four win run for Ainslie, went to his training partner Mark Andrews (GBR) from Vasilij Zbogar (SLO) and Zach Railey (USA).
But a fourth place for Ainslie yet again extended his lead at the top. A second yellow flag of the day for Giles Scott (GBR) effectively removed all his chances of a podium finish.
It was starting to look like those who dared to talk to your reporter this week were plagued by bad results, and following input from Jan Kurfeld (GER) yesterday, it was happening again after he posted a 19, 29 in the first two races. But he bounced back hard with a well deserved race victory in the final race of the series for him to end up 15th overall, and again meeting his own goals, just five points from the medal race. He was followed over the line by Le Breton and Ainslie.
After his worst races so far with a 12, 19 in the earlier races today, Pieter-Jan Postma (NED) concluded the day with a fourth in the final race to move back up to second overall, just three points ahead of Railey, who posted a 12th in the final race, after earlier scoring a 4, 3. In the silver fleet, the first race went to the winner's of Wednesday's only race, Aleksey Selivanov (RUS) from Jakub Dumara (POL) and Marko Kolic (ITA). A fourth for Luke Lawrence kept him in the overall lead. The next race went to his team mate Caleb Paine (USA) from Kolic and Akif Muslubus (TUR). Lawrence placed fifth to extend the points gap on Kolic in second. In the final silver fleet race, Paine finished second to Tauras Rymonis (LTU) and ahead of Selivanov. A sixth for Lawrence was enough to give him the silver fleet win by 17 points from Dimitriy Tereshkin (RUS) and Selivanov.
Ainslie said, "It's been a good week. I was happy with the results in the breeze on day one and managed to build a good series from there. For the medal race, "I'll try to have a good race and hopefully learn some more about the medal race as we don't race them that often compared with standard races. It's nice to win with a day to spare – it takes the pressure off the medal race.
In second place going into the medal race, Postma said, "Apart from the first day of nice breeze, the rest of the week has been really light and shifty, which makes sailing here really hard. So far for me the racing has been good. The training has paid off and after the break last year I have got my mojo back. Ben is sailing really fast and what an inspiration. He and his team put up such a high professional level in all areas and deserves a lot of respect."
Railey said, "We had a little more breeze today but it remained shifty and patchy making it difficult racing. I feel good about my scores. I had some comebacks to keep myself in the running for the podium which was nice. Tomorrow the points are very close and I will have to see how the race unfolds."
Fourth placed Kljakovic Gaspic can still get the silver after the medal race. He said, "Today was tricky, light and shifty but interesting to sail.
It was easy to make mistakes and collect more points that you expect. In total I am happy with my performance. The fleet is strong and it is great fun to sail with these guys. I am looking forward to the next events." For the medal race, "Just let it go and sail – it feels good that I am in the fight for the podium."
While most of the medal race sailors are regular front runners, 20 year old Filippo Baldassari (ITA) in 10th is sailing his first medal race. This has been his best ever result and with Hyeres being part of the Italian Olympics trials process, he has done himself no harm there either.
The gold medal is already deservedly Ainslie's. The fight for silver is between Postma, Railey and Kljakovic Gaspic, while Daniel Birgmark (SWE) and Thomas Le Breton (FRA) can also get bronze, but they need to win the race to stand a chance.
The medal races in Hyeres start from 10 am on Friday with live tracking through the event website.
Quelle: finnclass.org