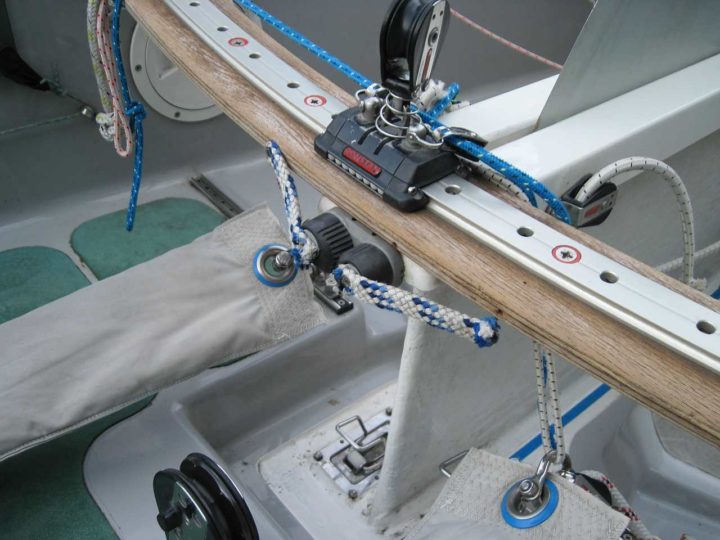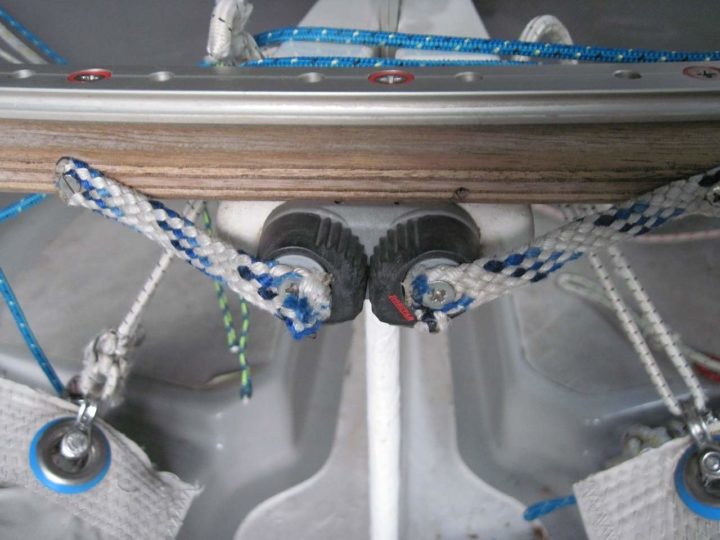 Am hinteren Schwertkastenende meines "neuen" Finns befindet sich eine Curry-Klemme um bei mehr Druck   eine Part der Schot fixieren zu können.
Ist diese Anordnung auch heute noch zu empfehlen oder sollte ich eine andere Pumptechnik wählen ?
 Habe inzwischen von einem Spitzensegler eine Nachricht darüber erhalten, dass die Klemme verboten sei.  
"Niemand hat die in den neuen Booten- wie verboten.
Es hat früher auf jedenfall für alle schlappen Tourisen funktioniert."
In den Finn-Class-Rules habe ich bezüglich der Grosschot jedoch bisher lediglich die folgenden Vorschriften gefunden:
C 9.4. Boom

(b)

(2) Mainsheet and Mainsheet block attachments on the boom allowing
additional athwartship travel are prohibited.
Page 27

Mainsheet traveller block (centreline of attachment);
Travel from centreplane of boat…………………………………………. …550 mm
Travel forward of station 4 ………………………………………………… …150 mm
Da Gründe für ein Verbot der Klemme für mich derzeit nicht nachvollziehbar sind, lasse ich sie zunächst dran.
Meine Recherchen haben ergeben, dass John Driscoll mit dem Boot 1996 13. beim Gold Cup in La Rochelle wurde und als Besonderheit ein Milanes-Ruder und vermutlich auch die o.a. Klemme verwendete.
 Alte Abbildung aus FinnLog
NORTH empfiehlt:
Play the mainsheet directly from the boom (1:1) until it fells like you are going to be pulled out the boat and are not longer effective.
At this point switch to 2:1 (sheet deadended at the main ratchet block then through the boom and to your hand), as it more manageable and safer. The Finn likes to be sailed with a little weather heel and low angles, but not to the lee.