Hi,
gut nachvollziehbar ist das folgende Projekt aufgrund der Preise, die man in Europa für ein neues Finn bezahlen muss
Finn-Foundation-US-Built-Finn-Initiative-Flier …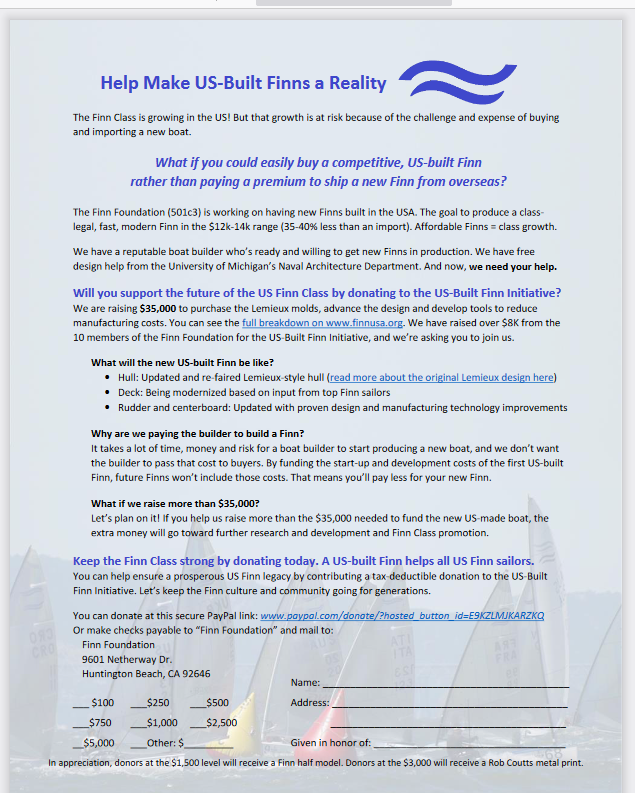 http://www.finnusa.org/2021/02/18/finn-foundation-us-built-finn-initiative/
The Finn Foundation (501c3) is working on havingnew Finns built in the USA. The goal to produce a class-legal, fast, modernFinn in the $12k-14krange (35-40%lessthan an import). Affordable Finns = class growth.
We have a reputable boat builder who's ready and willing to get new Finns in production. We have free design help from the University of Michigan's Naval Architecture Department.And now, we need your help
We are raising $35,000to purchase the Lemieux molds, advance the design and develop tools to reduce manufacturing costs.
What will the new US-built Finn be like?

• Hull: Updated and re-faired Lemieux-style hull (read more about the original Lemieux design here)

• Deck: Being modernized based on input from top Finn sailors

• Rudder and centerboard: Updated with provendesignand manufacturing technology improvement