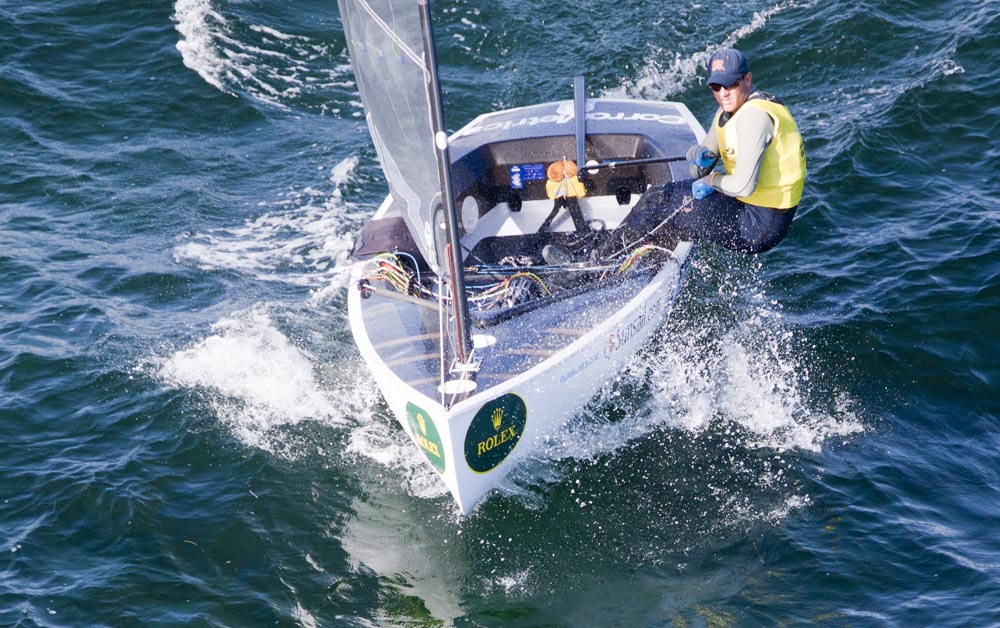 The 2008 Olympic Silver medalist Zach Railey (USA) has started 2012 in the best possible way by dominating and winning the Rolex Miami OCR, the second event in the 2012 ISAF Sailing World Cup series. Though numbers were down following the recent Perth 2011 ISAF World Sailing Championships, the front of the fleet was still very competitive with an Olympic medalist and a double world champion slugging it out for most of the week. At 26 boats it was also the same size fleet that will be at the Olympics this coming August, so it was good small fleet practice for many.
With a week of near perfect sailing conditions, Railey opened his series with three race wins. Afer that he never slipped below third in any of the next seven races and went into the medal race with a commanding 12 point lead. He won that as well to take the tally to seven and become the clear winner with a 18 point margin over the runner up.
Double world champion Jonas Hogh-Christensen (DEN) only managed to win one race all week, but a long string of second and third place finishes ensured he took home the silver medal, while third placed Greg Douglas (CAN) started the week badly with a black flag but was soon moving up the rankings with some good results, including a win in race eight.
Fourth placed Brendan Casey (AUS) – who had filled third place for most of the week – also won two races, but five races outside the top three, as well as a poor medal race cost him dearly. He only lost the bronze on countback to Douglas.
Douglas said, "I am very happy with my event, having started with a black flag to end up third overall. It is only my second medal race – my first was at Delta Lloyd last year. The medal race is very tough because people are always changing positions in the race which effects their overall score."
"The main thing I took away from this event is that every place counts. No matter what happens you have to push hard in every race to gain places because the points at the end will be close."
Railey summed up his week. "The regatta was great for training and racing with good wind and long courses. We sailed mostly in 8 to 16 knots so it was very hard work physically with free pumping and up to 1.5 mile legs. The top boats were always close so it was great racing and very hard physically pushing against each other."
And going forward, "We will just keep working on our goals and taking steps forward toward Weymouth. This event was a good measure for us in a number of areas we wanted to focus on and it gives me a lot of confidence we are moving in the correct direction."
The Finn class has a very busy early part of the season. The European season will start early with the Semaine Internationale de Cannes from the 14-17 February, followed by the Athens Eurolymp from 4-8 March and then the increasingly popular Split Olympic Week from 7-11 March. The fleet then moves to Scarlino in Italy for the Senior and Junior European Championships from 19-24 March. Then it is off to Palma and Hyeres, before the Finn Gold Cup in
Falmouth, UK, the second and final country qualification regatta for Olympics.
As usual the Finn class will be bringing up to the minute coverage of all its major events as the year builds up to the Olympic Games in August.
Results (medal race in brackets)
1 USA 4 Zach Railey15 (1)
2 DEN 2 Jonas Hogh Christensen33 (4)
3 CAN 5 Greg Douglas45 (3)
4 AUS 1 Brendan Casey45 (8)
5 USA 11 Caleb Paine48 (5)
6 CAN 902 Brendan Wilton58 (2)
7 CAN 110 Martin Robitaille71 (9)
8 EST 11 Lauri Vainsalu92 (DNF)
9 NOR 1 Anders Pedersen100 (7)
10 USA 21 Gordon Lamphere101 (6)
Photos: Rolex/Daniel Forster
Event website: https://rmocr.ussailing.org/