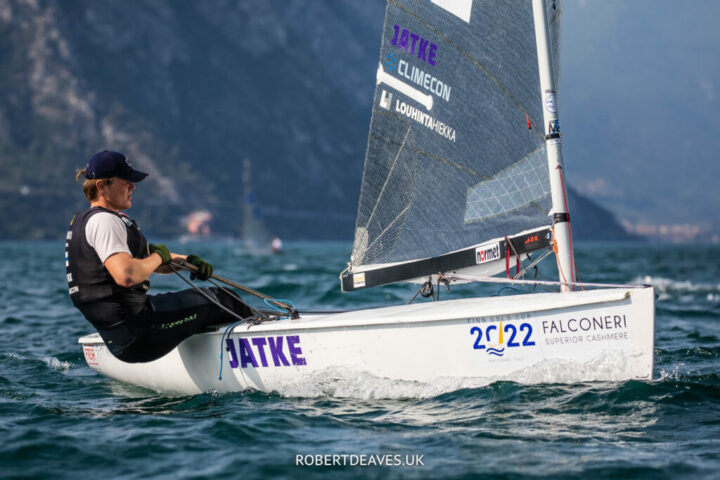 After three very different races, Finland's Oskari Muhonen has taken the lead at the 2022 Finn Gold Cup at Fraglia Vela Malcesine on Lake Garda, Italy. He won two more races to take a three point lead from Pieter-Jan Postma, from The Netherlands. Austria's Florian Raudaschl won the second race and moves up to third overall. Four races remain.
After losing the first day with no wind, the event is back on schedule. But still the conditions defy the local weather-lore with a long wait for racing to begin on Thursday. In the end the first race was started in 6-7 knots and at the top mark, there were some big holes. Most of the leaders survived, but a few had some deep results.
The second race was sailed in slightly more breeze, though it started to build significantly on the final downwind, setting up a great third race in 12-14 knots.
Otto Strandvig, from Denmark, led at the top, by the race was a fight between France's Laurent Hay and Muhonen. Hay led at the downwind and second top mark, but Muhonen got past in a last few hundred metres before the final gate to take the race win.
Muhonen then led round the top in Race 5, but Raudaschl had other ideas and was in the lead at the gate and led round the remaining marks to take the race win from Postma and Miguel Fernandez Vasco, from Spain.
With the breeze up, there were some new faces at the front but Muhonen used his downwind speed to take the lead by the gate and extend away to win from Domonkos Nemeth, from Hungary, who has a clear lead in the Finn Silver Cupfor the U23 World Championship, and Postma.
Raudaschl commented, "I think the racing was great today. The race committee kept us waiting but the l think they knew why they kept us waiting. The day started difficult but I managed to have three races which were OK."
His expectation here, "To be honest nothing. It was just a holiday here for me and of course I went to the gym again, put on some weight, but I see it as a holiday and I really enoy it. It's good fun"
He is always drawn back to the Finn, "I have sailed so many different classes, but I was never really happy and in the Finn it's so hard, and the hiking is so hard but at the end of the day you did something and really worked your way, and that keeps you happy I guess."
Three time Silver Cup winner Muhonen has now won three races this week in all conditions and looks comfortable.
"Today we started off with a weak breeze and it was pretty tricky for the first two races. Then afterwards the breeze built in and the third race was really good. I had a pretty decent day. I won the first one, and then it got tricky on the second. I was fifth and then managed to win the third one as well.
"The week has been pretty good so far. Yesterday was all right, some good points and solid finishes, but still four races to so it's going to be pretty tight with me and PJ, and we'll see how we end up."
Why is he back? "During the winter I started an Olympic campaign in the 49er, but now I am looking for a new crew and I had some free time and I still had my Finn, so I decided to come here. And it's been really fun to be back and racing, and really tight racing, so I am really happy I decided to come here. After this, I will probably sail some Finn back in Finland at least, but we'll see about that."
Racing continues until Saturday with two more races scheduled for Friday.
Results after six races
1 FIN 8 Oskari Muhonen 12
2 NED 842 Pieter-Jan Postma 15
3 AUT 3 Raudaschl Florian 25
4 HUN 80 Domonkos Németh 31
5 ITA 40 Marko Kolic 40
6 ITA 1071 Matteo Iovenitti 46
7 ESP 161 Miguel Fernandez Vasco 54
8 ITA 115 Roberto Strappati 59
9 NED 148 Peter Peet 60
10 FRA 75 Hay Laurent 62
Full results here: https://fragliavela.sailti.com/en/default/races/race-resultsall/text/FinnGoldCup-en/menuaction/race