Woffelsbach-Rursee.de meldet am 8.Mai 2013:   "Uli Breuer ist in die Segelnationalmannschaft in der olympischen Finnklasse berufen worden."   und führt des weiteren aus:   "Als nächstes finden die Ausscheidungsregatten für die Europameisterschaft und Weltmeisterschaft statt."
Hinsichtlich der Ausscheidungsregatten neugierig geworden schaue ich in die Ausschreibung der im Juli in Warnemünde stattfindenden Finn Europameisterschsft und finde dort die folgenden Angaben:
3.2. The entry quota of Part D "Entry System for IFA Official Championships" of the Finn Class Rules will apply.
3.3. To be eligible for the Junior European Championship competitors shall not have been born before 1st
January 1992.
Den Part D der Finn Class Rules gab es aber nur bis 2005.   (2005 Complete rewrite and standardisation of the class rules.)
Er lautete damals: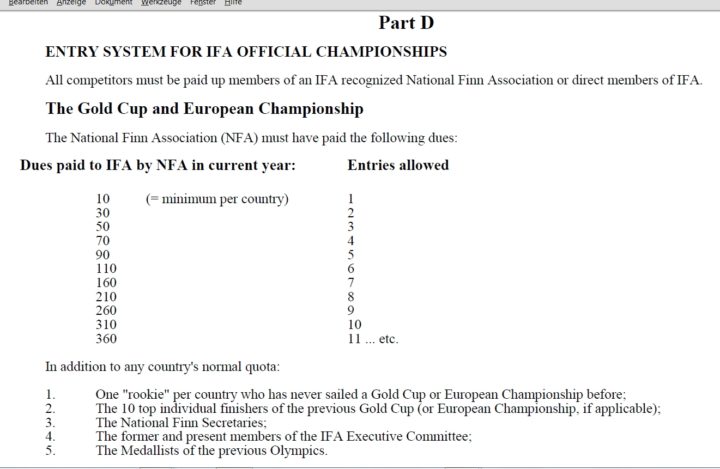 Es stellt sich also die Frage,   welches IFA/ISAF-Dokument ab 2006 die Quoten regelt und wieviel deutsche Teilnehmer an der EM teilnehmen dürfen.   Bei Überschreitung der Quote dürfte die Ranglistenposition ausschlaggebend sein.

STG nennt auf der Homepage als Finnsegler übrigens lediglich Lennart Luttkus als Mitglied der "Nationalmannschaft"