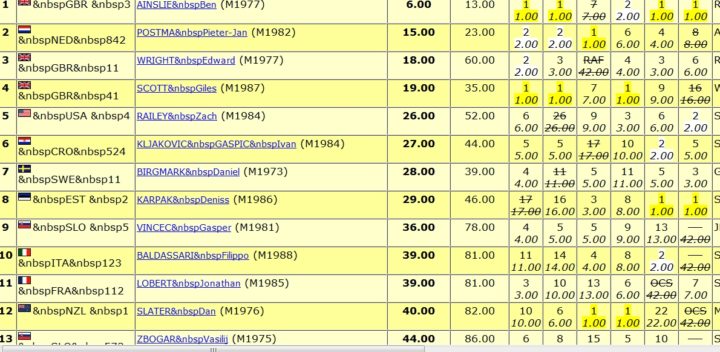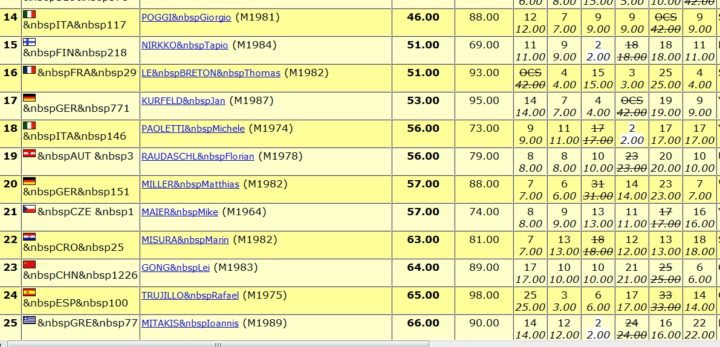 Bitte das Ergebnis zum Vergrössern anklicken !
Finn Zwischenergebnis nach 6 Wettfahrten – 1 Streicher
Pieter Jan Postma – Rang 2
Jan Kurfeld – Rang 17
Florian Raudaschl – Rang 19
Matthias Miller – Rang 20
.
Schöner Zweikampf der beiden deutschen Teilnehmer auf   höchstem Niveau 🙂
Tuesday 26th April 2011
The objective of the day to finish the programme before the final stage has been reached! Sailing started late due to a summery weather, more appropriate for lazing in the shade than sailing a regatta! The chances to conclude the qualifications looked grim but finally by 8PM the last boats came back to the dock after a long day of wait and sail.
In the Finn, Ben Ainslie is back at the front after a perfect day and two bullets.
"It was a really tricky day – the wind was all over the place and there were lots of place changes in all of the races, but I was happy to get through with two good races in the end considering everything that went on, so it was a good day."
Pieter-Jan Postma (NED) is continuing with regular results to take second overall. Ed Wright climbs on the podium. Young Estonian Deniss Karpak wins both races in his group and get to seventh overall.
https://sof.ffvoile.net
—————————————————————
Hyeres day three – Ainslie climbs to the top
A second-double-win day for Ben Ainslie (GBR) on day three of the Semaine Olympique Fran§aise in Hyeres has given him a useful points margin at the top of the fleet while Pieter-Jan Postma (NED) has moved up to second place and World Champion Ed Wright (GBR) has climbed to third. Both the other race wins were taken by Deniss Karpak (EST).
The forecast for the day was not great with variable and very light winds forecast for the morning, rising to a meagre seven knots in the afternoon.
After a long and hot delay to wait for the breeze to arrive, by 13.30, 8-12 knots was in place and the fleet was sent afloat. The Finn heats finally started at just after 15.00 with race five of the 11 race series and the sailors did not get ashore until the evening.
In race five, in the blue fleet Ben Ainslie (GBR) won from Ivan Kljakovoc Gaspic (CRO and Ed Wright (GBR) while in the yellow fleet Deniss Karpak (EST) won from Filippo Baldassari (ITA) and Li Zhen (CHN).
Ainslie and Karpak did it again in race six, each taking their second bullet of the day. Ainslie was followed over the finish by Zach Railey (USA) and Daniel Birgmark (SWE), while behind Karpak were Eduard Skornyakov (RUS) and Jonas H¸gh Christensen (DEN), neither of whom has had a particularly good week so far.
Ainslie commented on the conditions, "The conditions were very tough with the wind swinging a lot and big place changes. My day kind of hinged around trying to keep with the leaders and looking for an opportunity. Fortunately they came. Hopefully we will get some more breeze for the rest of the week and some good racing to test everyone."
Railey added, "It was really hard day today. The wind was shifty but also there were big pressure differences and if you picked it wrong you were in trouble. The racing is very close so it is possible to gain and lose places all the time."
"I'm looking forward to getting into the Gold Final and testing myself against all the guys at once. It should be an exciting few days to see who makes the final top 10 as lots of guys have the chance with four races to go."
Nicknamed 'Le Chef', Daniel Dahon formerly coached French Finn stars Philippe Presti and Xavier Rohart for many years before continuing with Rohart in the Star. At 70, he is as enthusiastic as ever and jumped at the chance to come to Hy¨res to coach 23 years old Matt Coutts (NZL). Dahon said, "I stopped coaching for the French team after Beijing – too old they told me. I have been away from the sailing circuit for two years and now am very happy to be back. Ten days ago I was contacted by Russell Coutts' secretary asking me if I was available to coach Matt Coutts. He is a
really nice guy, a student. I knew he came from the Laser but wasn't sure about his level in the Finn."
"I asked him what he expected from me and he told me, "You give me all you can." I saw him sail yesterday for the first time. He has a good level, but lacks experience. He started in the Finn last year and has never had a coach. He seems to be smart and has a good build for the Finn."
After the first day on the water the coach gave his first advice. "He needs to work on his steering downwind. Upwind he is fine. We talked about tactics and how to deal with the weather, his opponents. We have started to observe his rig and sails. It is interesting to start with a young motivated guy who wants to learn and progress." After six races Coutts is lying in 28th place after an 11th and a 30th today.
On Wednesday and Thursday the boats will now be split into gold and silver fleets, before the medal race for the top 10 on Friday.
Quelle: finnclass.org