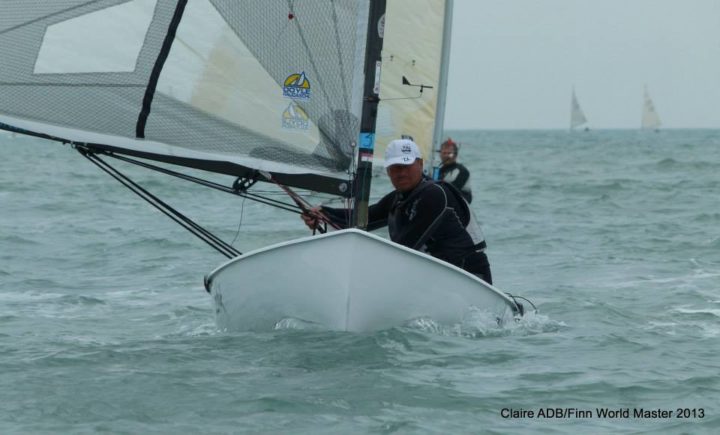 Michael Maier
Live-Ticker
Results after 5 races   Michael Maier (3.3.8.1.1.) vorn, Andre Budzien 2. (1.1.1.8.29.) Thomas Schmid 5. Uli Breuer 7. Stefan Kreiss 20. Jürgen Eiermann 29.
 "Heute nur 1 Wettfahrt" bei anfangs schlappen 3 bft,die sich bis auf 4 bft steigerten, berichtet mein Korrespondent, als er sich heute überraschend früh meldete.   Nachdem es heute vormittag während der Masters-Versammlung   Beschwerden über die kräftezehrenden Bedingungen gab, wurde heut nur eine Wettfahrt durchgeführt. Ein paar Segler sollen bereits abgereist sein. Meinem Korrespondenten wurde heute übrigens eine Punktstrafe von 10 Punkten auferlegt, da er sich nicht in das Auslaufbuch eingetragen hatte.
Es wurde beschlossen dass die Masters 2015 in Griechenland stattfinden sollen.     2014 Sopot, Poland
Heute wird es spannend. Kann Andre' nach dem 8. Platz in der 4. Wettfahrt wieder zulegen oder zeigt er Nerven ?   Ich drücke ihm jedenfalls die Daumen !
Zwischenbilanz nach 4 Wettfahrten:

Penalties and redress : 224 (48 BFD; 13 DNC; 2 DNE; 104 DNF; 1 DNS; 40 DPI; 8 DSQ; 8 OCS; )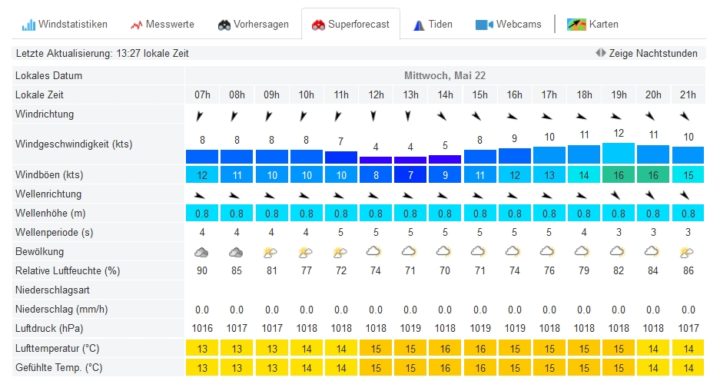 Etwas moderator ist die Windfinder-Vorhersage für den 3. Wettfahrttag.   Schlägt heute die Stunde der Leichtgewichte ?
Finn World Masters 2013 – Launching and recovery of 285 Finns in 2 minutes
Um die Geschwindigkeit bei Videos regulieren zu können, brauchen Sie den HTML5-Videoplayer von YouTube.

Um den HTML5-Videoplayer von YouTube nutzen zu können, brauchen Sie einen Browser, der diese Funktion unterstützt. YouTube zeigt an, mit welchem Browser man den HTML5-Videoplayer nutzen kann.
Rufen Sie die HTML5-Videoplayer-Seite von YouTube auf (Sie brauchen hier nur dem Link zu folgen) und klicken Sie ganz unten auf der Seite auf "Am HTML5-Test teilnehmen". Schon wird dieser Videoplayer für künftige YouTube-Anwendungen auf Ihrem Browser aktiviert.
Quelle: helpster
 Webcams
Siehe auch: https://www.finnworldmaster.com/2013.htm
https://www.srr-sailing.com/finn-world-master/
———————————————————————

.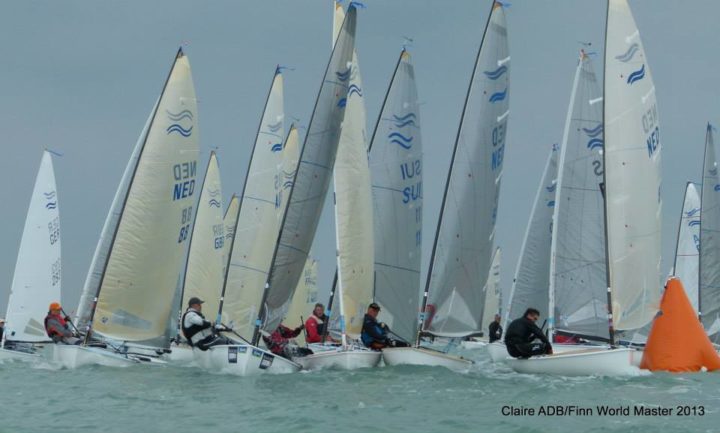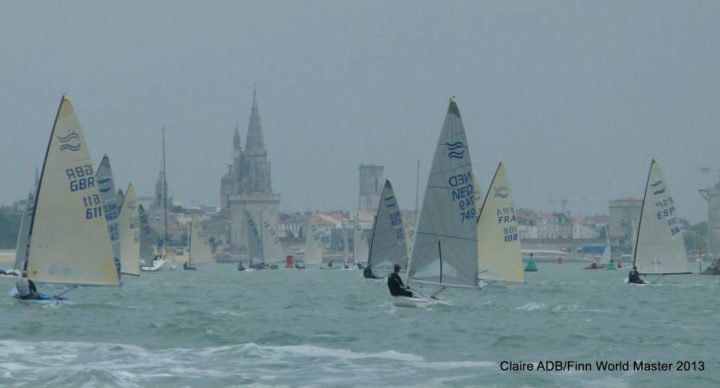 Maier makes most of moving day at Finn Masters
It was moving day at the Finn World Masters in La Rochelle; the day everything changes, the day between the beginning and the end. There were lots of changes at the top with several favourites picking up high scores after the only race sailed. Michael Maier (CZE) sailed a flawless race to claim his second race win and take the overall lead. Andre Budzien (GER) sailed one he would probably prefer to forget and dropped to second, while Erik Lidecis
(USA) placed seventh to end the day one point behind Budzien.
The forecast for the day was not good. The weather chart showed just 4-6 knots of wind, though as the Masters arrived for their annual Masters Meeting, the sun was trying to break through the grey cloud and for the first time this week it was starting to feel warm. The sailors set out for the race area in just a few knots of wind and it looked like a different place from the last few days. However as it got closer to the start the wind picked up to 8-10 knots with complete cloud cover and a distinct drop in temperature.
The races were characterised by a gradual shift in the breeze to the right with those who chose the right side looking very pleased with themselves at the top mark.
In the Yellow fleet, Rainer Wolff (GER) was first round the top mark from Thomas Schmidt (GER). The chasing pack included Fergus Allan (GBR), Michael Staal (D) and Allen Burrell (GBR). However Schmidt had taken the lead by the next leg and extended on the fleet for a nice win. With Wolff maintained second place, Burrell had made the best of the start on the right side and immediately tacked out to the right to come back well placed into the top
mark, and then moved through to take third at the bottom of the second downwind and held it until the finish.
Michael Maier dominated Blue fleet, leading from start to finish after also starting on the right and benefiting from a sizeable right shift that left those further right footing off to lay the mark. Second placed Neil Robinson (GBR) rounded the top mark about fifth and worked through the boats while the French battle for third was won by Laurent Hay (FRA) from Marc Allain des Beauvais (FRA). Second overall Erik Lidesic (USA) lost some places on
the final downwind to cross in seventh. This now means that Maier has taken the lead from Budzien (who finished 29th in Yellow fleet) and Lidecis.
Schmidt, who was the Finn world champion 25 years ago in 1988, explained his race. "I was on the front row on the right side and the wind was quite shifty to the right. I got a good start and sailed a good way up the first beat straight out and then tacked to the right a bit before coming back into the top mark in second. I was first at the next gybe mark and downwind I sailed quite well with nice speed and on the second beat I pulled away."
On the second upwind, the mark had been changed to the new wind."But I couldn't see the new mark. It was a white buoy, quite small and there were no rubber boats around it and it was very difficult to see. But in the last 400 metres a rubber boat was there. I had quite a gap on the next boat so I wasn't worried, but it was very hard to find."
Schmidt now moves up from 8th to 5th overall. "I have been training with some other guys on the River Elbe in Hamburg. It's quite a similar area to hear with the current, so that was good training. It's really nice to see so many boats here this week and also very nice to win a race in front so many Finns."
Gus Miller, the oldest sailor at this event at 78 made a few astute observations about the sailors in La Rochelle, "A number of things are striking about this Masters Finn fleet. The number of coaches / minders, the good gear, the fitness level for the age, the joy at being here and the up to date techniques being used."
Several of the sailors are working with top international sailors to improve their game. He continued, "Ed Wright and Lauri Vainsalu are here along with other very good Finnsters acting as coaches. Many masters have done well in life, are used to hiring and managing expert people and expect results from themselves. Out on the water these coaches act as rescue in case the old boy gets into trouble. Most of the Masters are very aware of their limitations and have developed ways of compensating."
"It is not unusual to see two white haired gentlemen with a tape measure and spring scale on a halyard in a deep discussion of the best leech tension for a particular mast sail combination – should it be 31 or 32 kg. Other popular discussions involve what top young Finn sailor a particular mast or sail came from or what instructions a particular sailmaker was given for a certain sail. The old game of evolution and technology in the Finn goes on even though everyone knows it is impossible to build a super Finn. It is an interesting struggle just to stay even. If you want to start a conversation with an unknown Finn sailor, all you have to do is ask him how his luff curve is."
"Then there are the stories and remembered incidents of who was who and what was what. Old sea dogs remembering what it was like to have a strong reliable body and a subtle mind. A phrase such as, "Was not it you in 1961 at the top mark in Kiel who…", followed by much laughter is not uncommon. It seems that this regatta takes 20 years or more off of each competitor."
At the Masters Meeting in the morning, the President Fons van Gent (NED) announced he was stepping down and presented Andy Denison (GBR) as his replacement. Denison (GBR) said, "I will give this my utmost attention. I was president of the British Finn Association for seven years so I think I know what we want. I can't organise the sunshine but I can try and make it as fair as possible. I will keep the balance as best as I can. During his terms Fons has done wonders with this organisation; he has done absolute wonders. He has created a structure and a working platform that will take us well into the future."
Then van Gent was presented with a half Finn model and received a standing ovation from the several hundred sailors present. Fons said, "It is not difficult to do something well when you like doing it and I liked doing this job very much."
In addition Yves Zoccola (FRA) retired from the Masters committee and Marc Allain des Beauvais (FRA) was elected in his place. Next up was the vote for the venue for 2015 wth bids from Bracciano in Italy and Kavala in Greece. Bracciano took 55 votes and Kavala took 76. So the 2015 Masters will head to Greece for the first time in the event's history. Racing in La Rochelle continues on Thursday, with a return to stronger winds forecast. The championship concludes on Friday, when the top 10 will sail a medal race, the first time this has happened for the Masters.
Results after 5 races
1CZE 1Michael MAIER8.00
2GER 711Andre BUDZIEN11.00
3USA 505Erik LIDECIS12.00
4LTU 7TaurasRYMONIS15.00
5GER 193Thomas SCHMIDT18.00
6FRA 75Laurent HAY24.00
7GBR 2Allen BURRELL26.00
8DEN 80Michael STAAL29.00
9NED 41Karel VAN HELLEMOND30.00
10GBR 642Adrian BRUNTON39.00