It Comes Down To Those Last Miles | From the Boats | Leg 3 12/03 | The Ocean Race
Despite over 5,000nm sailed since the start of Leg 3 in Cape Town it is coming down to the wire as to who will gain an advantage at the scoring gate. Team Holcim-PRB came through first (again) but the battle rages on behind them.
Day 14 – Leg 3 – The Ocean Race – Neck and Neck with 11th Hour
56.000 Abonnenten
Fighting neck and neck with 11th Hour and flying towards the scoring gate! Can you feel the excitement? Tracker: https://www.team-malizia.com/ (c) Antoine Auriol
Boris fragt: "Is there a risk of collision ?"
No
"We keep an eye on .. – they are really close"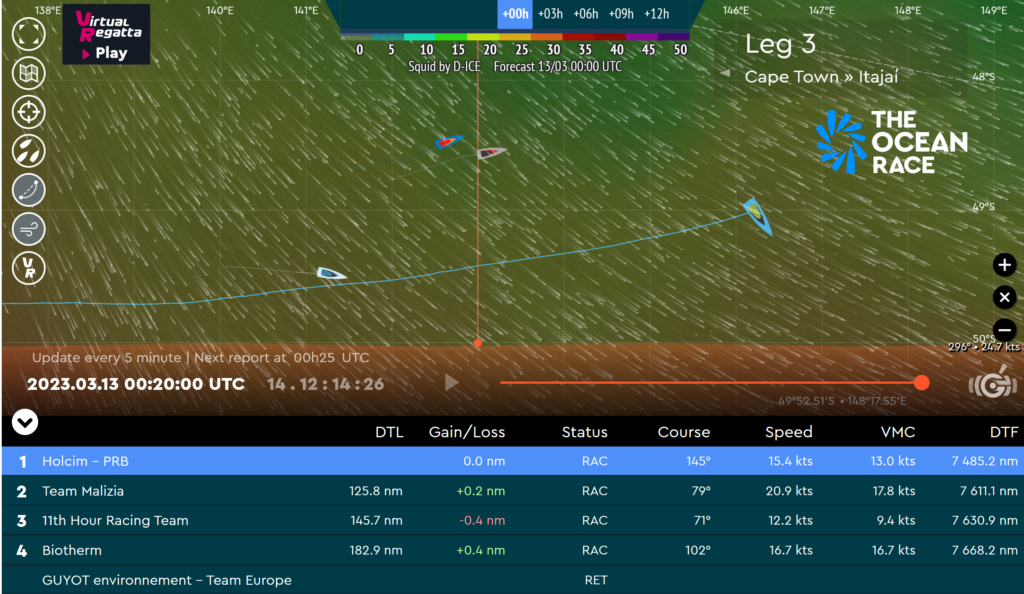 01:20
Malizia gewinnt das Duell am Scoring Gate
16:00
Die Malizia kann sich etwas von Biotherm und 11th Hour absetzen
Will Harris:
"I am so happy, so relieved that we managed to come away with second place," said co-skipper Will Harris. "It has been such a fight to even still be in the race after having to fix the mast a week and a half ago and not being sure we could continue, and now we are here crossing the line in second. This has been some of the closest offshore racing I have ever done, we crossed 11th Hour Racing within only 200 metres. It is a big relief that we have crossed the line second, we have proved our potential, I can sleep well tonight and then look forward to the Pacific. I am really so happy!"
Gute Stimmung an Bord der Malizia nach dem 2. Platz am Scoring Gate.
Vereinzelte Brecher machen den Segelwechsel zu einem feuchten Vergnügen.
It Comes Down To Those Last Miles | From the Boats | Leg 3 12/03 | The Ocean Race
RACE REPORT – Leg 3 – 13/03 | The Ocean Race
With the scoring gate now behind them, the fleet heads into the Pacific Ocean and onwards to Cape Horn which lies some 5,000nm ahead…