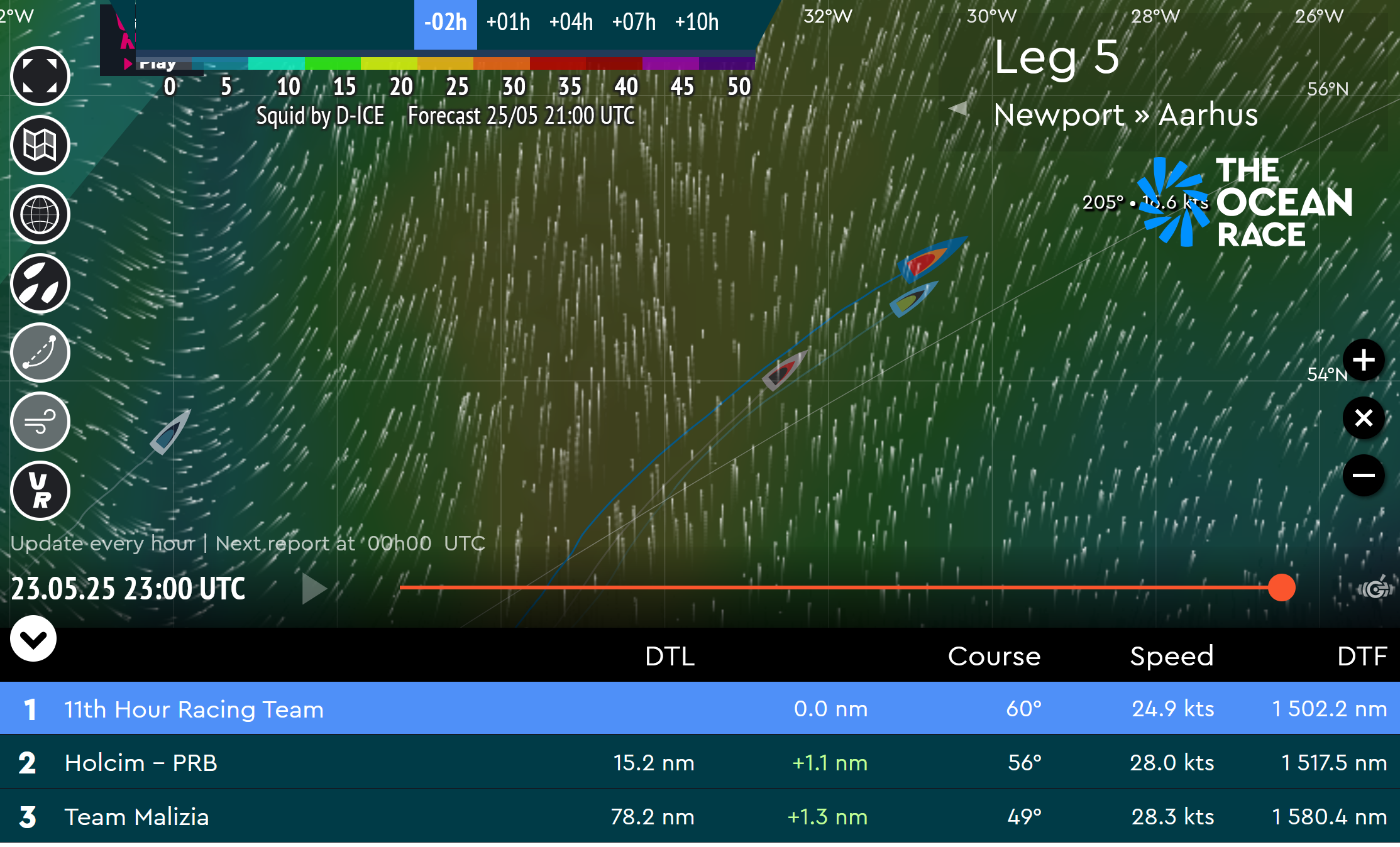 01:00 Ocean Race
Mit etwas mehr Wind haben vor allem Holcim und Malizia den Abstand zur führenden 11th Hour wieder etwas verkürzen können.  Die Schiffe sind mit mehr als 25 kn unterwegs. Es ist daher denkbar, dass 11th Hour das Gaspedal nicht ganz durchgetreten hat.
Update: Um 15:41 UTC kollidierte die 11th Hour mit einem Meeressäuger. Charlie Dalin erlitt eine Gehirnerschütterung. Dr. Briggs has prescribed painkillers, bunk rest, and plenty of water to hydrate. Amory Ross verletzte sich an der Schulter.
Es ist daher klar, dass Holcim und Malizia etwas aufholen konnten
Mario vermutet in seinen Kommentaren, dass Malizia aufgrund von Autopilot-Problemen oder fehlerhaften Foileinstellungen zurückgefallen war.
Siehe: https://exocet.cloud/grafana/d/bsbc_7MGx/malizia-public-dashboard-the-ocean-race?orgId=15
Andere Experten gehen davon aus, dass 11th Hour mit den wieder instandgesetzten alten Foils sowie mit Charlie Dalin ein höheres Speed-Niveau erreichen konnte.
Skipper Kevin Escoffier and his Team Holcim-PRB have shattered existing 24 hour distance records in the monohull class.

First to fall was The Ocean Race record of 602 nautical miles, set in the last race by Simeon Tienpont's Team AkzoNobel.

As at 2300 UTC on Thursday night, Team Holcim-PRB was at over 630 nautical miles and still adding to its total.  https://www.theoceanrace.com/en/news/14174_Team-Holcim-PRB-blows-past-records
RACE REPORT – Leg 5 – 25/05 | The Ocean Race
RACE REPORT – Leg 5 – 26/05 | The Ocean Race