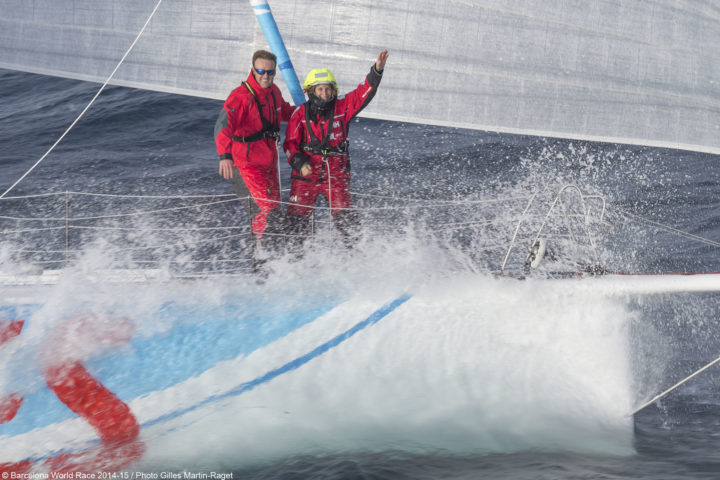 GAES Centros Auditivos round Cape Horn third
Corbella and Marin cross third
Robust conditions
Only 10 hrs behind second placed Neutrogena
Third placed Spanish duo Anna Corbella (ESP) and Gerard Mar­n (ESP) passed Cape Horn today, the southernmost and most significant of the three great Capes of the Barcelona World Course. For both co-skippers it is their second passage of the notorious Cape, rounding early this afternoon just 10 hours behind second positioned Neutrogena.
GAES Centros Auditivos has crossed the longitude of Cape Horn (67 º 17′ 35 W) at 12:32 UTC (13:32 in Barcelona, 09:32 in Chile). Their elapsed time since leaving the Barcelona start line on 31st December is 59 days and 32 minutes.
Now Anna Corbella and Gerard Mar­n have passed this famous milestone for the second time in their careers. Four years ago both rounded successfully during the past edition of the Barcelona World Race, Corbella on board GAES Centros Auditivos (not same boat) with Dee Caffari (GBR), and Mar­n on board F²rum Mar­tim Catal , with Ludovic Aglaor (FRA).
Weather and sea conditions at the most southern of the three big capes of the round the world race (Good Hope, Leeuwin and Horn) were quite tough, with 28 knots of wind and rough seas and 5 metres waves.
With the passage of GAES Centros Auditivos today, now three of the two-person teams have left the Pacific behind and are climbing up the Atlantic, leaving behind the five weeks of difficult conditions of the Big South to head more directly towards the Barcelona finish line.
The leader, Bernard Stamm (SUI) and Jean Le Cam (FRA) on Chemin©es Poujoulat, passed Cape Horn on 25 February at 00:53 UTC, and Neutrogena,Guillermo Altadill (ESP) and Jos© Munoz (CHI) did so only hours ago, at 02:12 UTC this Saturday morning. The time differential between second and third is therefore only 10:20 hours, suggesting that an exciting competition is to be still to unfold as the Atlantic opens a range of strategic and tactical options.
We Are Water, One Planet, One Ocean & Pharmaton, Renault Captur and Spirit of Hungary are still racing in the Pacific. The first of them could cross the Chilean cape on 7 March.