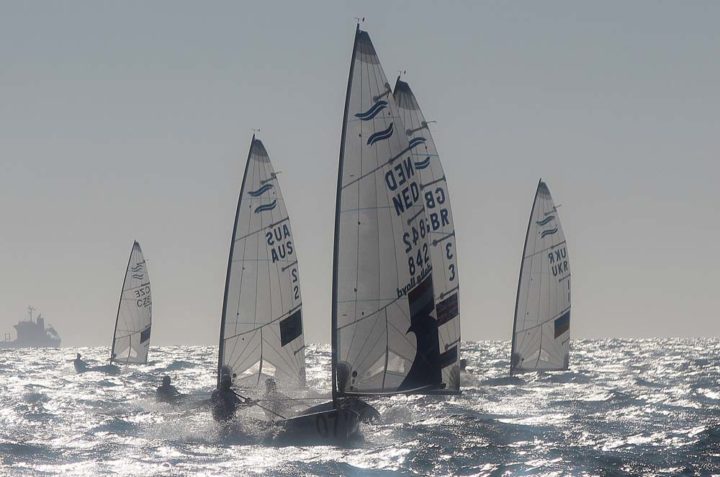 P.J. Postma leads race 5 – photo Robert Deaves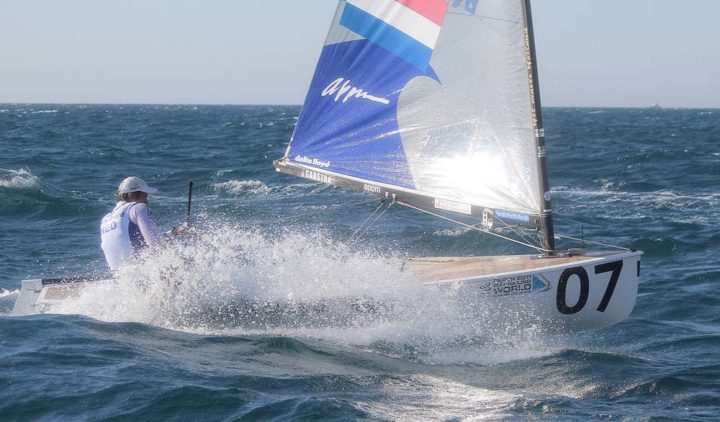 Pieter Jan Postma – Photo: Robert Deaves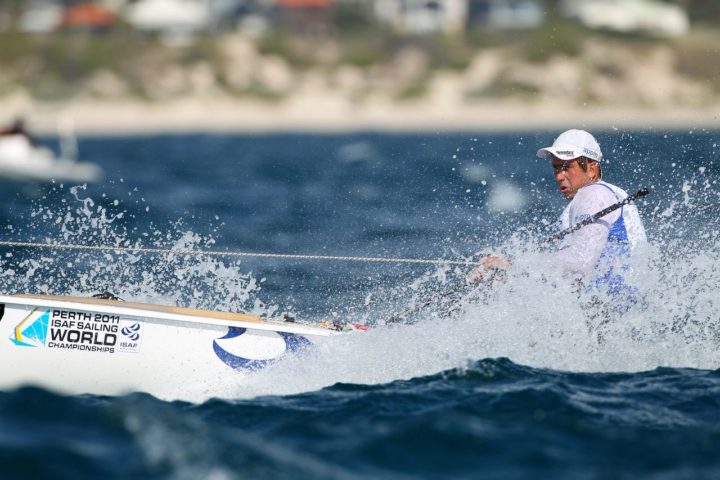 Pieter Jan Postma – Photo: ©   Ocean Images.
Finn Zeilers auf Twitter:
timohagoort Nice!! Dag drie, wind 12-20 knopen. Na wederom een goeie start in de eerste pot 4e boven gekomen maar teveel laten… https://t.co/lMogkyTS 50 minutes ago · reply · retweet · favorite
HeinvanEgmond Zware dag met grote fouten. 3 potten gevaren. Knie heeft me voor de wind niet geholpen. Nu goed rusten! #kapot 51 minutes ago · reply · retweet · favorite
PieterJanPostma Yeahhh, lekker op dreef! Vandaag race 1 door heli gefilmd, echt gave beelden! Volg op www.perth2011.com about 1 hour ago ·
—————————————————————————-
Finn Day 5: Netherlands sailor Pieter-Jan Potsma heads a talented fleet

World number two Giles Scott (GBR) was beaming with delight after two wins and a second place at the end of two days of racing in the Finn competition at the Perth 2011 ISAF Sailing World Championships.   Read More
———————————————————-
Finn focus at the 2011 Finn Gold Cup, Perth
Three tough races for the Finns in Perth has shuffled the leader board slightly, but it still remains tantalisingly close with just six points separating the top six boats. However black flag disqualifications for 15 sailors in race three, including a number of favourites, has made things interesting as the fleet now enters the gold and silver fleet stage of the regatta.
Race wins for Giles Scott (GBR), Ed Wright (GBR) Jonathan Lobert (FRA) and Pieter Jan Postma (NED) has left the points after five races very tight.
Just six points separate the top six with Postma gaining a one point lead over Scott who has a one point lead over former regatta leader Ben Ainslie (GBR).
In yellow group Scott won the first two races, before a small mistake while leading the third let Postma through for the win. Ainslie picked up three third places to end the day in third. In blue group Lobert scored a massive win in the first race, before defending world champion Wright dominated the next two races to win both with ease.
The first of the finals races is scheduled for Thursday at 14.00, using the previous lay day to catch up with the schedule after Tuesday's racing was lost because of storms.
Narrow lead for Postma in Finns after black Wednesday
https://www.finnclass.org/index.php?option=com_content&view=article&id=306:narrow-lead-for-postma-in-finns-after-black-wednesday&catid=66:major-championships-2011&Itemid=34
Finn Zwischenergebnis nach 5 Wettfahrten
Perth 2011 ISAF Sailing World Championships
Finn – Men's One Person Dinghy (Heavyweight)
Fleet Overall (as of 07/12/2011)
OFFICIAL
Name Pos NOC 1 2 3 4 5 6 M T N

1 POSTMA Pieter-Jan NED (20) 1 2 2 1 26 6
2 SCOTT Giles GBR 3 (6) 1 1 2 13 7
3 AINSLIE Charles Benedict GBR 1 1 (3) 3 3 11 8
4 LOBERT Jonathan FRA (13) 4 1 3 2 23 10
5 TRUJILLO Rafae ESP 1 3 (37)BFD 2 4 47 10
6 WRIGHT Edward Martin GBR 8 2 (37)BFD 1 1 49 12
7 KARPAK Deniss EST (6) 5 4 4 3 22 16
8 HOEG-CHRISTENSEN Jonas DEN 4 (7) 4 7 4 26 19
9 RAILEY Zach USA 2 5 (37)BFD 7 6 57 20
10 KLJAKOVIC GASPIC Ivan CRO 3 6 (37)BFD 5 7 58 21
11 MILLS Andrew GBR 4 7 5 (37)OCS 6 59 22
12 ZBOGAR Vasilij SLO (11) 8 2 8 5 34 23
13 LEBRETON Thomas FRA (10) 2 3 10 9 34 24
14 CASEY Brendan AUS (16) 3 9 4 8 40 24
15 BIRGMARK Daniel SWE 5 4 (37)BFD 5 11 62 25
16 COOK Christopher CAN 2 14 7 (15) 9 47 32
17 ANDREWS Mark GBR 9 8 7 9 (14) 47 33
18 VINCEC Gasper SLO (22) 18 8 6 5 59 37
19 SLATER Dan NZL 5 11 (37)BFD 9 12 74 37
20 BORYSOV Oleksiy UKR 7 12 (13) 8 11 51 38
21 DOUGLAS Gregory CAN 15 11 5 (16) 8 55 39
22 BALDASSARI Filippo ITA 13 9 (37)BFD 6 12 77 40
23 ALLANSSON Bjorn SWE 11 10 14 (15) 7 57 42
24 NOSSITER Anthony AUS 10 14 (37)BFD 10 10 81 44
25 TWEDDELL Oliver AUS 7 (13) 13 12 13 58 45
26 NIRKKO Tapio FIN 8 13 6 20 (23) 70 47
27 MITAKIS Ioannis GRE 17 9 (37)BFD 11 10 84 47
28 POGGI Giorgio ITA 6 17 10 17 (20) 70 50
29 SKORNYAKOV Euard RUS (26) 12 14 12 13 77 51
30 COUTTS Matt NZL (15) 15 10 13 15 68 53
31 JOAO ZARIF Jorge BRA 16 15 12 11 (25) 79 54
32 KURFELD Jan GER 14 21 6 14 (22) 77 55             [Wir drücken Jan die Daumen !!!]
33 TILLANDER Johan SWE (23) 10 15 13 18 79 56
34 PAINE Caleb USA 9 19 16 (31) 17 92 61
35 GONG Lei CHN 17 18 17 (26) 14 92 66
36 MAIER Michael CZE 18 (22) 18 16 16 90 68
37 ROBITAILLE Martin CAN (27) 23 8 18 23 99 72
38 HAGOORT Timo NED 23 20 11 (37)OCS 21 112 75
39 VIKA Tomas CZE 19 16 (37)BFD 23 18 113 76
40 EGMOND, van Hein NED 19 20 17 20 (27) 103 76
41 PAL Gaszton HUN (29) 29 9 19 20 106 77
42 SZUKIEL Rafal POL 18 21 (37)BFD 24 16 116 79
43 TERPIGOREV Egor RUS 12 19 12 (37)DNF 37DNS 117 80
44 RAUDASCHL Florian AUT 12 17 22 (37)DNF 29 117 80
45 KAYNAR Alican TUR (30) 24 18 21 17 110 80
46 VAINSALU Lauri EST 22 26 11 22 (30) 111 81
47 SELIVANOV Alexey RUS 14 (27) 15 26 26 108 81
48 CASTLES Tim AUS 20 25 23 14 (27) 109 82
49 McMILLAN Rob AUS (31) 27 21 19 15 113 82
50 JOHAL Nachhatar Singh IND 21 (30) 20 24 19 114 84
51 MILLER Matthias GER 27 16 (37)BFD 25 21 126 89
52 PAPADOPOULOS Haris CYP 25 22 (37)BFD 17 25 126 89
53 BURFOOT Nik NZL 26 25 (37)DNF 18 22 128 91
54 TUFEKCI Ali Kemal TUR 24 24 19 (37)DNF 24 128 91
55 PEDERSEN Anders NOR 29 29 16 (37)DNF 19 130 93
56 AXELSSON Andreas SWE (32) 28 26 21 26 133 101
57 DOUGLAS Brad NZL 24 26 (37)BFD 28 24 139 102
58 WELLS Shaun AUS 21 (32) 20 31 31 135 103
59 CHRISTEN Christoph SUI (32) 31 19 27 28 137 105
60 BELICZAY Marton HUN 28 28 24 25 (33) 138 105
61 HOFER Silvan SUI (36) 32 25 22 28 143 107
62 SCHUTTRUPS Nanno NED 31 30 21 (33) 29 144 111
63 FERNANDEZ Miguel ESP 30 (35) 28 23 31 147 112
64 WILTON Brendan CAN 25 23 (37)BFD 37DNF 30 152 115
65 HAMILTON Ross IRL 28 33 27 27 (34) 149 115
66 LEIGH David Ken RSA 33 (34) 22 29 34 152 118
67 MUSLUBAS Akif TUR (33) 33 24 32 32 154 121
68 VANGELOV Dimitar BUL 34 (36)RDG 25 30 33 158 122
69 COUTTS Robin NZL (35) 34 29 28 32 158 123
70 GAUTSCHI Thomas SUI 34 (35) 23 34 35 161 126
71 HIRSCHLER Richard HUN (35) 31 31 29 35 161 126
72 LEIBOWITZ Benjamin USA (36)RDG 36 30 30 36 168 132
Photos. Ocean Images