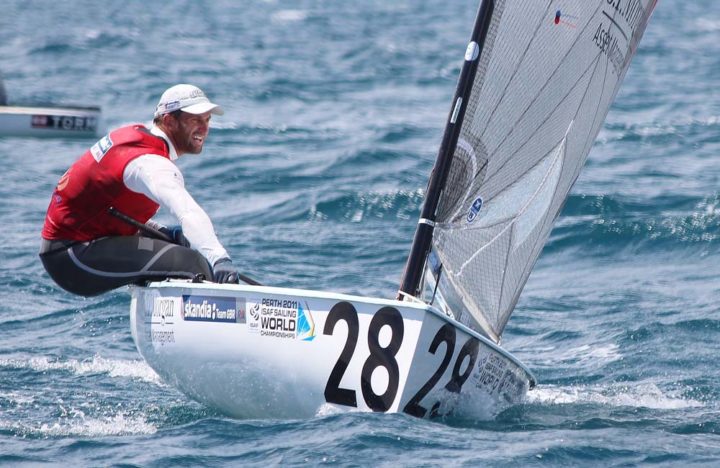 Ainslie leads Race 7   –   Photo Robert Deaves
Matthias Miller – Photo Robert Deaves
——————————————————————————————————
9:30 – Seit 9:00 Uhr MEZ läuft WF 9 – Jan liegt nach 30 min an der Luvtonne M3   auf Rang 14 o.15 🙂
9:40 – Am Leefass liegt Jan auf Rang 17, hat also vorm Wind ein paar Plätze verloren.
9:45 – Die Kreuz läuft gut. Jan vorübergehend auf Rang 15. Vor der Luvtonne wird es eng. Jan rundet als 22.
9:50 Jan fährt vorm Wind   dicht unter Land (Hafenmole) und verliert ein paar Plätze. Im Ziel Rang 25. Postma gewinnt vor Ainslie und Scott
Jan bleibt in der Gesamtwertung nach 9 Läufen auf Rang 34
Ainslie rammt TV-Boat nach race 9
——————————————————————————-
10:33   Start der WF 10. Jan und Ben vorübergehend auf Rang 20. Nirkko führt. Jan hat freien Wind und kann sich verbessern. Jan 400 m vor dem Luvfass vorübnergehend auf Rang 8. An der Luvtonne Rang 19. Jan war etwas weit auf der rechten Seite und musste noch einmal einen kurzen Luvschlag machen.. Das Hauptfeld kam von links. Jan vorm Wind wieder dicht unter Land (Mole) und verliert ein paar Plätze.
10:54 Jan am Leefass auf Rang 29 zurückgefallen.
10:57   Jan hat an der Kreuz nur noch 3 Boote hinter sich, kann dann aber auf der rechten Seite ein paar Plätze gutmachen. Platz 18 meldet der Tracker um 11.01. 400 m vor der Luvtonne Rang 24.
 11:08 Jan rundet die Luvtonne ca. als 28- Das Hauptfeld hat die Tonne von links kommend auf St.B. anliegen können.
11:13 Nach dem runden des Leefasses liegt Jan auf Rang 30 und hat noch 3 Boote hinter sich.
11:17 – Die Top-Segler fahren wieder nach links.Jan ist ganz weit rechts, laut Tracker Rang 22. Die Top-Segler können die Tonne auf St.B.   anliegen. Jan muss mindestens noch zweimal wenden.
 11.25 Jan rundet die Luvtonne auf Rang 29
11:32 Finish auf Rang 30. Abstand zum 1.   rund 3 Minuten.   Trujillo 1. Ainslie 7. Postma 8.   Das Ziel lag übrigens sehr zuschauerfreundlich nur ca. 150 m vom Ufer (Freemantle)   entfernt.
 Endergebnis. Jan bleibt auf Rang 34.   Matthias Miller wird 40.    
———————————————————————-
Im Laser-Radial liegt Lisa FASSELT nach 10 WF auf Rang 18
Im 470 M   liegen GERZ Ferdinand u.FOLLMANN Patrick auf Rang 15
———————————————————————
Perth 2011: Finn rock stars play to the stadium

Finn focus at the 2011 Finn Gold Cup, Perth

Media Summary
Wins for Pieter Jan Postma (NED) and Rafa Trujillo (ESP) on the stadium course on the final full day of racing in the Finn class at the Perth 2011 ISAF Sailing World Championships have set up a three way fight for the gold medal in Sunday's medal race, while a further three can win the bronze.
Regatta leader Ben Ainslie (GBR) was disqualified from both of today's races which leaves Giles Scott (GBR) in pole position from Pieter Jan Postma (NED) and Ed Wright (GBR).
Postma won the opening race from Ainslie and Scott, while Rafa Trujillo (ESP) won the second race from Zach Railey (USA) and Jonas Hoegh Christensen (DEN), But Ainslie was later disqualified from both races following a frank exchange of views after boarding a TV boat.
Finn rock stars play to the stadium

https://www.finnclass.org/index.php?option=com_content&view=article&id=309:finn-rock-stars-play-to-the-stadium&catid=66:major-championships-2011&Itemid=34

It was a day of stadium racing for the rock stars of the Finn class in Fremantle, at the Finn Gold Cup at the Perth 2011 ISAF Sailing World Championships, with two gold fleet races sailed just off a grandstand, which was almost filled to capacity with action hungry spectators. They got far more action than they expected.
After regatta leader Ben Ainslie (GBR) was disqualified from both races today under a Rule 69 hearing, Giles Scott (GBR) takes a two point lead from Pieter Jan Postma (NED) and a nine point lead from defending world champion Ed Wright (GBR) into Sunday's deciding medal race.
As well as being a controversial day, it was also a scorching hot day with a solid sea breeze building around midday to reach 16-18 knots by the time the Finns started. It was ideal conditions for some full on Finn racing, right in front of a willing audience.
For the first time this week the Finns were racing on the Centre course, with the grandstand viewing platform next to the massive PERTH sign, and a confined leeward gate to give the spectators there, and on the beach in Bathers Bay, the best view of the racing. There was also a new course configuration, with three windward-leeward loops with a final dog leg to the finish.
After losing the overall lead on Friday, Pieter Jan Postma (NED) needed to do something special today to close the gap on the leaders. Race nine start after a general recall with a lot of river sailing tactics called into play as the fleet played the left side of the course, tacking, and calling for water to tack, near the sea wall. Postma emerged to round the top mark just ahead of regatta leader Ben Ainslie (GBR) and Jonas Hoegh Christensen (DEN) close behind.
Postma and Ainslie battled tooth and nail throughout with Ainslie closing up on the third beat. However Postma proved faster downwind and won his fourth race of the week, while Giles Scott (GBR) moved through the fleet from around eighth at the top mark to third at the finish.
After crossing the finish line, Ainslie boarded a camera boat after almost being swamped by its wake during the final leg and and had an animated discussion with some of the crew before diving out to rejoin his Finn. Ainslie said, "On the final downwind leg of the race, I was hindered by a media boat, the actions of which I felt were seriously impeding my progress in the race." Though apologies were later offered from both sides, a Rule 69 protest hearing was held and Ainslie was disqualified from both the day's races. This has dropped him out of the medal race.   [Redakt. Anmerkung: Rule 69 is for disciplinary action against competitors for bad behaviour.]
After another general recall, race ten started under a black flag. Unbeknown to Ainslie, he was its only victim, but carried on sailing unaware of the penalty. His plan seemed clear before the start and he sat on Postma throughout the race to push him as deep as possible.
Tapio Nirkko (FIN) emerged as the early leader in the r ace but dropped back after the first lap. Eventually Rafa Trujillo (ESP) broke through to the front and held on for his second win of the regatta. Hoegh Christensen was having another great race but lost second place to Zach Railey (USA) on the final downwind.
A capsize for Ivan Kljakovic Gaspic (CRO) on the final downwind not only cost him a broken mast tip, but also, at the time, had lost him enough points to slip to 11th overall, which meant that Deniss Karpak (EST) filled the final slot in the top ten for Sunday's medal race. However, with Ainslie's double disqualification which cannot be discarded, the Croatian is back in the medal race.
Trujillo said, "In the first race I went swimming at the bottom mark. I slipped in the boat and when I was about sixth. But I am really happy after a difficult day as in the second race I had a good motivation to do a good race to finish the championship. It was one to one downwind, borderline capsizing but I am happy that I won. It was nice out there. I think it was a good show for everyone."
Former double world champion Hoegh Christensen also had a good day. "I am not that happy with my week but I am happy with today. A fourth and a third is a good day. I had a chance to win the second race but on one downwind Rafa came down with big pressure on the inside and I was on the outside
and lost about seven boats. I fought my way back up to second at the windward mark , but Zach managed to pass me on the last downwind, but it was all good."
The new overall leader Scott had another up and down day. "I rounded deep in the first race, about 15th, and had a good first downwind. I worked my way through and found myself in third which was good, and then the second one was not good. I got caught in the 20 boats fight along the sea wall and didn't come out of that very well."
"People were calling for water and you'd tack back again and it got a bit tricky. It was a bit like river racing. For the medal race it think its OK but for 40 boats trying to race in such a small tight area, it was a bit marginal at times. And then there was the helicopter. It came a bit close and I saw all the water flying up in the air and PJ was sailing straight towards it. I really thought he was going to capsize. It was way to low and directly over where you were going."
On Sunday's medal race, "It's quite tight at the top so I am sure that will be a spectacle tomorrow. I will have to look at the points tonight and decide what the plan is."
Railey said of his day "It was a much better day for me today. I was a little frustrated in the first race. I was in 9th and lost a couple on the downwind, but then I corrected what I was doing wrong in the second race and was able to pass a few boats from seventh at the first mark to second at the finish. All the boats I passed were on the downwind, so it was just an adjustment I made from the first race."
"So I made the top ten and that was the goal going into today. It feels good as Olympic qualification is all done now. Today was definitely different to where we were racing all week. It was very, very favoured on the left hand side of the course and having the sea wall come into play created a lot of different situations, with rules and stuff and when to tack, which was very interesting. There were a lot of situations out on the
course, with close racing, right in front of the stand so I think they got a good show today, that's for sure."
The end of the gold fleet today also marked the end of the first stage of qualification for countries for next year's Olympic Games. Nothing much changed after today's races, with Australia, Brazil, Canada, Croatia, Denmark, Estonia, Finland, France, Greece, Italy, the Netherlands, New Zealand, Russia, Slovenia, Spain, Sweden, Ukraine and the USA filling the first 18 slots.
Jorge Zarif (BRA) said, "At the end of the race I heard people shouting from the grandstand but I didn't realise it was for me. Then I came closer and saw all the Brazilian team cheering up for me. Now I understand why…I had just selected Brazil for the Olympics in the Finn. This is good. Now I
have to win the trials. I win one point here for qualifying the country, I need to win the trials in Buzios in January. If I don't then it will be the first Brazilian in Palma."
"Now I need to work more on the fitness and at the gym. I am young and can't put on muscle so easily. Then I have to train my downwind technique. In January we will have some guys coming to train in Brazil. Then I will come to Europe for the Europeans and Palma."
The 18th and final slot went to Russia, with 2007 European Champion Eduard Skornyakov (RUS) securing the place. He said, "Now we have qualified the country, our sailor selection is simple. Whoever is the first Russian sailor in Falmouth next year gets to go to the Olympics." The Finn Gold Cup in Falmouth, UK in May is the second and final Olympic qualification event, where the last six places will be determined.
In the silver fleet today, racing on a separate offshore course, race wins went to Tomas Vika (CZE) and Brendan Wilton (CAN). Vika was the top sailors in the fleet with Timo Haggort (NED) and Lauri Vainsalu (EST) some way behind.
The medal race is scheduled to start at 16.10 on Sunday, the last of four medal races scheduled and perhaps the one that everyone has been waiting for. With Ainslie out, the field is wide open. Scott has a two point lead over Postma and sits just nine points ahead of defending champion Ed Wright.
While only the top three can wind gold, the next three sailors – Hoegh Christensen, Trujillo and Jonathan Lobert (FRA) – are all within reach of bronze. It is going to be some show.

Follow the Finn racing on the class blog at: https://www.finngoldcup.org/index.php?option=com_content&view=article&id=2&Itemid=6   which includes the Twitter feeds of many of the sailors racing in
Perth. All you need to know in one place.

Results after ten races:

1GBR 41Giles Scott26
2NED 842 Pieter Jan Postma29
3GBR 11Ed Wright35
4DEN 2Jonas Hogh Christensen48
5ESP 100Rafa Trujillo49
6FRA 112Jonathan Lobert52
7GBR 85Andrew Mills67
8 USA 4Zach Railey681
9EST 2Denisss Karpak76
10 CRO 524Ivan Kljakovic Gaspic81

Full results so far at: https://www.perth2011.com/competition/PERTH2011/SAM002000/results

Event website: www.perth20122.com

Class website: www.finnclass.org

Class blog: www.finngoldcup.org

Finn Class Twitter: twitter.com/Finn_Class

Finn Class Facebook: www.facebook.com/pages/Finn-Class/110408332633

Finn Channel on YouTube: www.youtube.com/thefinnchannel

Event website: www.perth2011.com ( https://www.perth2011.com ) – Finn Gold Cup website This press release is sponsored
by:

This press release was sent to you by the International Finn Association ( https://www.finnclass.org/ ).
———————————————————————————–
Olympiaqualification
.
ISAF Kriterien – One Person Dinghy (Heavyweight)
Vergabe von:
18   Nationenplätze     –   2011 ISAF WC
6 Nationenplätze   –   2012 WC
1 Host Country
Mit dem Nationenrang 20 hat sich Jan in Perth noch nicht qualifizieren können. in 2012 besteht jedoch noch eine Qualifizierungschance beimFinn Gold Cup in Falmouth vom 13 – 18 May 2012.
Die interne DSV-Qualifikation-Ausnahmeregelung – Platzierung unter den Top-Ten Nationen beim Gold-Cup 2012 –   dürfte jedoch schwer zu erfüllen sein.   Das Hauptaugenmerk hätte   sich daher auf die Kieler Woche 2011 richten müssen,   da der Anteil ausländischer Finnsegler eher klein und das Punktesammeln leichter war. Schade, dass es in Kiel für Jan nicht so gut lief.
WM Tag 8
Finn – Gold Fleet: Jan Kurfeld beendet die WM in Perth auf dem 34. Platz und hat damit nach vorläufigen Berechnungen die Qualifikation für die Olympischen Spiele 2012 verpasst. Zudem sieht es derzeit danach aus, dass auch das Nationenticket für Deutschland denkbar knapp nicht gelöst wurde. Morgen nach den Medal Rades wissen wir mehr!
Der Veranstalter teilt mit:
And in the Finn class, Australia, Brazil, Canada, Croatia, Denmark, Spain, Estonia, Finland, France, Greece, Italy, the Netherlands, New Zealand, Russia, Slovenia, Sweden, Ukraine, and the USA took the 18 London 2012 spots up for grabs at Perth 2011.
——————————————————————————
Fleet Overall (as of 10/12/2011)
OFFICIAL
Name Pos NOC 1 2 3 4 5 6 7 8 9 10 M T N

1 SCOTT Giles GBR 3 6 1 1 2 2 (10) 1 2 8 36 26
2 POSTMA Pieter-Jan NED (20) 1 2 2 1 1 5 9 1 7 49 29
3 WRIGHT Edward Martin GBR 8 2 (37)BFD 1 1 4 2 3 4 10 72 35
4 HOEGH CHRISTENSEN Jonas DEN 4 7 4 7 4 (12) 4 12 3 3 60 48
5 TRUJILLO Rafael ESP 1 3 (37)BFD 2 4 19 6 5 8 1 86 49
6 LOBERT Jonathan FRA (13) 4 1 3 2 5 9 13 11 4 65 52
7 MILLS Andrew GBR 4 7 5 (37)OCS 6 7 8 4 21 5 104 67
8 RAILEY Zach USA 2 5 (37)BFD 7 6 14 14 6 12 2 105 68
9 KARPAK Deniss EST 6 5 4 4 3 10 17 (19) 13 14 95 76
10 KLJAKOVIC GASPIC Ivan CRO 3 6 (37)BFD 5 7 15 13 11 5 16 118 81
11 AINSLIE Ben GBR 1 1 (3) 3 3 3 1 2 37DGM 37DGM 91 88
12 NIRKKO Tapio FIN 8 13 6 20 (23) 9 3 15 7 9 113 90
13 ZBOGAR Vasili SLO 11 8 2 8 5 13 15 (33) 20 12 127 94
14 BIRGMARK Daniel SWE 5 4 (37)BFD 5 11 17 18 7 28 6 138 101
15 LEBRETON Thomas FRA 10 2 3 10 9 (31) 23 22 11 13 134 103
16 COOK Christopher CAN 2 14 7 15 9 (18) 12 17 17 17 128 110
17 VINCEC Gasper SLO (22) 18 8 6 5 11 20 14 10 21 135 113
18 ANDREWS Mark GBR 9 8 7 9 14 6 (27) 16 21 24 141 114
19 CASEY Brendan AUS 16 3 9 4 8 16 19 21 (37)OCS 25 158 121
20 MITAKIS Ioannis GRE 17 9 (37)BFD 11 10 21 11 8 16 20 160 123
21 SLATER Dan NZL 5 11 (37)BFD 9 12 23 7 20 19 18 161 124
22 BORYSOV Oleksiy UKR 7 12 13 8 11 28 16 23 (30) 28 176 146
23 ALLANSSON Bjorn SWE 11 10 14 15 7 35 (37)DSQ 32 15 11 187 150
24 BALDASSARI Filippo ITA 13 9 (37)BFD 6 12 8 33 26 26 19 189 152
25 POGGI Giorgio ITA 6 17 10 17 20 25 (32) 25 24 15 191 159
26 PAINE Caleb USA 9 19 16 (31) 17 30 26 10 8 26 192 161
27 DOUGLAS Gregory CAN 15 11 5 16 8 (34) 21 24 34 29 197 163
28 COUTTS Matt NZL 15 15 10 13 15 26 30 18 (37)OCS 23 202 165
29 NOSSITER Anthony AUS 10 14 (37)BFD 10 10 20 25RDG 24.5RDG 31 22 203.5 166.5
30 TWEDDELL Oliver AUS 7 13 13 12 13 22 25 31 32 (34) 202 168
31 TILLANDER Johan SWE 23 10 15 13 18 (29) 24 29 18 27 206 177
32 JOAO ZARIF Jorge BRA 16 15 12 11 25 24 22 27 (33) 33 218 185
33 SKORNYAKOV Euard RUS 26 12 14 12 13 (36) 28 34 23 32 230 194
34 KURFELD Jan GER 14 21 6 14 22 32 34 (35) 25 30 233 198
35 GONG Lei CHN 17 18 17 26 14 27 29 28 27 (35) 238 203
36 MAIER Michael CZE 18 22 18 16 16 33 (35) 30 29 31 248 213
37 VIKA Tomas CZE 19 16 (37)BFD 23 18 4 2 2 1 2 124 87
38 HAGOORT Timo NED 23 20 11 (37)OCS 21 2 9 6 8 11 148 111
39 VAINSALU Lauri EST 22 26 11 22 (30) 5 7 4 5 9 141 111
40 MILLER Matthias GER 27 16 (37)BFD 25 21 7 6 7 3 4 153 116
41 ROBITAILLE Martin CAN (27) 23 8 18 23 3 3 12 11 17 145 118
42 WILTON Brendan CAN 25 23 (37)BFD 37DNF 30 1 1 3 2 1 160 123
43 SELIVANOV Alexey RUS 14 (27) 15 26 26 13 11 1 9 15 157 130
44 EGMOND, van Hein NED 19 20 17 20 (27) 18 5 8 16 13 163 136
45 TUFEKCI Ali Kemal TUR 24 24 19 (37)DNF 24 17 8 10 6 5 174 137
46 BURFOOT Nik NZL 26 25 (37)DNF 18 22 12 4 16 17 6 183 146
47 JOHAL Nachhatar Singh IND 21 (30) 20 24 19 11 14 13 14 12 178 148
48 RAUDASCHL Florian AUT 12 17 22 (37)DNF 29 8 15 5 23 18 186 149
49 CASTLES Tim AUS 20 25 23 14 (27) 9 13 15 10 22 178 151
50 SZUKIEL Rafal POL 18 21 (37)BFD 24 16 14 37OCS 9 7 7 190 153
51 TERPIGOREV Egor RUS 12 19 12 (37)DNF 37DNS 15 25 14 12 8 191 154
52 KAYNAR Alican TUR 30 24 18 21 17 6 (37)OCS 21 13 10 197 160
53 PAPADOPOULOS Haris CYP 25 22 (37)BFD 17 25 10 18 37DNF 4 3 198 161
54 PAL Gaszton HUN (29) 29 9 19 20 16 12 20 26 14 194 165
55 PEDERSEN Anders NOR 29 29 16 (37)DNF 19 20 10 11 20 16 207 170
56 AXELSSON Andreas SWE (32) 28 26 21 26 24 19 18 18 21 233 201
57 DOUGLAS Brad NZL 24 26 (37)BFD 28 24 23 17 17 15 37DNC 248 211
58 BELICZAY Marton HUN 28 28 24 25 (33) 22 20 19 29 24 252 219
59 CHRISTEN Christoph SUI (32) 31 19 27 28 21 22 28 22 23 253 221
60 FERNANDEZ Miguel ESP 30 (35) 28 23 31 19 16 22 30 27 261 226
61 HOFER Silvan SUI (36) 32 25 22 28 26 23 27 24 19 262 226
62 HAMILTON Ross IRL 28 33 27 27 (34) 25 24 24 21 26 269 235
63 SCHUTTRUPS Nanno NED 31 30 21 (33) 29 29 21 26 25 25 270 237
64 COUTTS Robin NZL (35) 34 29 28 32 32 28 25 19 20 282 247
65 WELLS Shaun AUS 21 32 20 31 31 31 26 30 32 (33) 287 254
66 MUSLUBAS Akif TUR (33) 33 24 32 32 27 27 29 28 28 293 260
67 McMILLAN Rob AUS 31 27 21 19 15 (37)DNC 37DNC 37DNC 37DNC 37DNC 298 261
68 LEIGH David Ken RSA 33 (34) 22 29 34 34 29 31 27 29 302 268
69 HIRSCHLER Richard HUN (35) 31 31 29 35 28 30 33 33 30 315 280
70 LEIBOWITZ Benjamin USA (36)RDG 36 30 30 36 35 31 23 31 31 319 283
71 GAUTSCHI Thomas SUI 34 (35) 23 34 35 30 32 32 34 32 321 286
72 VANGELOV Dimitar BUL 34 36RDG 25 30 33 33 (37)DNF 37DNC 37DNC 37DNC 339 302
The Medal Race for the Finn class is scheduled to start at 1610 local time on Centre Course