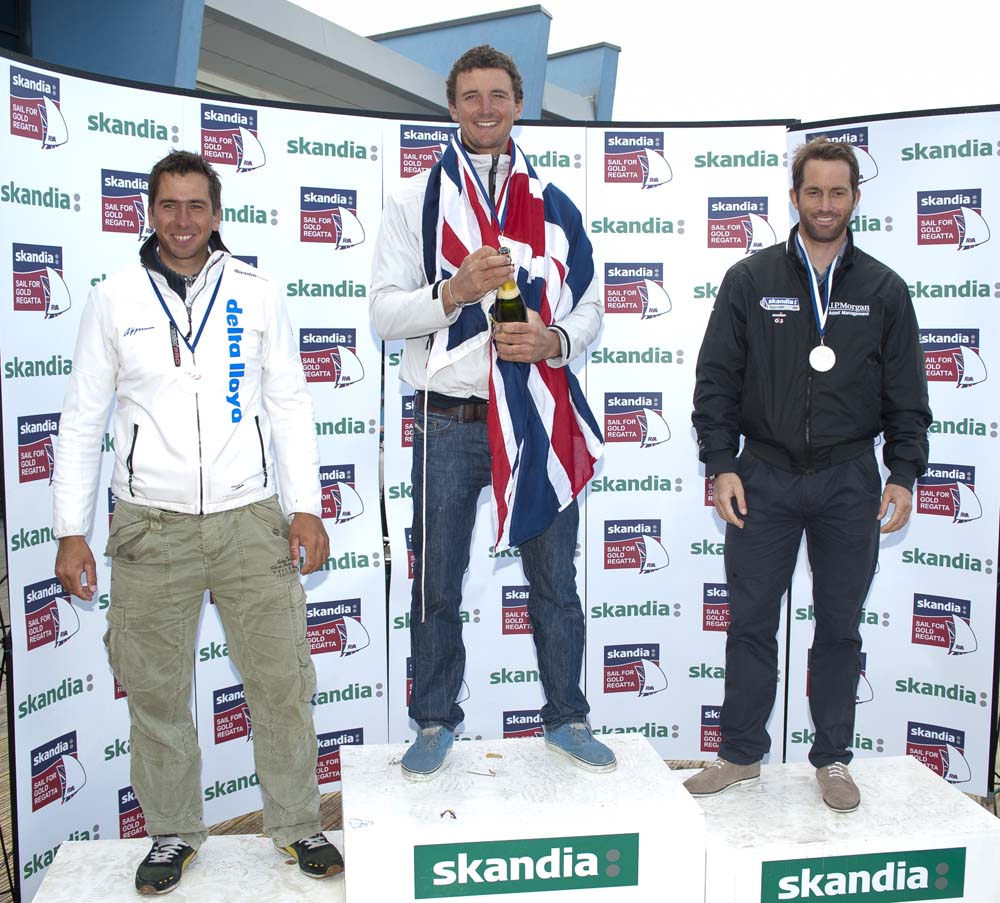 Pieter Jan Postma – Giles Scott – Ben Ainslie
.
Photos: Thom Touw and onEdition
Skandia Sail for Gold Regatta 2012
.
Ainslie kentert im Finalrace !     P.J. Postma verpasst ganz knapp die Boncemedaille !

—————————————————————————
Superior Scott secures Skandia Sail for Gold
Giles Scott (GBR) has been a man on a mission all week and today was no different. After winning five out of the seven opening series races he wrappedvup his most dominant week ever with a medal race win to take the Skandia Sail for Gold Regatta by a sizeable 30 points. Ben Ainslie (GBR) finished the week in second despite capsizing and finishing last in the medal race, while Pieter-Jan Postma (NED) did just enough to take the bronze.
The British love to talk about the weather and this week they have had a bonanza. The 2012 Skandia Sail for Gold Regatta was plagued by bad weather, starting with very light winds, turning into torrential rain, low temperatures, then high winds, excessive precipitation and then a day lost with storms. But in the end, Weymouth put on its best face for the medal races with a near perfect sailing day, with some sunshine and moderate winds.
The Finns were the final medal race scheduled on Saturday and everyone expected a Scott Ainslie showdown like last year, except this year the shoes were on the other feet. Last year Ainslie had to beat Scott to win the British Olympic trials. This year Scott had a 12 point lead on Ainslie, so he had just to ensure that his team mate finished below fourth to take victory.
Scott explained his plan, "My plan was to unsettle him at the start then get into a commanding position. My start was OK but not perfect, but then I managed to get on top of him upwind. So it went reasonably well."
Third overall Zach Railey (USA) and Scott started at the pin and while Railey headed to the left, Scott got swallowed up and had to duck four boats to clear his air. But when Ainslie tacked across Scott tacked to cover and stuck to him and fed him bad air all the up the beat. Daniel Birgmark (SWE) eventually led Rafael Trujillo (ESP) and Railey round the top with with Scott and Ainslie back in sixth and seventh.
With the wind hitting 20 knots the first downwind was where the race was sealed for Scott. With the pressure changing across the course, he moved through the fleet with ease and was soon up to second while Ainslie was closer to the back of the fleet. Birgmark maintained his lead through the gate from Scott and Andrew Mills, while disaster struck Ainslie as he capsized during the gate rounding
At the final top mark Birgmark and Scott battled for the lead. Scott came up on the left side and almost took the lead, but rounded right behind the Swede. Postma rounded in third with Railey seventh. Ainslie went hard right up the final beat to try and get back into the race but it was too late.
The rest of the fleet favoured the left and again and it was incredibly close as they came into the top mark. Scott attacked Birgmark on the final downwind and took the advantage half way down to win his sixth race of the week. Birgmark crossed in second just seconds later.
For a while it looked like Postma would get third coming in to the finish, which would give him the silver, but Mills came in fast from the right to claim third over the line while Mark Andrews (GBR) just sneaked past the Dutchman. This meant that Ainslie hung onto the silver medal by the skin of his teeth, while Postma narrowly clinched the bronze; there were just four seconds between Mills, Andrews and Postma. Railey finished back in seventh to lose the bronze medal pace, that he had doggedly hung onto for most of the week.
Railey said, "Going into the start we thought that the left side was going to be favoured. The line was square so I wanted to win the pin and was able to execute that really well. At the top mark I was in third and looking to get third in the regatta, but there was a big change of pressure on the downwind and unfortunately I was on the wrong side of it and I ended up going from third to tenth very quickly. I was in about 8-10 knots of wind and the other side of the course had 16-18 knots."
"On the inside course the wind is very sporadic. It's very hard to predict where it is at, but I just made the wrong call on the downwind, but we'll learn from it and put it into our book to remember for the Games."
Postma commented, "I am happy with my comeback during the race. It was a good fight."
Mills said, "It was a hard week with some pretty breezy conditions and the rain made things fairly miserable, but generally good sailing. The medal race was pretty tight at the finish. The pressure was patchy round the course so I managed to catch a good puff just before the finish and catch Mark and PJ." On the future, "The current plan is to keep training with Ben in the run up to the Games and then hopefully some other sailing. As for 2016 I am not 100 per cent sure yet. The one boat per nation rule is a bit of an issue so I will have to have a think on whether to carry on or not."
Scott summed up his week, "I seem to have had good speed all week, which really helped me win all the races I did, as well as that I generally went the right way too. It was quite an interesting medal race and it's nice to be able to pull through in the end and win. Ben had a bit of a mishap at the bottom mark and capsized which allowed me to just focus on my race. I've had consistent firsts and seconds all week so I couldn't really hope for much more. Obviously being able to end the week winning the medal race is a nice feeling."
Results after medal race (medal race position in brackets)
1 GBR 41 Giles Scott 9 (1)
2 GBR 3 Ben Ainslie 39 (10)
3 NED 842 Pieter Jan Postma 40.3 (5)
4 USA 4 Zach Railey 43.3 (7)
5 GBR 88 Mark Andrews 46 (4)
6 GBR 85 Andrew Mills 49 (3)
7 FRA 112 Jonathan Lobert 55 (9)
8 SWE 11 Daniel Birgmark 58 (2)
9 CRO 524 Ivan Kljakovic Gaspic 58 (8)
10 ESP 100 Rafael Trujillo 71 (6)
Photos: Thom Touw and onEdition
Event website: https://www.skandiasailforgoldregatta.co.uk
Full results: https://www.skandiasailforgoldregatta.co.uk/results/index12.html
—————————————————————-
YACHT: Weltcup Weymouth"Weniger wehmütig, als gedacht"09.06.2012 – Philipp Buhl holt im Laser mit Bronze die einzige Medaille für Deutschland beim Olympia-Test auf dem Revier der Olympischen Spiele 2012
Onze topper PJ word 3e op de Sail4Gold! Knappe prestatie! Vasthouden en doorpakken PJ! Op naar de spelen!
Sailing Team Germany

  ‎(KW) World Cup Weymouth – Starboot:Mit einem sechsten Platz im Medal Race verbessern sich Robert Stanjek/Frithjof Kleen auf den achten Platz.Well done, Jungs!

Sailing Team Germany

    ‎(KW) World Cup Weymouth – RS:X Männer:Toni Wilhelm wird im Medal Race und im Gesamtklassement Siebter! Glückwunsch!!

Sailing Team Germany

  ‎(KW) World Cup Weymouth – Laser Standard:Philipp Buhl gewinnt mit einem siebten Platz im Medal Race Bronze!!!! Simon Grotelüschen wird Sechster! Glückwunsch, Jungs!
Australian Sailing Team

      GOLD! GOLD! GOLD! Nathan Outteridge and Iain Jensen make it a 3rd gold for Australia so far today!

The boys won the 49er class after finishing fourth in the medal race, making it 5 regatta wins in Weymouth from 5 starts.
————————————————————————-
Weymouth & Portland National Sailing Academy
Finn PROVISIONAL Results as of 15:36 on June 9, 2012
Overall
Sailed: 8, Discards: 1, To count: 7, Entries: 44, Scoring system: Appendix A
Rank Nat SailNo HelmName ISAFid Total Nett R1 R2 R3 R4 R5 R6 R7 M

1 GBR 41 Giles SCOTT GBRGS20 30.0 9.0 (21.0) 1.0 1.0 1.0 1.0 2.0 1.0 2.0
2 GBR 3 Ben AINSLIE GBRCA1 47.0 39.0 5.0 5.0 2.0 3.0 3.0 1.0 (8.0) 20.0
3 NED 842 Pieter Jan POSTMA NEDPP1 54.3 40.3 6.3 RDGa 3.0 8.0 7.0 2.0 (14.0) 4.0 10.0
4 USA 4 Zach RAILEY USAZR1 51.3 43.3 4.0 6.0 5.0 5.0 (8.0) 4.0 5.3 RDGa 14.0
5 GBR 88 Mark ANDREWS GBRMA18 72.0 46.0 3.0 11.0 (26.0) 11.0 5.0 6.0 2.0 8.0
6 GBR 85 Andrew MILLS GBRAM55 64.0 49.0 8.0 10.0 4.0 4.0 12.0 (15.0) 5.0 6.0
7 FRA 112 Jonathan LOBERT FRAJL23 87.0 55.0 (32.0) 2.0 7.0 8.0 6.0 7.0 7.0 18.0
8 SWE 11 Daniel BIRGMARK SWEDB1 73.0 58.0 12.0 14.0 3.0 12.0 (15.0) 10.0 3.0 4.0
9 CRO 524 Ivan KLJAKOVIC GASPIC CROIK3 78.0 58.0 7.0 8.0 12.0 2.0 10.0 3.0 (20.0) 16.0
10 ESP 100 Rafael TRUJILLO ESPRT7 87.0 71.0 6.0 (16.0) 9.0 6.0 14.0 11.0 13.0 12.0
11 CAN 5 Greg DOUGLAS BARGD1 105.0 68.0 (37.0) 7.0 6.0 15.0 16.0 13.0 11.0 –
11 DEN 2 Jonas HOEGH-CHRISTENSEN DENJH2 113.0 68.0 15.0 (45.0 BFD) 14.0 13.0 7.0 9.0 10.0 –
13 GBR 11 Ed WRIGHT GBREW3 118.0 73.0 25.0 4.0 21.0 (45.0 DNC) 9.0 8.0 6.0 –
14 AUS 1 Brendan CASEY AUSBC4 121.0 85.0 (36.0) 13.0 10.0 29.0 19.0 5.0 9.0 –
15 EST 2 Deniss KARPAK ESTDK1 139.0 94.0 13.0 19.0 24.0 18.0 4.0 (45.0 DNF) 16.0 –
15 FIN 218 Tapio NIRKKO FINTN1 127.0 94.0 (33.0) 9.0 15.0 19.0 25.0 12.0 14.0 –
17 POL 17 Piotr KULA POLPK8 124.0 95.0 (29.0) 15.0 13.0 20.0 11.0 18.0 18.0 –
18 USA 11 Caleb PAINE USACP65 133.0 101.0 1.0 17.0 18.0 (32.0) 27.0 26.0 12.0 –
18 NZL 24 Josh JUNIOR NZLJJ1 130.0 101.0 10.0 18.0 11.0 23.0 23.0 16.0 (29.0) –
20 BRA 109 Jorge ZARIF BRAJZ4 143.0 108.0 9.0 25.0 23.0 9.0 (35.0) 21.0 21.0 –
21 ITA 123 Filippo BALDASSARI ITAFB31 157.0 112.0 14.0 21.0 17.0 17.0 21.0 22.0 (45.0 DSQ) –
22 RUS 1 Aleksey SELIVANOV RUSAS8 148.0 118.0 2.0 28.0 29.0 14.0 (30.0) 19.0 26.0 –
23 GER 151 Mattieu MILLER GERMM09 147.0 120.0 16.0 20.0 (27.0) 21.0 24.0 24.0 15.0 –
24 CZE 1 Michael MAIER CZEMM1 154.0 122.0 24.0 24.0 16.0 10.0 17.0 (32.0) 31.0 –
25 AUT 3 Florian RAUDASCHL AUTFR3 157.0 126.0 22.0 23.0 20.0 27.0 (31.0) 17.0 17.0 –
26 GRE 77 Ioannis MITAKIS GREIM3 160.0 128.0 17.0 22.0 22.0 24.0 13.0 30.0 (32.0) –
27 RUS 9 Eduard SKORNYAKOV RUSES2 163.0 130.0 20.0 12.0 25.0 25.0 26.0 (33.0) 22.0 –
28 TUR 21 Alican KAYNAR TURAK2 178.0 137.0 (41.0) 26.0 19.0 26.0 20.0 23.0 23.0 –
29 NZL 8 Matt COUTTS NZLMC2 187.0 153.0 11.0 33.0 32.0 31.0 18.0 (34.0) 28.0 –
30 CRO 11 Josip OLUJIC CROJO1 189.0 158.0 30.0 29.0 (31.0) 30.0 22.0 20.0 27.0 –
31 CAN 110 Martin ROBITAILLE CANMR7 205.0 173.0 45.0 DNE (32.0) 28.0 22.0 32.0 27.0 19.0 –
31 CRO 671 Tudor BILIC CROTB8 209.0 173.0 28.0 31.0 30.0 (36.0) 29.0 31.0 24.0 –
33 RUS 57 Egor TERPIGOREV RUSET1 214.0 175.0 31.0 27.0 33.0 (39.0) 34.0 25.0 25.0 –
34 UKR 1 Oleksiy BORYSOV UKROB1 213.0 178.0 (35.0) 30.0 34.0 28.0 28.0 28.0 30.0 –
35 GBR 29 Peter MCCOY GBRPM40 229.0 189.0 (40.0) 39.0 DPI10% 38.0 16.0 33.0 29.0 34.0 –
36 SWE 89 Andreas AXELSSON SWEAA5 240.0 200.0 23.0 38.0 DPI10% 35.0 34.0 (40.0) 37.0 33.0 –
37 GBR 7 George COOPER GBRGC19 245.0 204.0 18.0 (41.0 DPI10%) 40.0 37.0 36.0 35.0 38.0 –
38 NZL 9 Rob COUTTS NZLRC12 249.0 209.0 19.0 39.0 39.0 38.0 39.0 (40.0) 35.0 –
38 GBR 18 James HADDEN GBRJH86 254.0 209.0 26.0 36.0 37.0 33.0 41.0 36.0 (45.0 OCS) –
40 USA 53 Ben LEIBOWITZ USABL24 261.0 220.0 27.0 40.0 (41.0) 40.0 38.0 38.0 37.0 –
41 USA 21 Gordon LAMPHERE USAGL12 262.0 221.0 38.0 (41.0) 36.0 35.0 37.0 39.0 36.0 –
42 USA 81 Joshua REVKIN USAJR83 291.7 248.7 41.7 RDGa 42.0 42.0 41.0 (43.0) 42.0 40.0 –
43 GBR 595 Edward THORBURN GBRET6 292.0 249.0 42.0 (43.0) 43.0 42.0 42.0 41.0 39.0 –
44 TUR 7 Akif MUSLUBAS TURAM1 297.0 252.0 34.0 38.0 (45.0 DNF) 45.0 DNC 45.0 DNC 45.0 DNC 45.0 DNC