Leading Boats Caught In The Doldrums | From the Boats | Leg 2 | The Ocean Race
Watch the highlights from onboard the boats as Paul Meilhat's Biotherm was the first boat to feel the impact of the doldrums overnight as his crew saw their speed plummet from 14 to 4 knots just after midnigh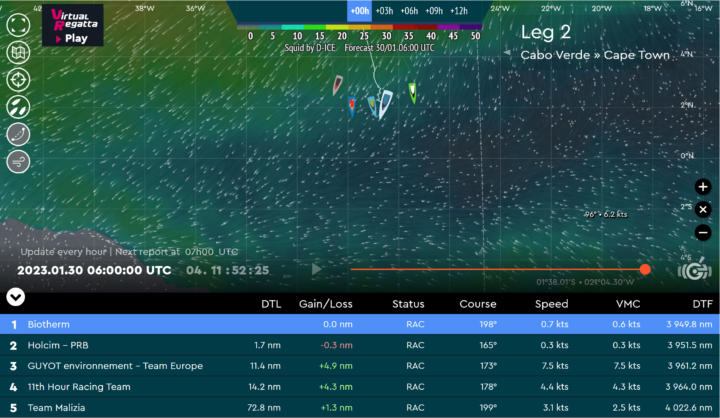 Die Guyot segelt aktuell ca. 7 Knoten und ist damit das schnellste Boot der Flotte. Momentan sieht es wettermässig so aus, dass sie gut durch die Kalmen kommen könnte und aus der östlichen Position einen Vorteil ziehen könnte.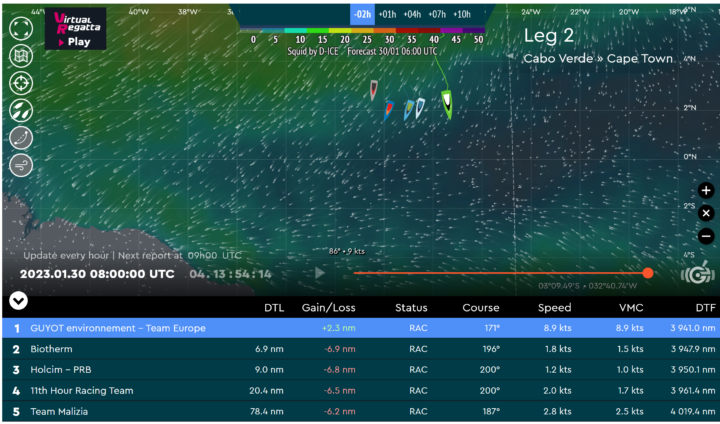 09:00
Der Tracker sieht die Guyot wieder auf Platz 1.  Sie segelt aktuell 4 x so schnell wie die Konkurrenten, die in der Flaute hängengeblieben sind.  Verfügt die Guyot evtl. über bessere Wetterdaten als wir ?
Die Bilder zeigen uns, das während der letzten Nacht offenbar jeder Windhauch genutzt wurde, um das Schiff nach vorn zu bringen.
Getting stuck in the doldrums with no wind has a few upsides: Our onboard reporter Antoine Auriol flew the drone and got beautiful, peaceful shots of Malizia – Seaexplorer on Day 5 of Leg 2 of The Ocean Race and had time to film flying fishes in slow-motion! Shot and edited by Antoine Auriol
Der Löffelbug erweist sich als unvorteilhaft, denn er bremst die dümpelnde Malizia ab und erzeugt jeweils einen kleinen rückwärts gerichteten Impuls.
Ein übles Missgeschick unterlief gestern Sebastien Simon, der Poseidon mittels einer obligatorischen Gabe gnädig stimmen wollte.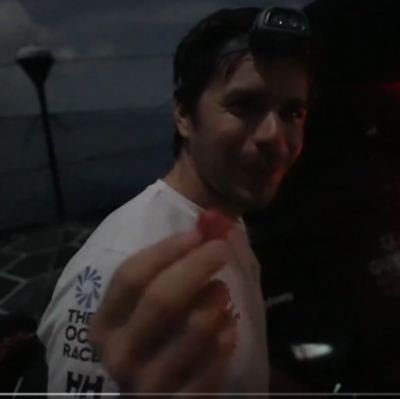 Die Opfergabe landete nicht bei Poseidon im Wasser, …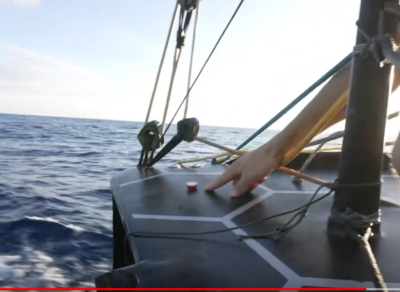 sondern blieb auf dem Heck der Guyot liegen. Wir müssen also mit dem schlimmsten rechnen.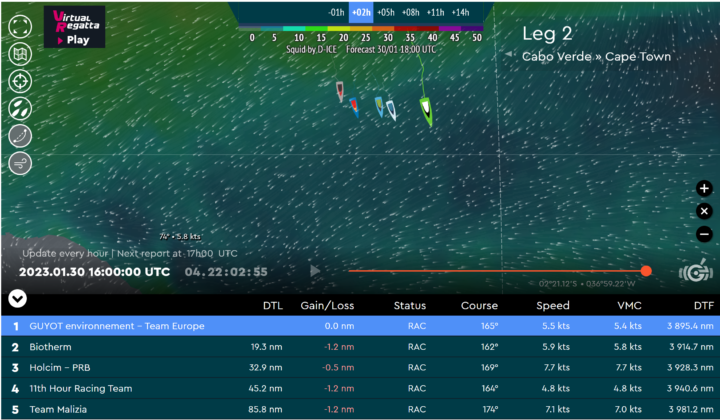 Noch 70 sm bis zum Äquator. Steht Robert und Phillip evtl. ein brutales Ritual bevor ?
Auch an Bord der Malizia ist der Äquator derzeit das zentrale Thema.