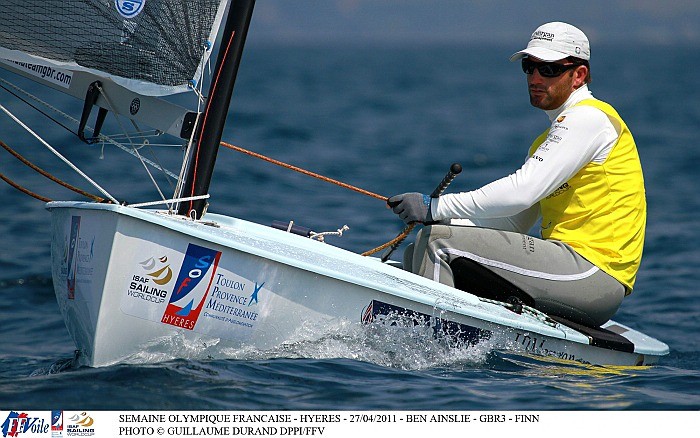 Zwischenergebnis nach 7 Wettfahrten:
13
GER771
KURFELD   Jan (M1987)
GOLD
60.00
102.00
14
14.00
7
7.00
4
4.00
OCS
42.00
19
19.00
9
9.00
7
7.00
27
GER151
MILLER   Matthias (M1982)
GOLD
88.00
122.00
7
7.00
6
6.00
31
31.00
14
14.00
23
23.00
7
7.00
34
34.00
.
Mit Platzierungen in den Top-Ten ist vor allem Jan gut für die entscheidenden Regatten im Juni   (Olympia-Qualifikation)   gerüstet.   🙂
————————————————–
Hyeres day four – fifth race win for Ainslie
On day four of the Semaine Olympique Fran§aise in Hyeres, Ben Ainslie (GBR) took the only race win to extend his lead at the top to 13 points from Pieter-Jan Postma (NED) and 15 from Giles Scott (GBR).
Today the fleet was split into gold and silver heats for the first time, so competition in the gold fleet was especially fierce. Only one race was completed. In the gold fleet race Ben Ainslie (GBR) crossed ahead to win his fifth race of the week, with Zach Railey (USA) continuing his good form with another second place and Giles Scott (GBR) making a small recovery in the overall results with a third place. Two of the top performers of yesterday Deniss Karpak (EST) and Ed Wright (GBR) did not fare so well, finishing well down in the 20s. Karpak said, "A clear view of the course and
faith made yesterday's wins possible…today I was unlucky…and got a yellow flag."
Fourth place went to the top French sailor so far this week, Thomas Le Breton (FRA) while Pieter-Jan Postma (NED) consolidated his second place overall with a fifth place race finish. So far Postma is the only sailor apart from Ainslie to maintain single digit scoreline, and is sailing his best regatta for many years.
In sixth place is Daniel Birgmark (SWE) – who finished fourth in the last Olympics in China – after scoring a ninth today. After a tough trials with the other Swedish sailors in Palma, he is having a much easier ride in Hyeres with little competition from Johan Tillander (SWE) and Bjorn Allansson (SWE). Does this take the pressure off him? He replied, "I like tough competition."
On his performance so far. "I am trying to sail in the middle and take the shifts. My upwind speed was OK, much better then in Palma in similar winds and that helps of course to get better results. The key is to use the windshifts and find the good pressure, so normal racing. It is fun racing, but I hope the winds are not too light."
In the silver fleet race, Aleksiy Selniakov (RUS) won from the world Junior Champion Luke Lawrence (USA) and Tomasz Kosmicki (POL).
After an up and down first day, the 2008 Olympic Silver medalist Zach Railey has climbed the board each day and now sits poised in fourth overall. He said, "We have been having some really long days here in Hyeres waiting on the wind to come in and get the races off. We have completed three difficult races over the last two days. The racing has been hard to predict and I have felt good about my choices of where to go on the course. We are
still not 100% up to speed but we are making adjustments and learning a lot about what steps we need to take."
On the last day of the gold fleet finals, "Most everyone is now holding a large score for their drops so the pressure is on to perform each and every race.
One of those sailors just outside the top 10 is Jan Kurfeld (GER) who has put together a reasonably good series to sit in 13th place, just seven points outside the top 10. However, "I am not really thinking of the medal race. Like in Palma I will try to be top 20 overall, that's my minimum goal. Therefore my aim is to finish the races tomorrow as good as possible."
On today's racing he said, "Today the conditions were quite tough. We had light winds with a maximum of seven knots, average of five knots and less.
The wind did not shift much, but it was difficult to race and of course tricky in the light winds and it was pretty hard to keep the boat going fast."
The race committee will try to sail three races on Thursday – the final day of fleet racing – starting at 10 am, and with a forecast of 8 – 12 knots it should be better racing. As usual the points around the medal race cut are very tight and with three races possible anything can happen.
Quelle: finnclass.org