L

ive-Ticker
Too much wind: Races cancelled today! Die Finns wurden doch noch rausgeschickt. Es wehte auf dem Atlantik mit ca. 6 bft bei gewaltigem Seegang. Mein Regatta-Korrespondent befand
sich auf halber Strecke zwischen Hafen und Startschiff, als abgebrochen wurde. Für morgen waren ja noch eine oder zwei Wettfahrten vorgesehen. Es ist jedoch denkbar, dass nur noch das Medalrace stattfindet, da für den Nachmittag wieder stärkerer Wind angesagt ist.
Aufgrund des starken böigen Windes (bis zu 5+ bft)   soll erst um 14:30 entschieden werden, ob heute gesegelt wird. Schliesslich sind sogar über 75-Jährige Finnrecken am Start, wie z.B. Gus Miller – Jahrgang 1935, der nach 5 WF auf Rang 166 liegt. Richard Hart – Jahrgang 39 liegt immerhin auf Rang 92.   Morgen soll es laut Wetterprognose ebenfalls stark wehen. Die Segler bedauern es daher, dass gestern bei moderaten Bedingungen nur 1 Wettfahrt ausgetragen wurde.   Bei den Legends liegt übrigens Friedrich Müller vorn, mein Regatta-Korrespondent auf Rang 8.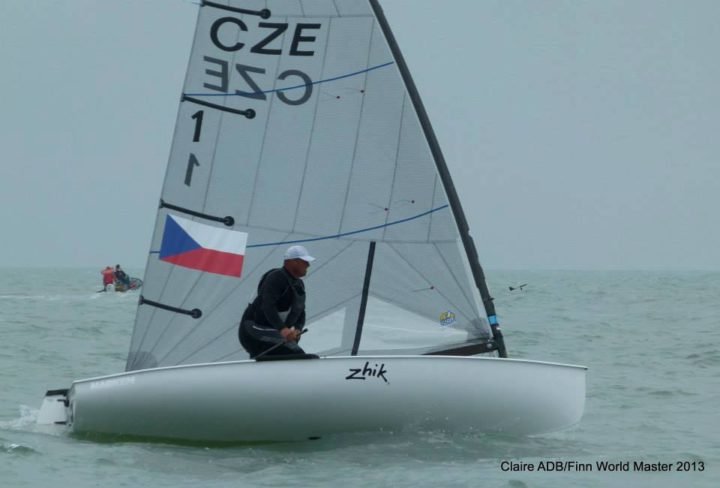 .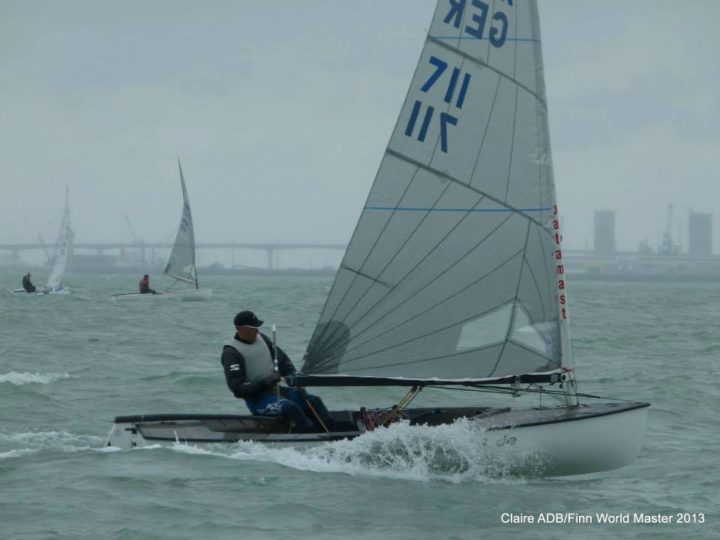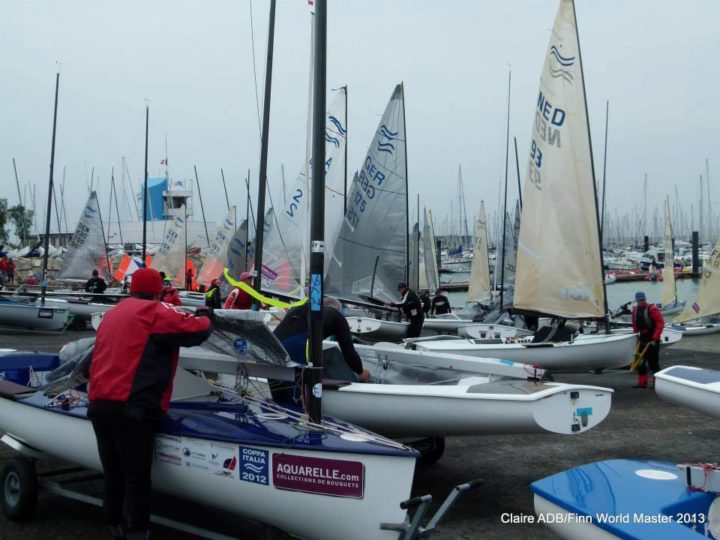 No racing on penultimate Finn Masters day
Too much wind spoiled the show for the 285 Finn Masters at La Rochelle on Thursday. With the wind whistling through the rigging all morning the sailors waited ashore under postponement for a final announcement at 14.30. By this time the wind afloat had moderated to 14-16 knots and the first   fleet was sent out. However by the time they got there it was a solid 24-26 knots and the fleet was turned around and sent straight back in.
So there is no change to the overall positions as the fleet heads into the final day on Friday with one more race for the colour groupings and the medal race for the top 10. On paper the defending champion Michael Maier (CZE) is the favourite for a record equalling fifth Masters title. He has a useful, but slim, three point cushion over Andre Budzien (GER) and Erik Lidecis (USA), which means that for either of them to win they must put a boat between themselves and Maier. Behind them any of the boats down to ninth could theoretically take the overall win – but they need to bide their time and wait for the leaders to make the mistakes.
The medal race was introduced for the first time last year in Pwllheli to create a structure where the leaders could race for the title on the final day. Sometimes in the group system this had not happened. However last year the race was cancelled because there was not enough wind to sail. This year it is looking likely that the reverse might be true. The forecasts show strong winds again, but we'll have to see what transpires in the morning.
The final group race is scheduled for an earlier than scheduled start time 10.30 with the medal race directly afterwards.
During this week we have been trying some new ways to record the fleet on video using front and aft facing stern mounted cameras and some time laspe movies of the fleet on shore.
Here are a few of those made so far.
– Dinghy park full to empty in 60 seconds: https://youtu.be/P4EUgbt8Vss
– Launching and recovery of 285 Finns in 67 seconds: https://youtu.be/ZoblH7sGvjs
– Return to club after racing abandoned: https://youtu.be/dIUM3M3kZA8
The 2013 Finn World Masters concludes on Friday when the new champion will be decided. The start time has been rescheduled for 10.30 to try and get the final race in before the strongest winds arrive.
Top ten going into the medal race.
1CZE 1Michael MAIER8.00
2GER 711Andre BUDZIEN11.00
3USA 505Erik LIDECIS12.00
4LTU 7TaurasRYMONIS15.00
5GER 193Thomas SCHMIDT18.00
6FRA 75Laurent HAY24.00
7GBR 2Allen BURRELL26.00
8DEN 80Michael STAAL29.00
9NED 41Karel VAN HELLEMOND30.00
10GBR 642Adrian BRUNTON39.00
Full results after day 4: https://www.srr-sailing.com/finn-world-master