John Greenwood äussert sich im Interview mit IFA President Rob McMillan zum TT2-Finn.
"The Boat makes the biggest difference"
"Racing is easy when the boat is going fast"
Er spricht von Low-Rocker,  also wenig Kielsprung, wobei wenig Kielsprung die Gleiteigenschfaten verbessert und dafür sorgt, dass der Rumpf auch auf anderen Kursen etwas weniger tief eintaucht.  Schnelle moderne Rennyachten und Jollen haben so gut wie keinen Kielsprung.  Es lag daher nahe, auch dem Finn so wenig Kielsprung zu geben, wie es die Klassenvorschriften erlauben.
Beim Goldcup 2022 wurde John 49.
Bei den Masters liegt er nach 6 Wettfahrten auf Rang 8.
Wer sich – so wie ich selbst – seit mehr als 40 Jahren für Hydrodynamik, Yachtkonstruktion etc. interessiert, ist begeistert.
Für die Finn-Klasse ist es eher Mist, wenn ein schnelleres Design alle anderen Boote alt aussehen lässt. Ähnliches haben wir aber schon erlebt, als 1975 das Vanguard  und 1993 das Devoti-Finn  aufkam.
Siehe auch:
–
TT2-Finn-Rangliste after 6 Races

1. Postma
6. Sebastien Godefroid
7. Sander Willems
8. John Greenwood
15. Jan Willem Kok
78. Tim Tavinor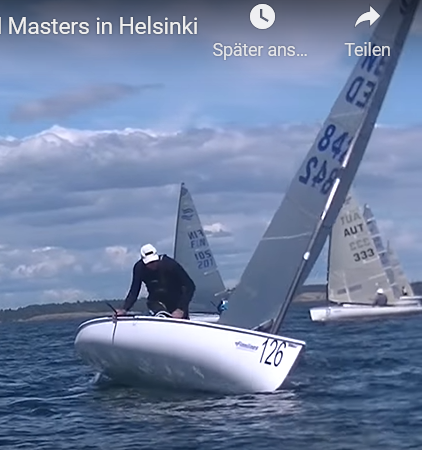 Flach wie ein Bügelbrett sieht P.J.'s Finn-Rumpf  aus !
Spass beiseite:  Ein unscharfes Foto erlaubt selbstverständlich keine Rückschlüsse auf eine im Millimeterbereich liegende Modifikation der Rumpfform !