Zusammenfassung vom 8.Dez.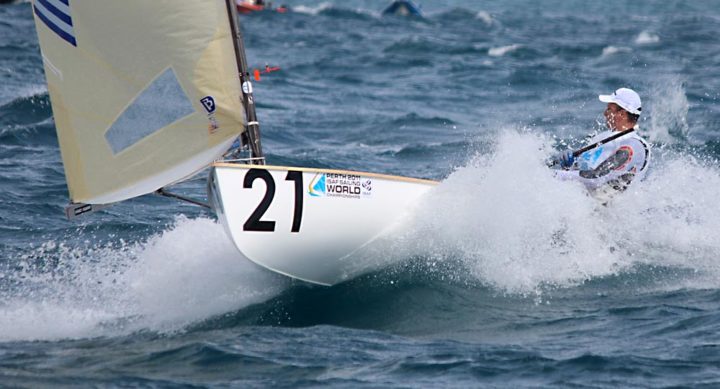 Joannis Mitakis in Race 8   – Photo: Robert Deaves
Photos: Robert Deaves / IFA
Day 7 Finn: Ainslie recaptures overall lead ahead of the weekend's Medal Race

.

Great Britain dominated the Finn class Gold fleet's two races on the Leighton course Friday 9 December with Ben Ainslie (GBR) recapturing the overall lead.

.

www.perth2011.com
———————————————————————
 Perth 2011: Ainslie back on top as leaders collect points

Finn focus at the 2011 Finn Gold Cup, Perth

Ben Ainslie (GBR) retakes the lead in the Finns after placing first and second in Friday's two races. Giles Scott (GBR) is two points back after a 10th and a first, while overnight leader Pieter Jan Postma (NED) slips to third after struggling slightly with a fifth and a ninth. However he is now
on equal points with defending world champion Ed Wright (GBR) who had the second best day after Ainslie with a second and a third.
The wind gradually built during the day with Ainslie taking the lead in race seven on the first reach after trailing Tapio Nirkko (FIN) and Jonas Hoegh Christensen (DEN) round the first mark. Ainslie sailed away to easily win the race while Wright recovered from a deep top mark rounding to finish second just ahead of Nirkko.
In race eight Scott made amends for a 10th in the first race of the day by leading at each and every mark for his third win of the week. Ainslie closed up on the final downwind for a very close finish, while Wright came through to third and Andrew Mills (GBR) moved up to fourth for a British
clean sweep.
Saturday's final two gold fleet races are being held on the Centre course area, and with smaller courses this should add a new element to the mix, and provide a thrilling conclusion for the fleet series before Sunday's medal race. Ainslie back on top as leaders collect points

Quelle: finnclass.org
Olympiaqualifikation
Tag 5:
Auf www.finnteamgermany.de erfahren wir den Grund, warum Jan in WF 6, wo er   den besten Start hatte, nach Tonne 1 jedoch bis auf Rang 34 zurückfiel:
"Er hatte einem leichte Crash an Tonne 1 mit NZL 8 und dabei haben sich Rumpf und Decksschale auf ca. 50 cm von einander gelöst und die vorderen Tanks waren voller Wasser."
Roberto schreibt gestern auf finnteamgermany.de:
"Mit der Olympiaquali wird es hier in Perth wohl nichts mehr aber die Nationenquali wird wohl klargehen. Noch geben ich/wir nicht auf."
Es ist jedoch ein Jammer – Jan fällt in der starken Goldfleet, in der die besten Finnsegler aus Fleet 1 u. 2 segeln, zurück, während Matthias in der schwachen Silver-Fleet Plätze gutmachen kann.
In der Nationenquali belegt Jan – wenn ich richtig gezählt habe – derzeit Rang 20. Wir müssen also Jan fest die Daumen drücken, damit er sich auf den erforderlichen 18. Nationenrang verbessern kann.
Segelreporter.com schreibt:
"Bei den Finn Dinghies segelt der beste Deutsche Jan Kurfeld mit den Läufen 32/34/(35) weiterhin hinterher und ist auf Ran 34 platziert.

Superstar Ben Ainslie dagegen hat mit den Plätzen 1 und 2 seine kurze Schwächeperiode behoben und wieder die Führung in der Finn Dinghy Klasse übernommen. Der Widerstand des bisher auf Platz eins liegenden Holländers Pieter-Jan Postma scheint gebrochen. Er fiel auf Rang drei zurück."
Habe mir gerade auf dem Tracker das 7. u. 8. Rennen angesehen. In Wf 7 musste Jan gleich nach dem Start mehrmals wenden, während der am Leefass startende Ben Ainslie davonzog. In Wf 8 war der Start OK, wobei der über ihm liegende Ed Wright etwas voller fahrend auf Jan abfiel und ihm das Leben schwer machte.   Am 1. Luvfass war Jan dann bereits weit nach hinten zurückgefallen.   Vielleicht hätte Jan dann das andere Leefass nehmen sollen, denn nach dem Runden des rechten Leefasses lag er in den Abwinden eines grossen Finn-Pulkes aus dem er leider auch nicht herauswenden konnte. Das Glück war Jan heute leider nicht hold. Ich hoffe, dass Jan morgen mit etwas mehr Glück noch einmal angreift !
Fleet Overall (as of 09/12/2011)
OFFICIAL
Name Pos NOC 1 2 3 4 5 6 7 8 M T N

1 AINSLIE Ben GBR 1 1 (3) 3 3 3 1 2 17 14
2 SCOTT Giles GBR 3 6 1 1 2 2 (10) 1 26 16
3 POSTMA Pieter-Jan NED (20) 1 2 2 1 1 5 9 41 21
4 WRIGHT Edward Martin GBR 8 2 (37)BFD 1 1 4 2 3 58 21
5 LOBERT Jonathan FRA (13) 4 1 3 2 5 9 13 50 37
6 TRUJILLO Rafael ESP 1 3 (37)BFD 2 4 19 6 5 77 40
7 MILLS Andrew GBR 4 7 5 (37)OCS 6 7 8 4 78 41
8 HOEG-CHRISTENSEN Jonas DEN 4 7 4 7 4 (12) 4 12 54 42
9 KARPAK Deniss EST 6 5 4 4 3 10 17 (19) 68 49
10 RAILEY Zach USA 2 5 (37)BFD 7 6 14 14 6 91 54
11 KLJAKOVIC GASPIC Ivan CRO 3 6 (37)BFD 5 7 15 13 11 97 60
12 ZBOGAR Vasilij SLO 11 8 2 8 5 13 15 (33) 95 62
13 BIRGMARK Daniel SWE 5 4 (37)BFD 5 11 17 18 7 104 67
14 ANDREWS Mark GBR 9 8 7 9 14 6 (27) 16 96 69
15 NIRKKO Tapio FIN 8 13 6 20 (23) 9 3 15 97 74
16 CASEY Brendan AUS 16 3 9 4 8 16 19 (21) 96 75
17 COOK Christopher CAN 2 14 7 15 9 (18) 12 17 94 76
18 LEBRETON Thomas FRA 10 2 3 10 9 (31) 23 22 110 79
19 VINCEC Gasper SLO (22) 18 8 6 5 11 20 14 104 82
20 SLATER Dan NZL 5 11 (37)BFD 9 12 23 7 20 124 87
21 MITAKIS Ioannis GRE 17 9 (37)BFD 11 10 21 11 8 124 87
22 BORYSOV Oleksiy UKR 7 12 13 8 11 (28) 16 23 118 90
23 DOUGLAS Gregory CAN 15 11 5 16 8 (34) 21 24 134 100
24 TWEDDELL Oliver AUS 7 13 13 12 13 22 25 (31) 136 105
25 BALDASSARI Filippo ITA 13 9 (37)BFD 6 12 8 33 26 144 107
26 NOSSITER Anthony AUS 10 14 (37)BFD 10 10 20 25RDG 22.5RDG 148.5 111.5
27 COUTTS Matt NZL 15 15 10 13 15 26 (30) 18 142 112
28 POGGI Giorgio ITA 6 17 10 17 20 25 (32) 25 152 120
29 ALLANSSON Bjorn SWE 11 10 14 15 7 35 (37)DSQ 32 161 124
30 JOAO ZARIF Jorge BRA 16 15 12 11 25 24 22 (27) 152 125
31 PAINE Caleb USA 9 19 16 (31) 17 30 26 10 158 127
32 TILLANDER Johan SWE 23 10 15 13 18 (29) 24 29 161 132
33 SKORNYAKOV Euard RUS 26 12 14 12 13 (36) 28 34 175 139
34 KURFELD Jan GER 14 21 6 14 22 32 34 (35) 178 143
35 GONG Lei CHN 17 18 17 26 14 27 (29) 28 176 147
36 MAIER Michael CZE 18 22 18 16 16 33 (35) 30 188 153
37 VIKA Tomas CZE 19 16 (37)BFD 23 18 4 2 2 121 84
38 ROBITAILLE Martin CAN (27) 23 8 18 23 3 3 12 117 90
39 HAGOORT Timo NED 23 20 11 (37)OCS 21 2 9 6 129 92
40 VAINSALU Lauri EST 22 26 11 22 (30) 5 7 4 127 97
41 SELIVANOV Alexey RUS 14 (27) 15 26 26 13 11 1 133 106
42 EGMOND, van Hein NED 19 20 17 20 (27) 18 5 8 134 107
43 RAUDASCHL Florian AUT 12 17 22 (37)DNF 29 8 15 5 145 108
44 MILLER Matthias GER 27 16 (37)BFD 25 21 7 6 7 146 109
45 CASTLES Tim AUS 20 25 23 14 (27) 9 13 15 146 119
46 WILTON Brendan CAN 25 23 (37)BFD 37DNF 30 1 1 3 157 120
47 JOHAL Nachhatar Singh IND 21 (30) 20 24 19 11 14 13 152 122
48 BURFOOT Nik NZL 26 25 (37)DNF 18 22 12 4 16 160 123
49 PAL Gaszton HUN (29) 29 9 19 20 16 12 20 154 125
50 TUFEKCI Ali Kemal TUR 24 24 19 (37)DNF 24 17 8 10 163 126
51 PEDERSEN Anders NOR 29 29 16 (37)DNF 19 20 10 11 171 134
52 TERPIGOREV Egor RUS 12 19 12 (37)DNF 37DNS 15 25 14 171 134
53 KAYNAR Alican TUR 30 24 18 21 17 6 (37)OCS 21 174 137
54 SZUKIEL Rafal POL 18 21 (37)BFD 24 16 14 37OCS 9 176 139
55 PAPADOPOULOS Haris CYP 25 22 (37)BFD 17 25 10 18 37DNF 191 154
56 DOUGLAS Brad NZL 24 26 (37)BFD 28 24 23 17 17 196 159
57 AXELSSON Andreas SWE (32) 28 26 21 26 24 19 18 194 162
58 BELICZAY Marton HUN 28 28 24 25 (33) 22 20 19 199 166
59 FERNANDEZ Miguel ESP 30 (35) 28 23 31 19 16 22 204 169
60 CHRISTEN Christoph SUI (32) 31 19 27 28 21 22 28 208 176
61 HOFER Silvan SUI (36) 32 25 22 28 26 23 27 219 183
62 McMILLAN Rob AUS 31 27 21 19 15 (37)DNC 37DNC 37DNC 224 187
63 SCHUTTRUPS Nanno NED 31 30 21 (33) 29 29 21 26 220 187
64 HAMILTON Ross IRL 28 33 27 27 (34) 25 24 24 222 188
65 WELLS Shaun AUS 21 (32) 20 31 31 31 26 30 222 190
66 MUSLUBAS Akif TUR (33) 33 24 32 32 27 27 29 237 204
67 COUTTS Robin NZL (35) 34 29 28 32 32 28 25 243 208
68 LEIGH David Ken RSA 33 (34) 22 29 34 34 29 31 246 212
69 HIRSCHLER Richard HUN (35) 31 31 29 35 28 30 33 252 217
70 GAUTSCHI Thomas SUI 34 (35) 23 34 35 30 32 32 255 220
71 LEIBOWITZ Benjamin USA (36)RDG 36 30 30 36 35 31 23 257 221
72 VANGELOV Dimitar BUL 34 36RDG 25 30 33 33 (37)DNF 37DNC 265 228