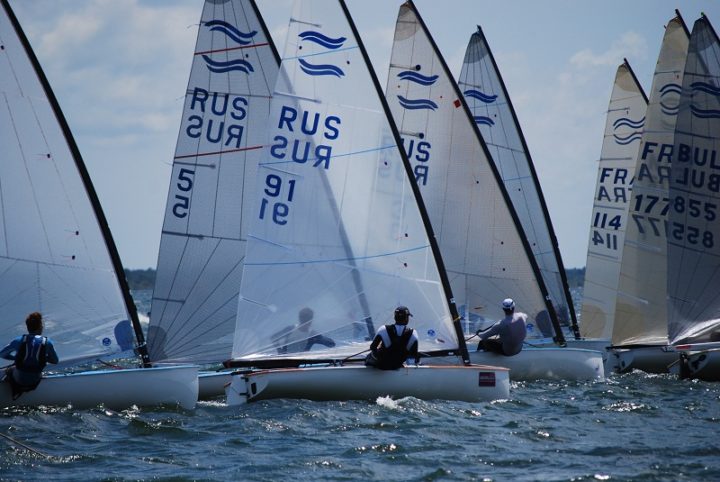 2012 SILVER CUP
"Finn Junior World Championship"
Maubuisson – France
The 2012 Finn Silver Cup is set to start on Sunday in Maubuisson near Bordeaux, France.
A small but talented fleet of 24 boats and 12 nations will race all week on the Lake for the Finn Junior World title currently held by Arkadiy Kistanov from Moscow. Many sailors can claim the title and the 11 races scheduled in the championship promise to be fiercely contested.
The European Junior Champion, Michal Jodlowski (POL) or vice Champion Dimitar Vangelov (BUL), Patrick Deutscher (CZE), Anders Pedersen (NOR) or Martin Robitaille (CAN) who have all sailed most of the international events this year will start as favourites.
Russia is once again coming with a large team with eight sailors. Among them defending champion Arkadyi Kistanov will be able to enjoy again his favoured lake conditions, similar to the ones from his home club in Moscow. Third at the Junior Europeans, Andrei Ianitckii will be another one to watch. Among the youngest in the Finn fleet the Kotlyarov brothers from St Petersburg (16 years old) have been improving since the last Silver Cup in Moscow and could create a surprise.
After two days of measurement, most sailors took part in the practice race this afternoon with a perfect breeze averaging 15 knots. The starting line was crowded and most over when the gun set them free on the course! Viaceslav Sivenkov (RUS) was first around followed by Anders Pedersen (NOR) and Cem Gozen (TUR).
Brigitte Viaud, President of the host club, the Cercle de Voile de Bordeaux, declared the championship open during the opening ceremony and defending champion, Arkadyi Kistanov, presented the Silver Cup to the Club.
Racing is scheduled from Sunday 1st to Friday 6th of July with a total of 11 races.
———————————————————————————————
Follow the regatta reports, photos and videos on the Finn class Facebook and Youtube:
https://www.facebook.com/pages/Finn-Class/110408332633
www.youtube.com/thefinnchannel
Event website (results):
https://www.cerclevoilebordeaux.com/silver-cup/accueil.htm
This press release was sent to you by the International Finn Association ( https://www.finnclass.org/ ).